Burundi Awaits Results From Controversial Elections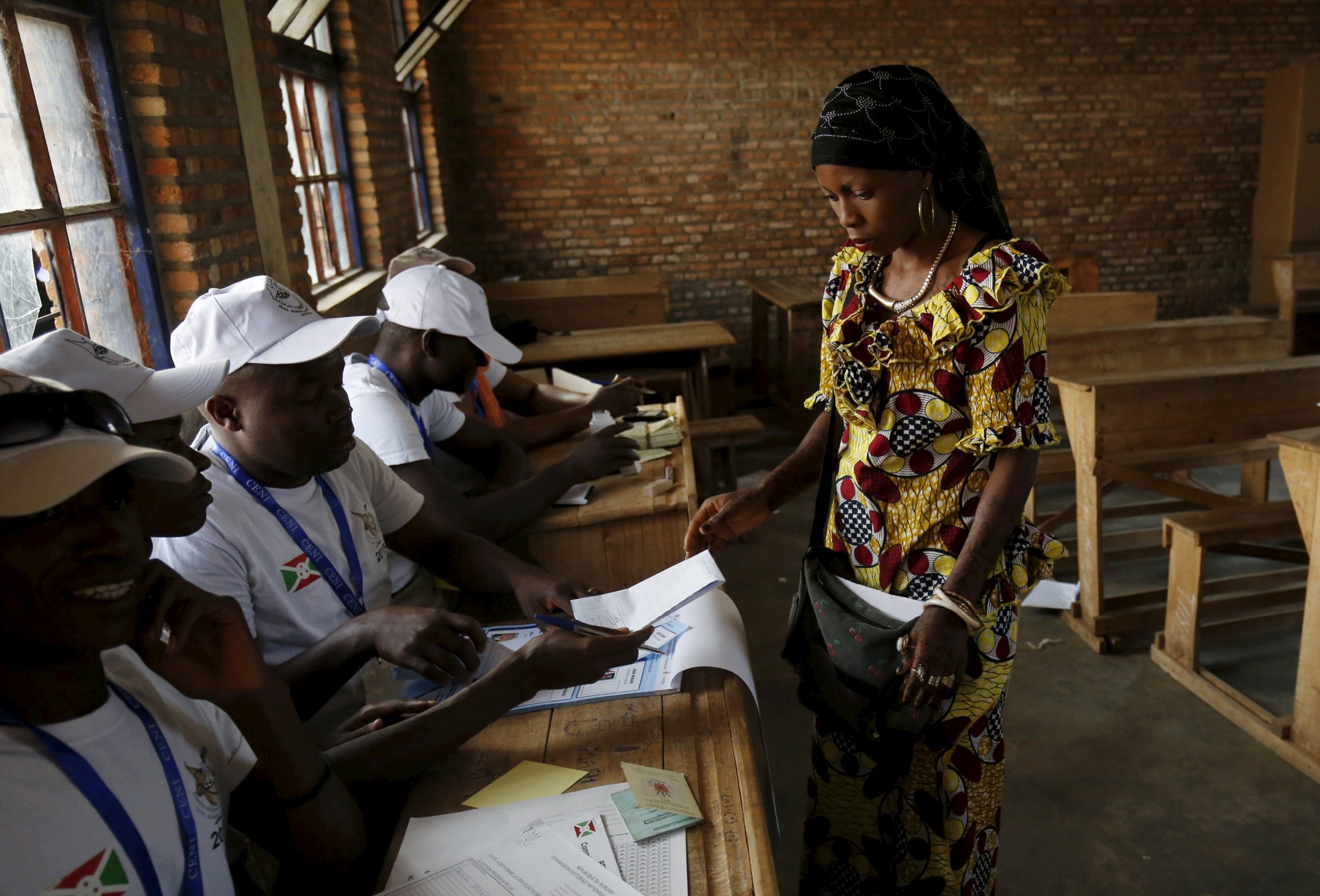 Vote counting is finally underway in Burundi, the East African nation rocked by violence and protests in recent months over an announcement by the country's president, Pierre Nkurunziza, that he would seek a third term in office.
Nearly 4 million Burundians were eligible to vote in Tuesday's elections, initially scheduled for July 15 but delayed by demonstrations over Nkurunziza's controversial decision to run again. The voter turnout was 74 percent, Al Jazeera reports. Nkurunziza, a 51-year-old former Hutu rebel leader and sports teacher, announced his decision to run for a third term in April in violation of Burundi's Arusha Agreement, signed in 2000 by representatives from the country's political parties, which states Burundi's presidents should not serve more than two terms.
Nkurunziza claims that his first term in office, which began in 2005, shouldn't count toward the two-term limit, as he was elected by members of parliament, not the public, an argument the country's Constitutional Court has backed.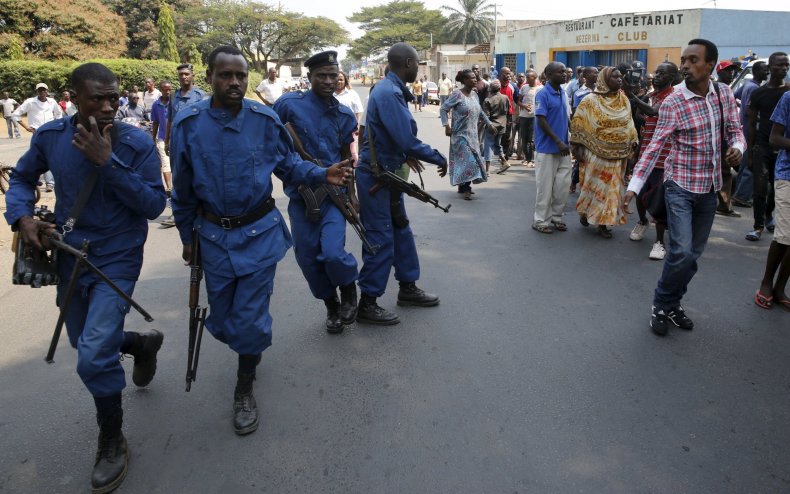 Since Nkurunziza's announcement, 70 people have died in protests, and as many as 167,000 people have fled the country. This year's tensions have been the country's worst since the end of the country's 12-year civil war that ended in 2005, Reuters reports.
Despite Nkurunziza's four main presidential rivals boycotting the election, their names remained on the ballot and would be counted, Reuters reports.
On Tuesday, a presidential official said Nkurunziza would not oppose forming a national unity government, Reuters reports. "A government of national unity is not a problem for Pierre Nkurunziza; we are ready to do so," presidential adviser Willy Nyamite told Reuters. But Nyamite added that if the president were re-elected, it would be "impossible" to cut short the new five-year term.
Nkurunziza, first elected in 2005, recently survived a failed coup attempt by army generals in May. A number of army generals were arrested and will be charged with mutiny in a military court, CNN reports.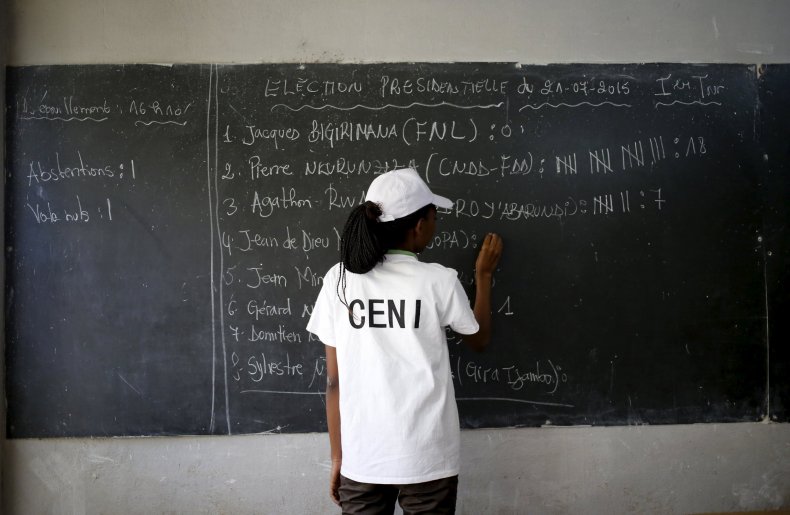 The international community has criticized Nkurunziza for allowing the elections to go ahead in an atmosphere of violence and repression. The government has been accused of harassing opposition supporters and party members over the past several months, shutting down media outlets and intimidating voters—human rights abuses documented by the U.S. State Department in its annual human rights report released last month. On Tuesday, State Department spokesman John Kirby said under the current conditions, Burundi's elections "will not be credible and will further discredit the government."
Two police officers and an opposition party member were killed in protests in Burundi's capital of Bujumbura on Monday night, ahead of Tuesday's elections, the BBC reports. The president's office blamed the opposition for the attacks and labeled them an act of terrorism, the BBC reports.
As head of the ruling National Council for the Defense of Democracy-Forces for the Defense of Democracy party, Nkurunziza leads one of the poorest countries in the world. Life expectancy in the country of 10 million people is 54 years, lower than the average for sub-Saharan Africa, and nearly 67 percent of the country lives in poverty, according to the World Bank. Burundi, which lies between Rwanda and Tanzania, with the Democratic Republic of the Congo to the west, was ranked 159 out of 175 in the 2014 Corruption Perceptions Index, which measures how the public sectors of countries are viewed.
Speaking to reporters on Tuesday, Nkurunziza, who rode a bicycle to his local polling station to cast his ballot, told reporters the elections were to "allow the Burundian people to vote or to choose someone they believe in."
With the votes still being tallied, Burundi's electoral commission said it could be several days before the result is officially announced. But that won't be the end of the crisis for many Burundians, human rights activists said. According to medical humanitarian aid organization Doctors Without Borders, between 2,000 and 3,000 people are crossing over the border from Burundi into Tanzania every week, pushing Tanzania's Nyarugusu refugee camp to the "breaking point," the organization said on Monday.
Burundi's ethnic Hutu majority has seen numerous clashes with the country's Tutsi minority since the country gained independence from Belgium and split from northern neighbor Rwanda in 1962, the BBC reports. Burundi's ethnic makeup mirrors that of Rwanda, where 800,000 people died in a 1994 genocide perpetrated by Hutus against the country's Tutsi minority. There are now fears that violence in Burundi may spill over into Rwanda and reignite unresolved tensions, the Guardian reports.