Bus Crashes in Two Countries Kill at Least 8 People and Injure Dozens More
A sightseeing bus rolled over in Canada's Jasper National Park on Saturday leaving three people dead and 24 more injured.
The accident occurred at around 1 p.m. local time near the Columbia Icefield, one of the largest non-polar ice fields in the world, according to the Royal Canadian Mounted Police (RCMP). At the time, the bus was carrying a total of 27 people, CBC News reported.
The injured were taken to hospitals in several locations across the province of Alberta, where Jasper National Park is located, including Edmonton, Grande Prairie, Hinton and Calgary.
Fourteen of the injured were in critical, life-threatening condition, according to Alberta Health Services (AHS). Another four were in serious but stable condition, and six patients were stable.
"Our thoughts and deepest sympathies are with the families and loved ones of the deceased, and with all of the patients impacted by this tragedy," a statement from AHS read.
Numerous emergency service teams and Park Canada officials responded to the accident, according to RCMP Cpl. Leigh Drinkwater. The mounted police said they are working with experts to establish the cause of the bus accident.
Images of the custom-designed off-road bus lying upside down on a rocky slope near the Athabasca Glacier emerged on social media after the accident.
"We will provide additional details as they become available," Tanya Otis, a spokesperson for the bus tour operator Pursuit, told CBC. "Our immediate concern is with the injured and their families and we are supporting the efforts of first responders."
Randy Cusack witnessed the scene after arriving in the icefield parking lot on Saturday, telling CBC that he saw several emergency teams at the crash site.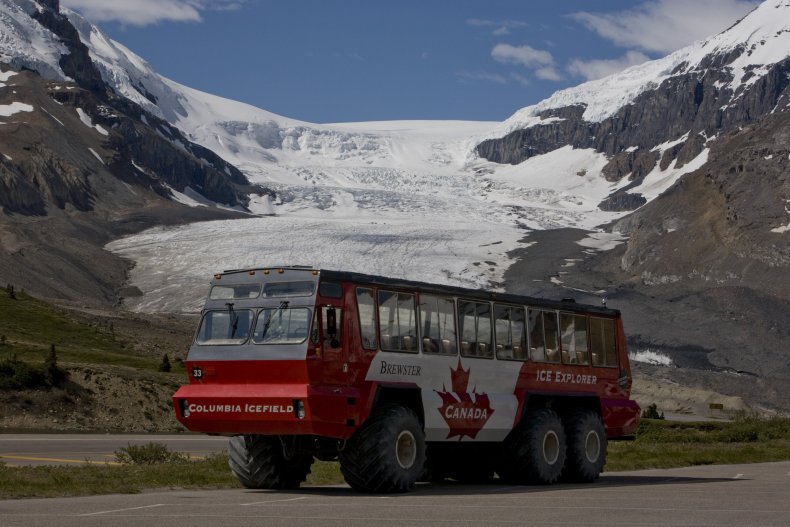 "One of the snow tour buses was upside down and off the bank... to the left of the glacier, not on the actual glacier but just a side road," he said. "It looked like it was kind of on the shoulder, slid and rolled down the embankment a couple of times. It's horrible."
The accident in Jasper National Park was not the only fatal bus crash this weekend. Five people were killed and 18 injured in the state of Uttar Pradesh in northern India after a private bus hit a car and overturned, according to Asian News International.
Local police and residents helped rescue the passengers and the injured have been taken to hospital. The accident occurred at around 5 a.m. local time as the bus was traveling from the city of Darbhanga in Bihar state to the Indian capital New Delhi.