Bus Drivers in Connecticut Fight For Bathroom Breaks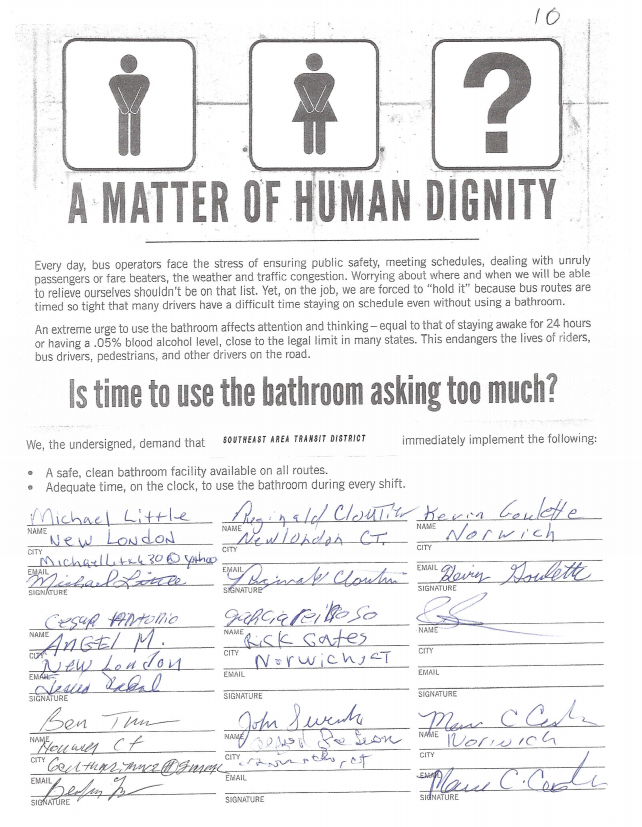 Connecticut bus drivers screamed "We need to pee!" in front of the Gold Building in downtown Hartford Thursday morning, some dressed in adult diapers they feel their jobs forced them into because they lack access to the bathroom, according to a report in the Hartford Courant. Supported by members of the Amalgamated Transit Union (ATU) and other transit district organizations as well as local and state politicians, the drivers included employees working for CTtransit and the Southeast Area Transit District (SEAT).
The bus drivers are protesting both SEAT and CTtransit, who come up with the list of bathrooms that allegedly guarantee availability to drivers. Protesting bus drivers, however, said there was no such guarantee, leading to inadequate working conditions.The Gold Building, at the heart of the hub where at least 20 buses stop an hour, recently became the latest to refusedrivers from using their facility. Finding bathrooms is an issue the ATU has tried to remedy on an international scale, as drivers around the world have complained about unavailable facilities.
If not diapers, drivers have reported needing to use cups to relieve themselves and stay on schedule. Drivers who did not make it to a list of bathrooms provided by the company along their route have admitted to relieving themselves outside or accidentally soiling their seat. The list of available restrooms, shared by drivers of both companies, continues to get shorter with more turning bus drivers away even after their availability is confirmed by the company.
"In any other job, you just go to the restroom. Nobody is asking you questions, you don't have to ask anybody. In our case, the pressure isn't just coming from the management in keeping the schedule but you've got to remember you've got 40 to 50 people behind you," Jerry Pizunski, a bus driver and ATU President of the Local 1209 told Newsweek.
Some businesses, like a Dunkin' Donuts in the Downtown Hartford area, only allow customers to use their restrooms. This ends up creating a toxic social environment for drivers, said Pizunski, who is also the Chairman of the ATU's Legislative Council.
"You have to buy something in order for them to buzz you into the bathroom, so you're going to go buy a coffee," Pizunski told Newsweek. "You have to pay for your coffee, then you're going to go to the restroom and when you come back with the cup of coffee, the 40 people late to work are pissed. Who do you think they're going to put it on? They're not going to call the company, they're just going to yell at you."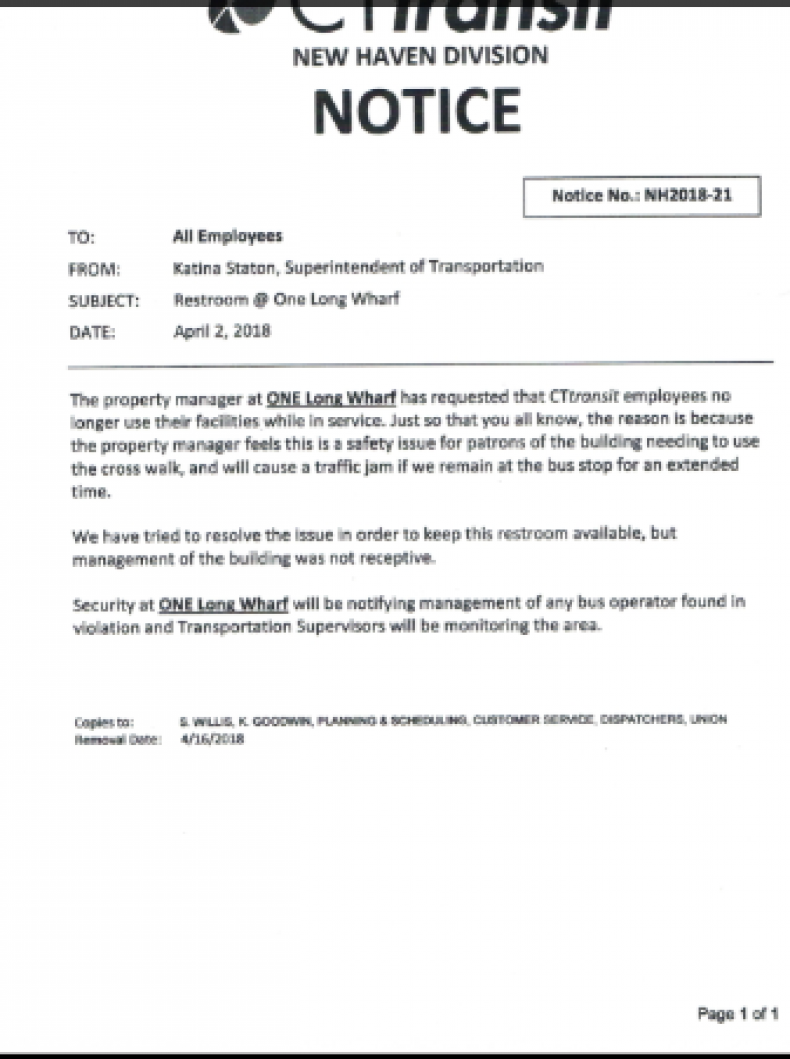 Cole Pouliot, new general manager of HSN, which operates CTtransit, told Newsweek he started the job five months ago but only got wind of the issue between two and three weeks ago.
"They can certainly let their supervisors know, we have employee suggestion boxes that people could let us know that come to me directly—there's definitely avenues that people can alert the management that there's been a change or an issue," Pouliot told Newsweek.
Thus far, Pouliot said, bathroom issues have not been cited in the employee suggestions he has received since starting the job.
"We want people to be happy and comfortable with their job," said Pouliot. Claiming measures will be taken to solve the problem, Pouliot confirmed he had a meeting with the executives of local districts coming up in next two weeks where he hoped to identify which routes specifically are being most affected. Other than that, Pouliot said he would not be coming in "with a game plan" since the issue was one with needs differing in each district.
For Pizunski, this is an issue that's plagued him and his colleagues for decades.
"I think they don't even talk to the owners of those places, and they don't own any agreement of it," said Pizunski, who has been a bus driver in the state for over 10 years. Pizunski confirmed a bathroom being on the list did not mean it was available to drivers, but instead defined the existence of a bathroom at the location in general. As a driver, he felt the issue even more adversely affects people who already have health issues, like a colleague with one kidney suffering after 28 years on the team.
Going into his third year in fighting employers at SEAT, the fight for correcting worker conditions continues to involve officials who Pizunski said, "don't want to hear it."
Pizunski succeeded in improving his part of the state after being silenced at a meeting with SEAT executives in 2015. At the meeting, Pizunski attempted to draw attention to the bathroom issue with a 63-page petition containing over 600 signatures that supported employers finding guaranteed locations bathrooms along all bus routes. When he was told the solution to the problem was to "hold it," his story gained coverage in local community sources like The Norwich Bulletin and forced his employers to allocate for what he considered a better work environment in the area.
"Even if we get off the route to use the bathroom, the company will not punish us. We have a bathroom on the ends of each line—and that was a problem before because we had a major hub in Norwich that cost $22 million dollars in federal money. At first we didn't have access."
Still, Pizunski thinks it could be better. "We have a list of bathrooms, but it's not updated," he said. The most critical issue, he also said, lied in how the bathroom situation is handled in more populated cities such as the Hartford hub. He is full of solutions of his own, one of which includes partial compensation for spare cleaning service to businesses that allow drivers to use the bathroom.
At the protest Thursday, Pizunski said the chairman of the CT general assembly transportation committee Tony Guarrera said that he will meet with the CT Department of Transportation Commissioner James Redeker to discuss the issue. Pizunski also said he was just one of many officials in an uproar about the situation, and "had no clue what was going on."
"This is ridiculous," Pizunski said he heard from the legislator, "that in this day and age people have to beg to get the breaks for a restroom.