Bus Continues For 300 Feet with Man Clinging to the Front of Vehicle
A bus driver in Israel drove more than 300 feet with a man clinging to the front of the vehicle.
According to witnesses, five or six commuters had been waiting at a stop in Ashdod for more than 90 minutes Saturday night without a bus in sight. But when one finally approached, it refused to stop—so the group stood in the street to force it to put on the brakes.
Witness Schmuel Baruch told News 1 the driver slowed, but didn't come to a full stop, and one man was forced to jump onto the front to keep from getting run over. Baruch estimates the man was carried between 100 and 200 meters (320 and 650 feet).
Police have launched an investigation into the incident, claiming the driver of the bus, owned by the Afikim Company, put lives in danger.
"On the face of it, it seems to be a very serious incident that will be thoroughly investigated by the relevant officials," a rep for Afikim told News 1.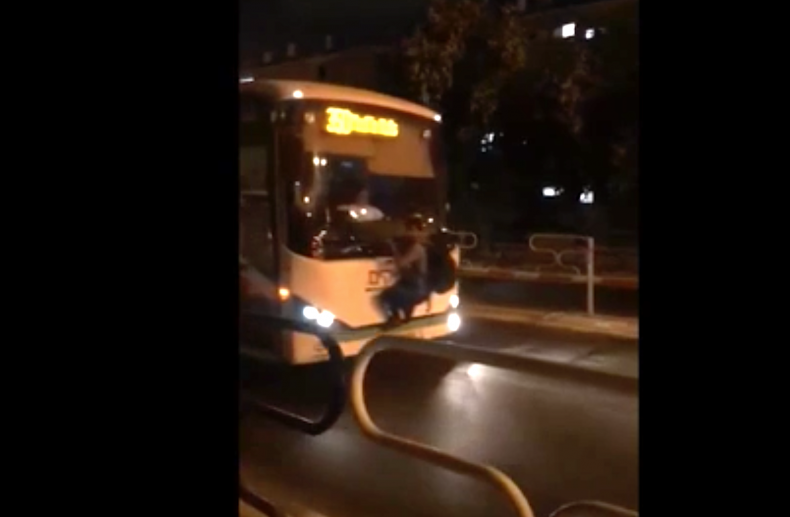 Others have used the outside of a bus as an alternative seating area before: In May 2018, a man who climbed onto the front of a school bus on the Massachusetts Turnpike was charged with disorderly conduct, negligent operation of a motor vehicle and other crimes.
"I don't know what the hell this guy was going to do, I thought he was crazy," the bus driver claimed. "He came to the front of my bus again after a failed attempt to get into the passenger door and jumped on the hood of the bus," the driver said.
In December, a man was filmed hanging off the back of the X2 bus in Washington D.C. with the caption, "Only in DC."
"I was driving home from work and I look up, and there's a guy on the back of the bus," artist Rasta Tahj told NBC Washington. A Metro spokesperson called the stunt unsafe and "reckless."
"While we are thankful that this person was not injured or killed, those outcomes were very real possibilities."
In March, a man in Ireland attempted a similar feat, hanging off the back of a moving 40C bus as it travels through Finglas, an outer suburb of Dublin. Dublin Bus claimed was investigating the incident, which it called "unsafe and extremely dangerous."
"[We] strongly discourages anyone from partaking in such reckless behavior that could result in serious injury."
And in June, a man allegedly tried to attack an MTA bus in New York's East Village. Smartphone video showed the man, clinging to the front of a bus after swiping at it with a blunt object and swinging from its mirrors.
He was taken to the hospital for an evaluation.