Bus Driver Saves Two Students From Speeding Car in Close Call Video
Two students were eager to get off their bus at the end of the school day when their driver saved them from a potentially tragic accident in East Syracuse, New York, on February 3.
Jay Leo, who has been driving a school bus for 28 years, told Newsweek that he saw a speeding vehicle behind the bus as he was stopping at the children's house with his red lights flashing.
"I thought he was going to impact the back of the bus," he said.
Instead, the reckless vehicle whipped by the open bus door, took out a mailbox and kept going. Leo stopped the children from going down the stairs by holding out his arm to block them, saying, "Woah, woah." The moment was captured on bus surveillance footage released by the East Syracuse Minoa School District.
"Oh my god," the student closer to the stairs murmured as she saw the car speed off.
"What! Why did that car do that?" her younger brother asked from behind her.
Afterward, the two students—Lily and Lincoln—safely walked off the bus when Leo saw the road was clear.
"That's why you check your step when you get off the bus," Leo said as they disembarked. "Check your steps, guys. Have a good night."
The children's mom, Jennifer Blowey, saw the incident unfold from her window. She was grateful for Leo's quick reaction, posting on Facebook: "Thankfully my children were not hurt but this could have ended so terribly!! Pay attention while driving and STOP for buses!!"
Nearly two weeks later, Manlius police located the driver of the vehicle, identified as Stephen Fatta, 31, of Kirkville, New York. He was issued multiple tickets, including failing to stop for a school bus and leaving the scene of a property damage accident.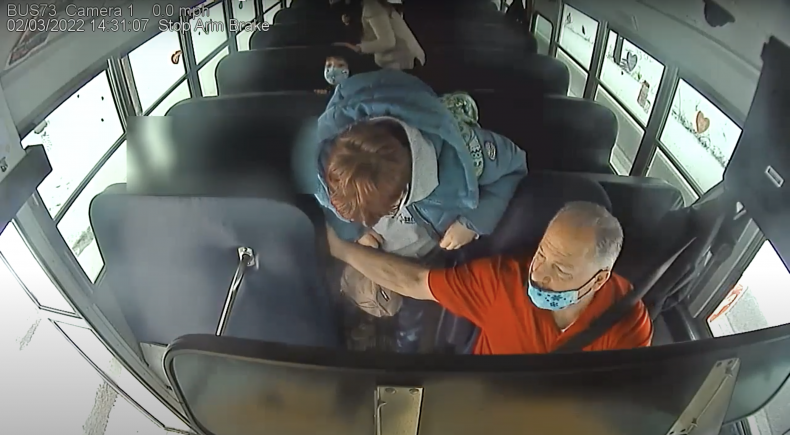 According to the National Highway Traffic Safety Administration, four to six school-age children die each year while taking school buses, amounting to less than one percent of nationwide traffic fatalities and making school buses the safest vehicles on the road.
However, Leo said that after nearly three decades of driving a school bus, he knew that close calls happen "more than everybody thinks."
Students are often excited to get home and see their parents, he said, and no matter how often he reminds them of safety steps, they are likely to forget those protocols in their dash from the bus to the house.
"Folks need to be more aware of the most prized possession we transport," he said. "That's a student."