On the Road With The Grateful Dead and the Merry Pranksters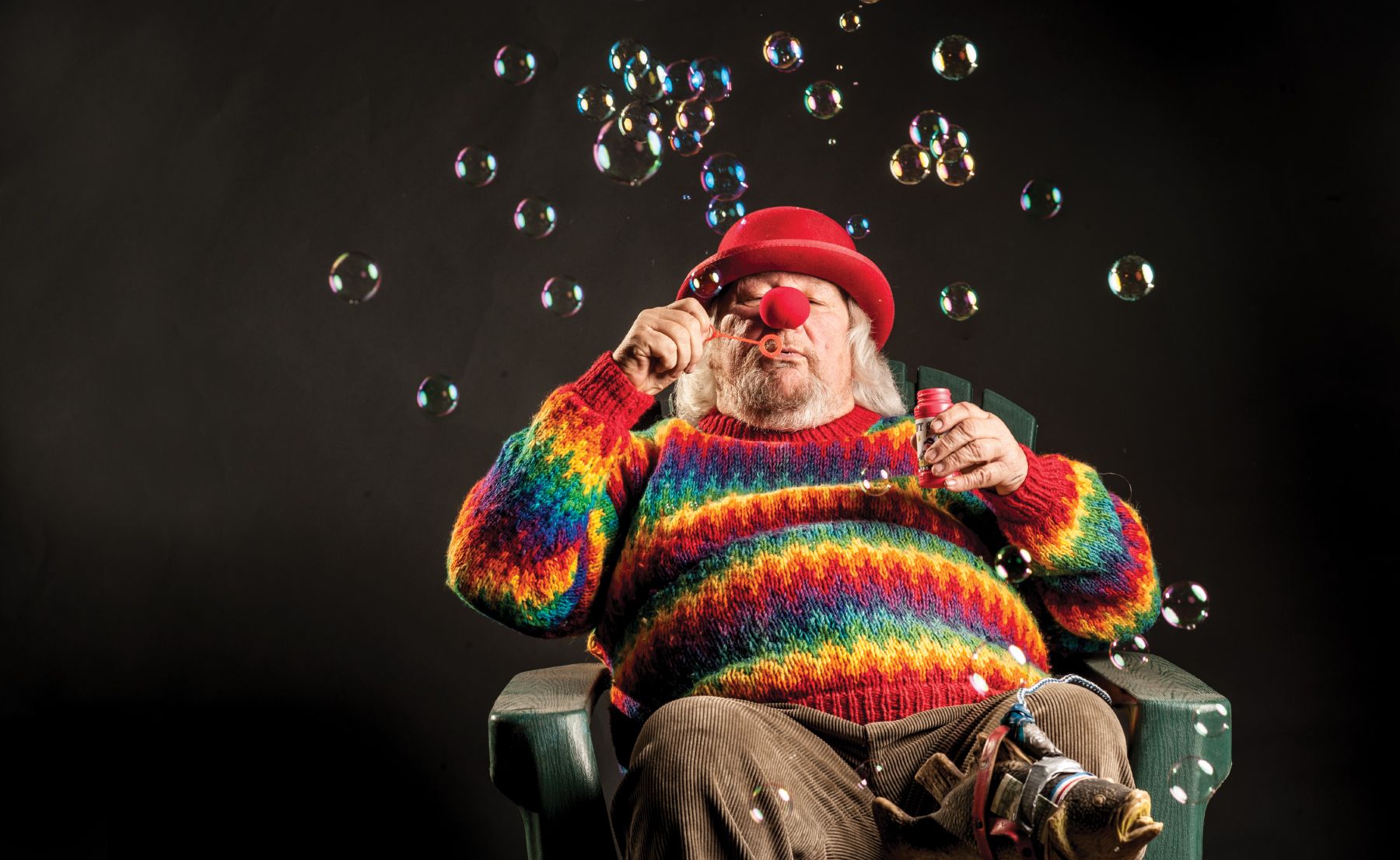 Wavy Gravy, the original and unofficial king, jester, warrior and bard of the counterculture, leads Newsweek's Special Editions on a meandering trip through his life with Jerry Garcia and The Grateful Dead, who are celebrating their 50th anniversary with a 'Fare Thee Well' tour this weekend.
This article, and others about Jerry Garcia and The Grateful Dead are included in our new Newsweek Special Edition, Jerry Garcia, 20 Years Later. By Tim Baker.
Any opening thoughts about Jerry?
I wrote a haiku when Jerry passed [in 1995], and it goes as such. On hearing of his demise, I wrote: "The fat man rocks out/Hinges fall off heaven's door/Come on in, says Bill." You might have to explain that Bill is Bill Graham, the concert promoter who died a few years before Jerry. The Grateful Dead and the Merry Pranksters once did this cross-country bus ride, putting on shows as we traveled, called "Medicine Ball Caravan." It was right around the time of the East Pakistani flood. Relief was coming so slow. We had so much media we could embarrass the government into saying, "By God, there's hippies beating us there; we'd better do a better job!" So these English rock promoters put on a benefit for us at the Roundhouse in London and brought us a bus, which we took on the road to help the victims. It got so cold in the Atlas Mountains in Turkey that the gas froze in the tank. This Turkish truck driver came along, started a fire under the bus and said, "When the lines thaw, you drive like Hell," which we did. I lived on the roof of that bus for months on end. It was wonderful. Going over the Khyber Pass on the roof of a bus, are you kidding? The Indo-Pakistani war broke out while we were en route, so we hung a left. Can you imagine the Taj Mahal covered in camouflage netting? Incredible. We distributed food and medical supplies to Tibetan refugee camps because the war prevented us from getting all the way to Bangladesh.
How did you become involved in performing with acts like the Grateful Dead?
My wife and I were living on a street called Lemon Grove Street. getting ready to do our first public event in L.A. She was running a little restaurant on Sunset Boulevard called the Fred C. Dobbs. There's a line from The Treasure of the Sierra Madre: "Nobody ever put one over on Fred C. Dobbs." That's Humphrey Bogart. Anyway, everybody used to hang out there. She had a great jukebox and put peanuts in my hamburger, and I fell in love. The first time I met Jerry was at the Unitarian Church in the Valley for that first public performance. My wife made pineapple chili that got burned. We flushed it down the toilet, and the stuff proceeded to knock out the Unitarians' sewage pipes. They had to bring in Roto-Routers. That was Paul Sawyer, who was the Merry Pranksters' minister. We were going to do a public event honoring Lord Richard Buckley, who was a great raconteur. We got permission to use Moonfire Mountain in Topanga Canyon, which was owned by Lewis Beach Marvin III, who shows up in the Monterey Pop and Woodstock videos, for an event called the Lord Richard Buckley Memorial Sunset. I sent out invitations with maps on how to get to Moonfire. At the end of the road there's a sign that says "Police Dog Training Course," and very few people go past that sign. Only if you know it's a ruse.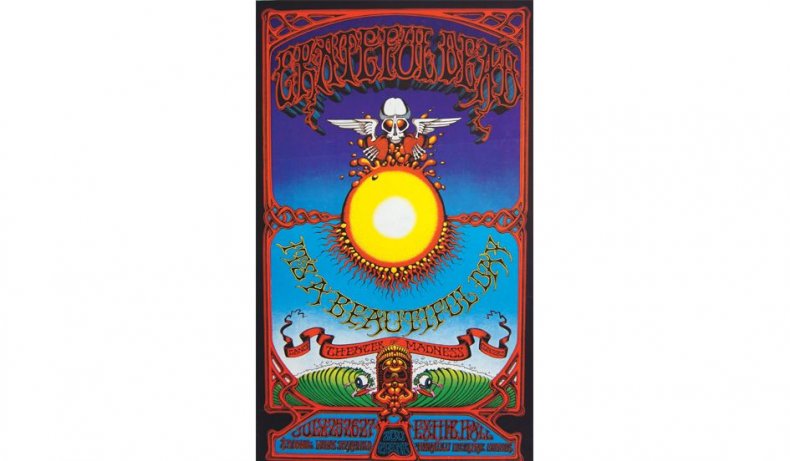 How did that first performance go?
The night before it rained and rained. People called and asked what I was going to do. I said, "Let's wait and see what happens in the morning." In the morning when I woke up, it was still raining. I went down to the kitchen, and there were 30 people in Day-Glo clothes cooking eggs. The Grateful Dead and the Merry Pranksters had arrived to do their traveling road show, which was called, "Can You Pass the Acid Test?" They were going to do this thing at the Unitarian Church in the Valley while we were on the mountain, but it's raining and raining. Finally I said: "Call off the sunset! Let's all go to the Unitarian Church in the Valley." I was despondent, and Ken Babbs, who was Kesey's lieutenant (Kesey was on the lam in Mexico at the time hiding from a marijuana bust) said, "You really want to go up on that mountain?" I said, "Absolutely." He threw me the keys to one of their rental cars, and we drove to Topanga and just as we were coming to the crest of the hill, the rain stopped and the most beautiful sunset that anybody ever saw in the history of the planet came out. I was so ashamed that Lord Buckley showed up and we didn't. Ever since then, whenever we're scheduled to do something, we don't care if it's an earthquake or a flood or a fire—we do it. It was a great lesson for all of us.
What kind of person could pass the Grateful Dead's "test?"
On the eve of Lincoln's birthday, 1966, the Pranksters had rented this warehouse in Watts. The buildings were still smoldering from the Watts riots. We had these two galvanized garbage cans, each full of Kool- Aid. "OK now everybody pay attention," I said. "The Kool-Aid on the left is for the kids. The Kool-Aid on the right is the Eee-lectric Kool-Aid." And that's where that phrase came from; it just popped out of my head. People would be dancing for three hours to the Grateful Dead, and they'd come off the stage just looking for something wet, which turned out to be about 200 micrograms [of LSD] per swallow. Soon the whole place started melting down. That's when I passed the Acid Test. When you get to the very bottom of the human soul where the nit is slamming into the grit and you're sinking, but you reach down to help someone who's sinking worse than you are, that's when everybody gets it. Jerry used to say, "You don't even need LSD to do that," and I concur.
And this was around the time of the LIFE Magazine cover story about Psychedelics?
Yes. My wife and I left Lemon Grove and moved to the country to this little one bedroom cabin where we got a call from the Grateful Dead and the Merry Pranksters that LIFE was doing a cover on psychedelics. Would we join them to pose for this cover of LIFE? We rendezvoused with the bus Further to pose for the cover, and while we're posing, Ken Babbs steals the bus to join Kesey in Mexico. So my wife and I in this one bedroom place had like 40 houseguests. The landlord came over and said: "You cannot have 42 people living in a one bedroom cabin! You are evicted!"
How did you become involved in Woodstock?
This guy showed up at our apartment in New York, looking like Allen Ginsberg on a Dick Gregory diet, and said, "How would you like to do a music festival in New York State?" We said, "We're going to be in New Mexico on the Tesuque Indian reservation for the Summer Solstice," and he said, "That's alright, we'll fly you in on the Astrojet." We figured he was one toke over the line and didn't pay him any attention, but sure enough, there we were up above Santa Fe, and here's this guy with an aluminum briefcase and it's actually true. We have our own American Airlines Astrojet to take 85 people to Kennedy, where we were picked up by buses and ferried upstate. We tumbled off the aircraft, and there was the world press. "Oh the Hog Farm, you guys are the security," they said. I thought, "Oh my god, they've made us the cops." Someone asked what we were using for crowd control, and I said, "Cream pies and seltzer bottles."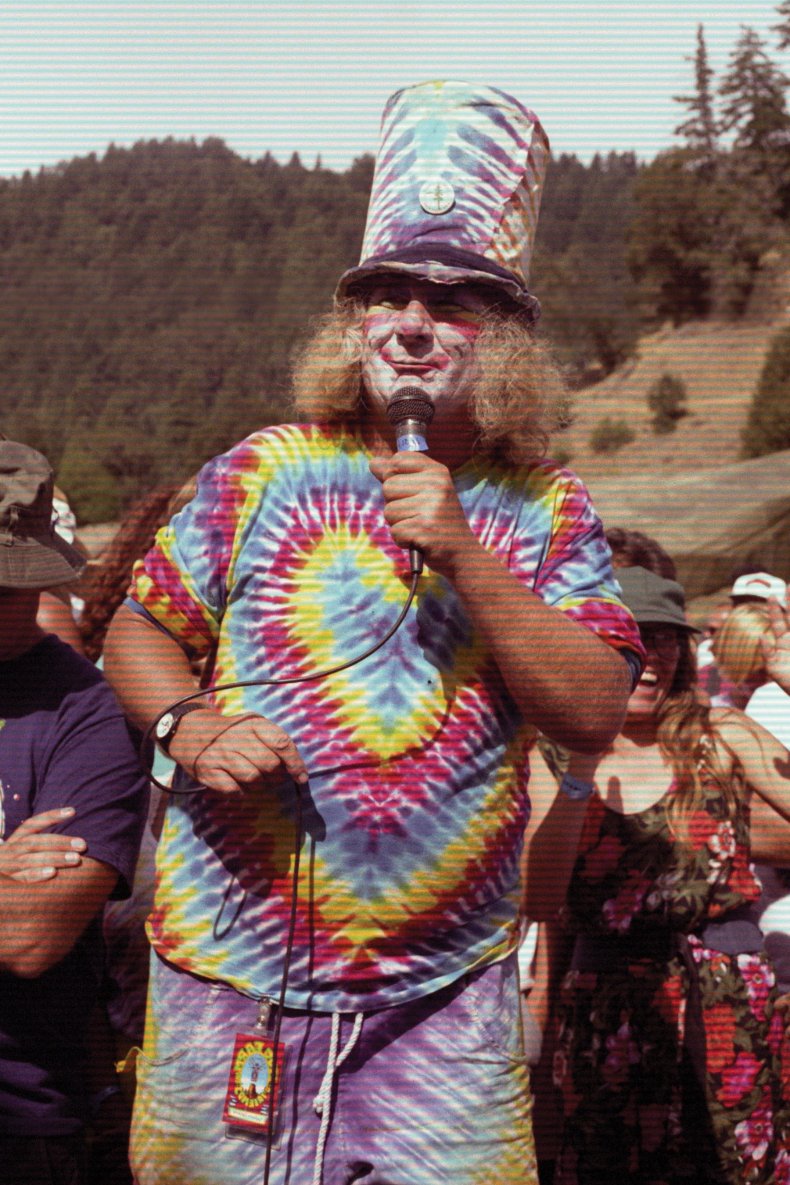 How was the concert itself?
A lot of mothers and fathers didn't want us up there for the festival. Now they sell souvenirs left and right, but back then it was "No hippies for us, thank you very much." So we ended up on Max Yasgur's farm. The Dead powered through Woodstock. They played not too well. Bob Weir almost died from an electric shock. A blue light lit up his whole face as the electricity coursed through his body. I see Bob a lot. In fact, I just had a meeting with them about making a museum for the Summer of Love.
What was it like the last time you saw Jerry?
Jerry and I, the last conversation we had was discussing this wonderful organic sculptor named Andy Goldsworthy. I had a big book of Andy's, and Jerry and I—I guess for an hour before a show—we just looked through it. Jerry loved art. He was so sweet. He was just a sweet, kind, beautiful man.
This article appears in Newsweek's Official Collector's edition, Jerry Garcia, by Issue Editor Tim Baker.