A Florida school bus driver who allegedly had a blood alcohol content level four times the legal limit while driving a bus with dozens of students on board was arrested earlier this week.
Driving while under the influence remains a significant point of concern for transportation officials in the U.S., with the National Highway Traffic Safety Administration estimating about 28 deaths occur every day in connection with drunk driving incidents. In the case of the bus driver who was arrested Wednesday, officials with the Flagler County Sheriff's Office (FCSO) said no injuries occurred.
"This drunk thought it was okay to endanger 40 children and other drivers by driving a loaded school bus significantly impaired. Thankfully, no one was hurt as a result of his actions," Flagler County Sheriff Rick Staly said in a Thursday news release.
"Anyone whose careless actions endangers lives of children and other drivers deserves to be locked up, which he was," he added.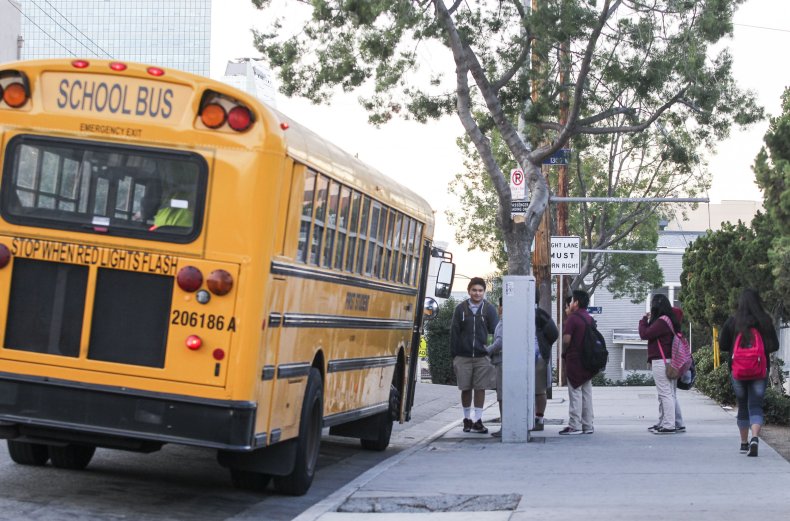 Authorities identified the driver as 60-year-old Mark Michael McNeil of Ormond Beach. At the time of his arrest, he allegedly had a blood alcohol content level between 0.31 and 0.32, according to the FCSO.
A co-worker of McNeil's told his supervisors that he could smell alcohol when McNeil showed up to work in the afternoon to drive students home from school, the FCSO said. Staly praised the co-worker for reporting his belief that McNeil was under the influence.
After arriving to work, McNeil allegedly took a bus that was not his assigned vehicle and drove to Buddy Taylor Middle School, where authorities said he picked up an estimated 40 students.
McNeil was in the process of dropping students off when he reported experiencing a medical emergency to the school district. The FCSO said district officials had previously attempted to contact McNeil, but were unsuccessful.
The driver was ultimately found along his route by his supervisor. He "exited the bus and fell to the ground complaining he couldn't breathe," after which authorities said he was taken to a nearby hospital. When deputies arrived to intercept McNeil at the hospital, the driver "attempted to flee" and "was showing signs of intoxication while resisting arrest."
McNeil has been accused of driving under the influence while transporting minors, resisting arrest and child neglect. Authorities said the single charge of child neglect he is facing is expected to multiply.
Dontarrious Rowls, the director of Transportation & Fleet Services at the Flagler County School District, told Newsweek the incident "is actively being investigated and we are in full cooperation with local law enforcement as well as the State Department of Children & Families."
"The Flagler County School District has also opened an internal investigation into all parties involved," he said.