You Can Now Get Married in a Busch Beer-Themed Camo Wedding Dress
Truly devoted Busch Beer fans can now involve the drink in their wedding by more than just complimentary cans for guests, as the brand is now offering a camo wedding dress.
Teaming up with David's Bridal, Busch Beer announced the bridal design on Twitter on October 25. The dress features a classic silhouette but uses a camouflage pattern instead. Grooms are able to purchase a matching bowtie too.
"SAY YES TO THE BUSCH @DAVIDSBRIDAL CAMO WEDDING DRESS AND BOWTIE," tweeted the beer company. "Designed from our own camo can print, the only thing people will be able to see if your love."
At $749, the dress is notably cheaper than many bridal gowns, especially those offered by David's Bridal.
The dress itself features one of the wedding brand's "most beloved satin ball gowns," but just with the Busch Beer camo on. Busch Beer often introduces limited edition camo cans and did so in September this year, featuring a pixelated camo pattern for 2021—the same pattern now seen on the wedding gown.
Brides can expect a sweep train and side pockets, if you need room to hold your matching beer cans, along with an optional coverage panel.
It's made from polyester and can be pre-ordered now until November 26. Potential buyers are advised to try a David's Bridal gown in style V3848 in-person for size and fit before ordering.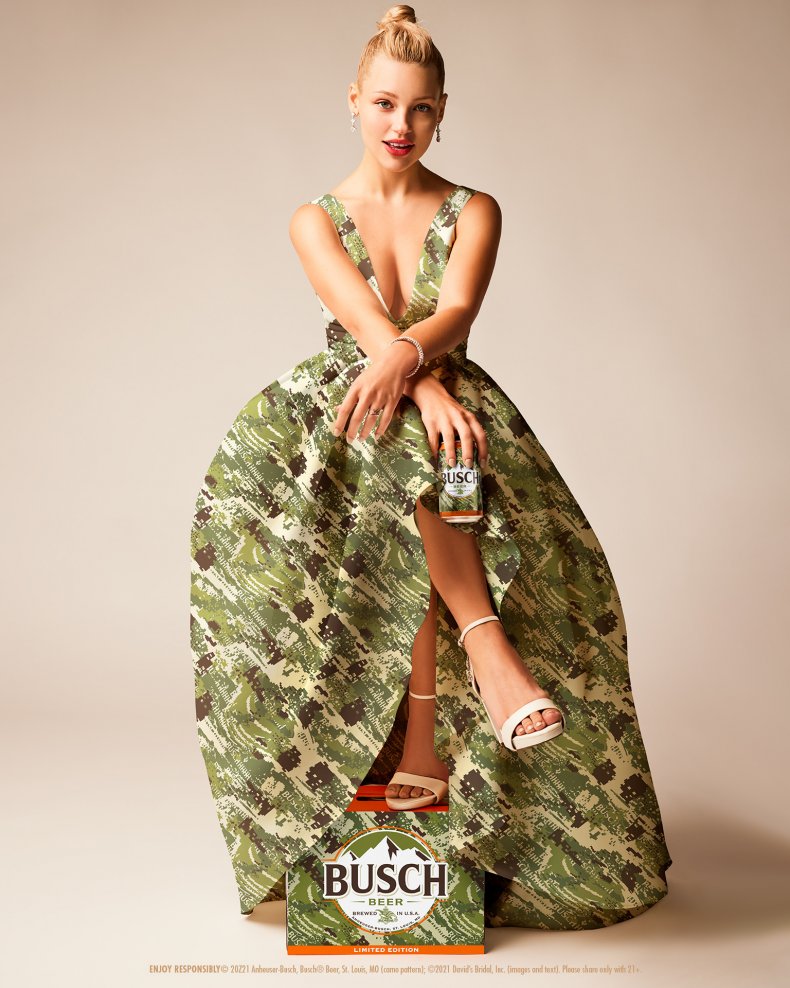 "Busch has been a fixture at weddings of fans for years and, as a brand that focuses on celebrating the things in life that really matter, has found unique ways to help couples celebrate their love," Busch said in a statement to Newsweek. "Whether it's sponsoring a dream wedding in the great outdoors or even being married by the recently ordained Busch Guy, Busch Light is proud to be part of our fans' special day."
Some Busch Beer fans have made their love for the wedding dress known online. "Is this a joke cause I fell in love," replied one Twitter user.
"You can have what you like in the divorce. Just let me have a Busch Beer wedding," tweeted another user.
"If you don't get married in this, you're not a true fan," joked another.
After one day online the Busch Beer dress has already received one rave review, whether or not it's sincere is for you to decide: "WOW, can I just say WOW I never thought i'd ever get to see the dress of my dreams but here it is, no second thoughts, can't wait to wear it on my big day."