Speaking Spanish (and Conservative), Bush Declares Presidential Bid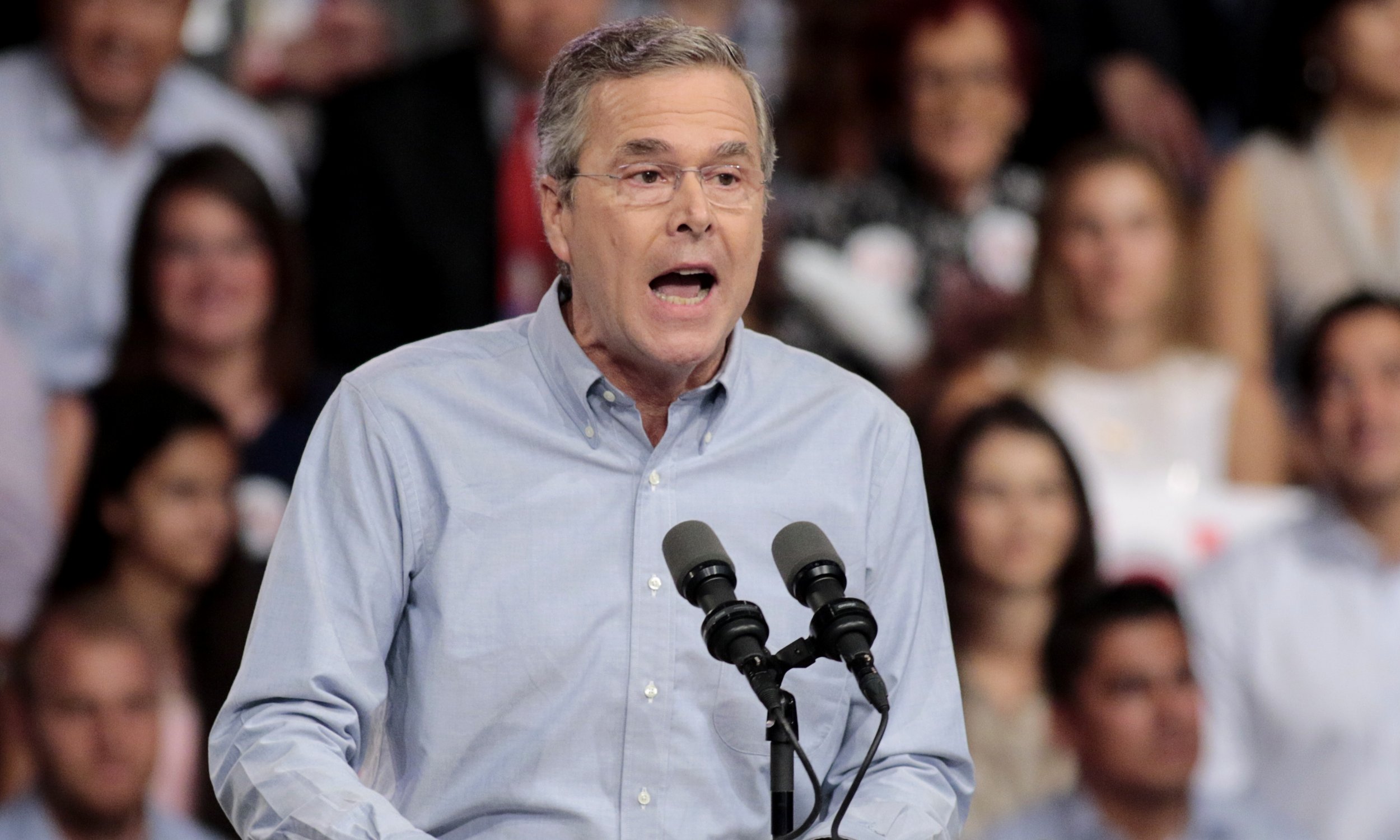 Vowing to fix "the static capital of a dynamic country," former Florida Governor Jeb Bush launched his campaign in Miami on Monday to win an office once held by his father and brother.
Bush's formal announcement of his 2016 presidential bid comes after weeks of unofficial campaigning and concerns among Republicans that he was stumbling and might not be as strong a nominee as they had hoped. The first-time presidential candidate has been chided for everything from his fumbling answers to how he might have handled the Iraq war to the way he slouches.
Bush's forceful speech before thousands of supporters Monday sought to address those concerns and also to distinguish himself from his famous family. "The presidency should not be passed on from one liberal to the next," said the 62-year-old, slyly making an Obama-Clinton continuum seem like a real dynasty.
The heir to two Bush presidencies, Jeb (which is an acronym for John Ellis Bush) decried the "pampered elite" of Washington and said as governor of Florida he was not a "member of the club." The Bush emphasis on portraying others as elite is longstanding: In 1988, George H.W. Bush (Andover, Yale) denounced his opponent's foreign policy by saying it was born in a "Harvard Yard boutique."
Jeb Bush introduced his mother, who was there, and made brief references to his father and brother, who were not. "It's nobody's turn," he said of the presidential nomination contest.
At a time when Republicans know that they must win over more Hispanic voters if they're to take the White House, Bush emphasized his Hispanic ties--his marriage to a Mexican national, his fluency in Spanish and his deep roots in Miami, America's gateway to Latin America. He had a diverse set of speakers introduce him, including his son, George P. Bush, the Texas land commissioner, who spoke in Spanish for part of his address. Jeb Bush himself spoke in Spanish and promised immigration reform.
Bush delivered his address at Miami Dade College in a more vigorous style than he's known for and with more red meat for conservatives. Besides the "liberal" chide, he derided the Environmental Protection Agency, "unions" and "bureaucrats," and talked up "free enterprise." He chided the "Obama-Clinton-Kerry" foreign policy. He attacked Hillary Clinton by name and vowed to protect religious groups like the Little Sisters of the Poor, a religious order that chafed at complying with Affordable Care Act regulations.
But the most important thing Bush achieved was delivering an address with some muscle and fervor, one that had the feeling of someone eager to fight for a nomination--which is what he faces.
"The next President of the United States will pass meaningful immigration reform so that will be solved, not by executive order." As he introduces his mother, former First Lady Barbara Bush, Jeb Bush is interrupted by immigration protesters. Watch the complete Jeb Bush presidential campaign announcement here: http://cs.pn/1BhteQF

Posted by C-SPAN on Monday, June 15, 2015