Bush-Era Diplomat on Trump's Syria Withdrawal: 'This Is the End of 70 Years of the American Era in the World'
A former diplomat who served under former President George W. Bush warned on Tuesday that President Donald Trump's decision to withdraw troops from Syria is a sign of the end of American leadership on the world stage.
"What we're actually seeing, if you take a step back, this is the end of 70 years of the American era in the world," Richard Haass, who previously served as the U.S. special envoy to Northern Ireland, said during a segment of MSNBC's Morning Joe. "We are voluntarily abdicating our role, and it's the Russians, Iranians and others who are benefitting or countries will simply take matters into their own hands," the former diplomat, who is now the president of the Council on Foreign Relations, argued.
"This will be seen as historic stuff in terms of the trends of history," Haass predicted.
Trump spoke directly with Turkey's President Recep Tayyip Erdogan and agreed to pull back troops from northern Syria to allow Turkish forces to move in and take control of the area. The U.S. military has been backing Kurdish fighters aligned with the Syrian Democratic Forces (SDF) in the fight against the Islamic State (or ISIS) in the region.
While Turkey is allied with the U.S. through the North Atlantic Treaty Organization (NATO), it has historic tensions with the Kurds. As a result, many Republicans and Democrats, as well as Kurdish leaders, have raised alarms that Erdogan will clash militarily with the Kurds, who have been integral allies in helping the U.S. subdue ISIS. Relations between Washington and Ankara have also been strained in recent years. Trump has, at times, taken a strong stance against Turkey, while also sometimes appearing to appease to the nation's strongman leader's demands.
A source in Trump's National Security Council told Newsweek on Monday that Trump got "rolled" by Erdogan during their Sunday call.
"President Trump was definitely out-negotiated and only endorsed the troop withdraw to make it look like we are getting something—but we are not getting something," the source said. "The U.S. national security has entered a state of increased danger for decades to come because the president has no spine, and that's the bottom line."
Prominent Republicans, including some of his usual defenders, blasted Trump's decision.
"By abandoning the Kurds, we have sent the most dangerous signal possible – America is an unreliable ally, and it's just a matter of time before China, Russia, Iran, and North Korea act out in dangerous ways," GOP Senator Lindsey Graham of South Carolina warned in a Monday tweet.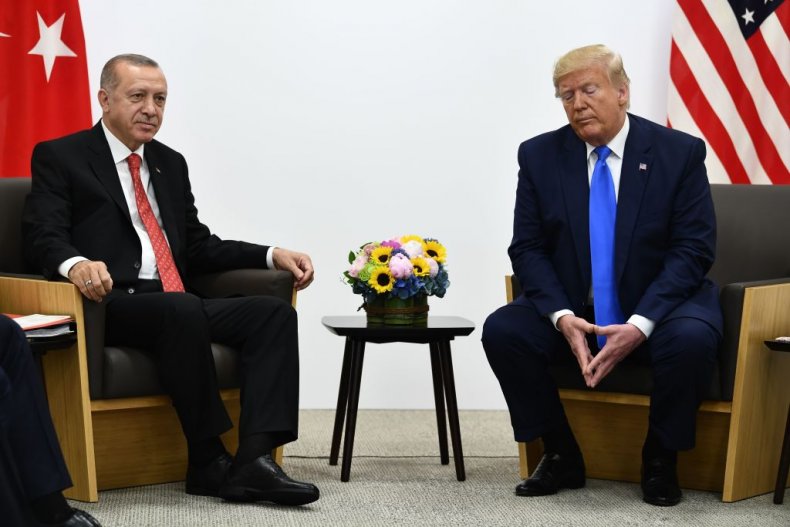 "The Trump administration has made a grave mistake that will have implications far beyond Syria," Senator Marco Rubio, a Republican from Florida, wrote on Twitter.
But Trump defended his actions, arguing that he would not allow Turkey to harm the Kurds.
"As I have stated strongly before, and just to reiterate, if Turkey does anything that I, in my great and unmatched wisdom, consider to be off limits, I will totally destroy and obliterate the Economy of Turkey," Trump tweeted on Monday.
On Tuesday morning, the president again defended his decision.
"We may be in the process of leaving Syria, but in no way have we Abandoned the Kurds, who are special people and wonderful fighters," Trump wrote in a separate tweet. "Likewise our relationship with Turkey, a NATO and Trading partner, has been very good."
Correction: A previous version of this article incorrectly spelled Richard Haass's last name.
Bush-Era Diplomat on Trump's Syria Withdrawal: 'This Is the End of 70 Years of the American Era in the World' | U.S.