Bush White House Ethics Lawyer Criticizes Trump Education Secretary Betsy DeVos for Defending For-Profit Colleges: 'Pathetic'
Attorney Richard W. Painter, who served as the chief ethics lawyer in President George W. Bush's White House, slammed President Donald Trump's Secretary of Education Betsy DeVos over for-profit colleges.
Painter, a frequent critic of Trump and his administration, posted a series of tweets Sunday criticizing the policies being pushed forward and implemented under DeVos' leadership. He warned that her Education Department is working to benefit for-profit colleges at the expense of students, while also taking steps to ease accreditation requirements, which could lead to a reduction in the quality of degree programs.
"For-profit colleges (Corinthian Colleges, Trump University and more) are often a scam...And Betsy DeVos blames the student victims?" Painter posted, sharing the link to a column in The Los Angeles Times criticizing the secretary of education for her handling of a legal ruling involving the now-bankrupt Corinthian Colleges. "Pathetic!" he wrote.
U.S. Magistrate Judge Sallie Kim in San Francisco fined DeVos' education department $100,000 and declared the secretary to be in contempt of court at the end of October. The judge found that the Trump official's agency had continued to pursue student loan repayment from more than 16,000 students who had attended Corinthian Colleges, despite a previous ruling ordering the department to cease collection. The education department's action led to credit reports of 847 former students receiving negative marks on their credit reports, while just over 1,800 had their paychecks garnished.
"There have to be some consequences for the violation of my order 16,000 times," Kim said in her ruling, admonishing DeVos' agency.
In another tweet, Painter took aim at DeVos for easing regulations regarding the college accreditation process.
"Just what we need. More crappy colleges. More students who can't pay off their debt. More get rich quick schemes in higher ed," he wrote. The lawyer shared an article from The Hill titled: "Education Department finalizes new regulations to relax college-accreditation requirements."
As of July, the Department of Education will implement new regulations that will allow colleges failing accreditation checks four years – an increase from two years – to improve their standards before their accreditation is revoked. Accreditation agencies will also no longer be required to inform impacted students of the concerns. DeVos told The Washington Post that the move would "bring higher education into the current century."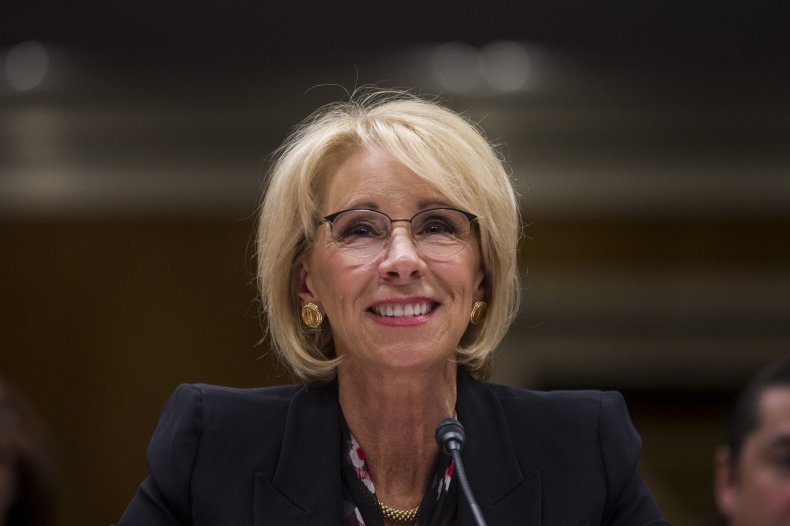 Painter has criticized the Trump administration many times before. He argued last week that the president was committing "felony bribery." Sharing an article outlining how Trump's campaign is fundraising for GOP senators facing tough reelection campaigns, the former Bush ethics lawyer argued this was akin to bribing a jury. Trump is widely expected to soon face trial in the Senate with the House expected to vote in favor of the president's impeachment within the coming weeks.
"This is a bribe. Any other American who offered cash to the jury before a trial would go to prison for felony bribery," Painter, who is now a law professor at the University of Minnesota, wrote on Twitter. "But he can get away with it? Criminal."