Breaking From Campaign Trail, Jeb Bush Receives Warm Reception From New York's Foreign Policy Elite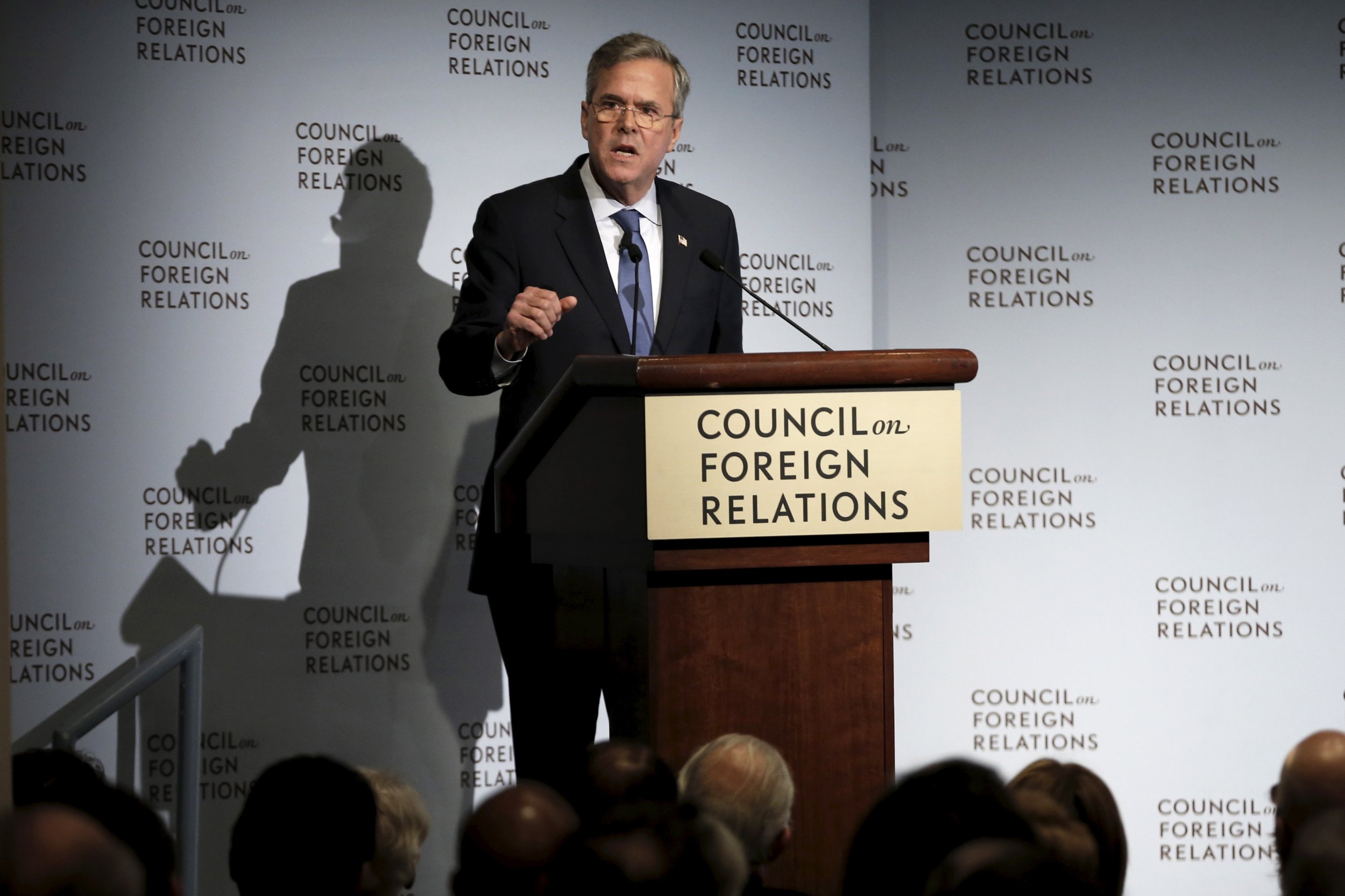 Jeb! brought his old-school Bush brand to its happy place, a venue in New York City that could arguably be said to have invented it. Standing at a lectern Tuesday in the hallowed white granite headquarters of the Council on Foreign Relations, with captains of industry and international diplomacy arrayed before him, he delivered what was billed as an important foreign policy speech.
The gray, balding heads on tweed shoulders filling chairs in the Peter G. Peterson lecture hall—named after a Nixon commerce secretary, fiscal conservative and philanthropist who served as past CFR chairman—didn't whistle or boo, didn't call him low-energy and didn't interrupt.
In that milieu, Bush was able to speak in the style he prefers, quietly making points in whole paragraphs, instead of sound bites, while aiming his aggression at Iran and the Islamic State militant group (ISIS), rather than Donald Trump.
He laid out a foreign policy strong on pushing back against Iran and ISIS, suggesting a strategy of more boots on the ground, as opposed to what the former governor calls the "video-game" war by drone that President Barack Obama has pursued. He tossed out the usual Republican primary chestnuts about strengthening America's weakened military, moving the U.S. Embassy to Jerusalem and assuring the world that the U.S. hasn't lost its leadership mojo. He promised one of his first visits in office would be to the headquarters of the National Security Agency, where he said cybersecurity "patriots" had been dissed by Obama, who had only "visited once," and weakened by Edward Snowden.
Bush was the fifth candidate to speak at the council this season, joining Senator Marco Rubio, former Secretary of State Hillary Clinton, Governor Chris Christie and Governor John Kasich. But he was the first to have been weaned on Cold War strategies like "containment" and, later, the New World Order, originally outlined by men associated with the council, many of whom were friends of his father, President George H.W. Bush, who was also a former CIA director and U.N. ambassador. For some libertarians and political outsiders, the CFR, founded in 1921 by a group of scholars who had advised Woodrow Wilson, itself represents the invisible hand of a self-appointed elite. It has long played a central role in conspiracy dogma about cabals of shadowy establishment figures.
"It looks to me like the world is unraveling," Bush said as he opened his speech. "Hopefully, this campaign is a place where some of this can be discussed." Beat. "Man, a girl can dream from time to time."
Members of the council chuckled, politely and nervously. The audience couldn't have agreed more. Participants included retired diplomats and academics with chairs at Harvard, Yale and Princeton, managers of global consulting firms and major investment banks, and marquee journalists, with what seemed like an average age above 60. The moderator, Washington Post editorial page editor Fred Hiatt, was introduced as a man who "joined the Post when Amazon was just a river."
These titans of capital and global affairs are the generational descendants of leaders who organized the postwar planet with the Marshall Plan, NATO and "containment." Men, in short, who operated with low drama in a dangerous world, in an era when presidential candidates did not need to put exclamation points behind their names. Now, just as stateless international foes defy the old, neat solutions, the candidate who might once have been their favorite son—moderate and pedigreed Jeb Bush—is flailing into irrelevancy in the chaos of the 2016 Republican primary
On his way in, former New York Lieutenant Governor Robert Ravitch, a Democrat, said, "It's about time the Republicans take control and stop this insanity. I mean Donald Trump is a buffoon, and [Ted] Cruz is a hater. We have serious problems that need serious people working on them."
James Hoge, former CFR chairman and a longtime editor of its magazine, Foreign Affairs, gauged the room as pessimistic. "I think everyone here is just pretty discouraged about this campaign," he said. "I think that this was the talk they wanted to hear, some moderate talk from a centrist Republican. But I do wish they would all stop putting themselves in a corner over Iran."
Watching from the back row before the speech, Bush national campaign finance chair Robert Woods Johnson IV chatted with the press, using football metaphors about coming from behind. The pharma billionaire, whose family is the 46th richest in America, according to Forbes, also owns the New York Jets, who haven't won a Super Bowl since 1969. "We started slow and finished strong," he said of the NFL team's current season. "Sports and politics are very much the same thing: Stay true to your beliefs and you win."
Still, he conceded of this primary season: "I've never seen anything like this."
Johnson had his own theory about what's blown up the Republican Party. He said that while watching Get Shorty with his wife the night before, he reminisced about the year it was made, 1995. "Before the Internet, before the iPhone, our attention spans were longer. We didn't have the opportunity to exercise our vocal feelings as often as we do now. We have gotten to a new level. Whether that's permanent or not, I don't know."
Johnson called the other candidates unfit based on demeanor alone. "I have two boys. I don't like jumpy. If somebody deploys them to a spot where their survival is at stake, which is the most important decision for a president, I don't want someone prone to overreaction or taunts. Demeanor is very important. You have to respond in a measured way."