Bush's First Midterm Campaign Event Will Be With Liz Cheney, Could Impede Trump's GOP Hold
Divisions within the GOP could deepen between the party's Trump wing and other Republicans, with former President George W. Bush set to back Representative Liz Cheney ahead of the 2022 midterms.
Bush is scheduled to hold his first campaign event for the 2022 races in October in Dallas. It will mark a rare appearance from the 43rd president.
The fundraiser, first reported by Politico, signals that Cheney, who is fighting to hold on to her seat, is making use of her ties to Bush. The third-term congresswoman is the daughter of Dick Cheney, who served as Bush's former vice president during his two terms as president.
Cheney has emerged as a prominent critic of Donald Trump—a defiant position that cost her a top GOP leadership position in the House.
Earlier this year, the Wyoming Republican was ousted as the chair of the Republican House Conference after she voted in support of Trump's second impeachment. While she easily survived the first effort to remove her, Trump's continued attacks on Cheney, and her outspoken remarks against him, led to her removal in May.
Trump vowed to unseat Cheney following her criticisms of him after the January 6 assault on the U.S. Capitol.
To replace her, Trump has endorsed Harriet Hageman, Cheney's opponent in a Republican primary. Since the endorsement, many Trump allies have urged other anti-Cheney candidates to drop out of the primary and rally around Hageman.
Many will be watching the race to see exactly how tight Trump's grip on the GOP remains now that he has left the White House.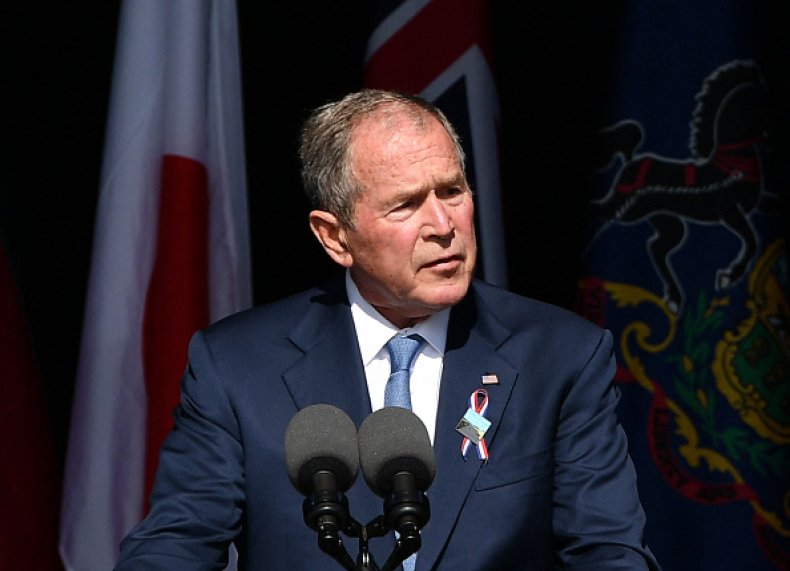 While Trump's influence is still significant, opposition from Republican voters has appeared to increase.
His attacks on Cheney seem to have fueled her fundraising efforts, helping the congresswoman raise a record $1.5 million during the first three months of the year, followed by roughly $1.9 million in the second quarter.
Cheney's condemnation of those who invaded the Capitol in an effort to block the certification of electoral votes for President Joe Biden earned her a spot on House Speaker Nancy Pelosi's select panel investigating the January 6 attack. Cheney has also been made vice chair of the committee since her appointment.
Other guest speakers set for the October 18 event are former Bush administration officials, such as Karl Rove, White House deputy chief of staff; Harriet Miers, White House counsel; and Karen Hughes, White House communications director.
In January, Bush's spokesman hinted that a potential endorsement for Cheney would be likely, despite the congresswoman's decision to break with her party to vote in favor of impeachment.
Asked about the 2022 midterms, spokesman Freddy Ford told Politico, "We aren't thinking about the next election cycle yet, but I do know that President Bush is planning to call VP Cheney tomorrow for two reasons: to wish him a happy 80th birthday, and to thank him for his daughter's service."
Newsweek reached out to Cheney's reelection campaign for comment but did not hear back before publication.