Mix equal parts earthquake and roller coaster. Add a pair of eggplant-sized cojones. Place in solitary pen for approximately five hours, then transfer to claustrophobic chute for one minute. Add rider. Release and serve.
That is Bushwacker: a recipe for disaster. In the chute he is placid and eerily still. Then the gate opens, and for the next two or three or four seconds, all is mayhem as 1,700 pounds of "I'm-not-your-bone-in-rib-eye!" erupts. Imagine the most severe turbulence you've ever experienced, multiply it by a factor of Giddyup! and then add an ejection seat for the hapless bull rider.
"Bushwacker is totally in a class by himself," says Keno Shrum, editor-in-chief of Humps N' Horns magazine, bull riding's premier publication.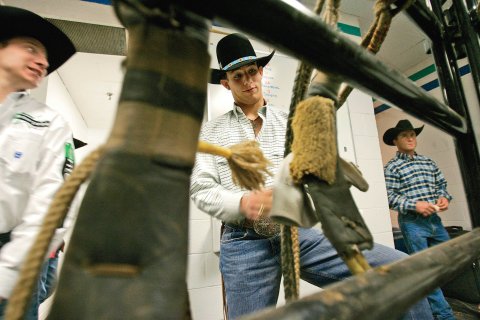 "There is no doubt in my mind that Bushwacker is the best bull I've ever seen," says Cody Lambert, the longtime livestock director for the Professional Bull Riders (PBR) tour. "He has superior athletic ability, but he also has competitive desire to be the very best. He's a total professional."
Like Michael Jordan. Except Bushwacker's a real bull.
Nobody rides Bushwacker. Well, almost nobody. In five seasons on the PBR tour, he has been ridden the requisite eight seconds, i.e., a qualified ride, just once in 61 outs. The 8-year-old also owns the longest streak of consecutive buck-offs, 42, in PBR history. The lone man to remain aboard Bushwacker for eight ticks—an eternity, under the circumstances—was J.B. Mauney, who did so in August 2013 in Tulsa, Oklahoma. "When I looked up and saw that '8 seconds,'" Mauney tells me, reciting a line he has used before, "I was 10 feet tall and bulletproof."
Like other destructive forces of nature (Category 4 hurricanes, Auto-correct, etc.), Bushwacker is impassive to the wreckage he creates. "There are mean bulls, but Bushwacker isn't a mean bull," says retired world champion Ty Murray, the greatest bull rider of them all. "He's dangerous, but he's not mean."
But he is dangerous. Last February, Bushwacker bucked off Nathan Schaper and then inadvertently hammered 1,700 pounds of bovine force into Schaper's left calf, snapping the fibula and tibia like kindling. "Bones aren't too serious," says Schaper, who lasted longer than most men do (4.59 seconds) atop Bushwacker's broad, chocolate hide. "Bones heal. Ligaments are more serious."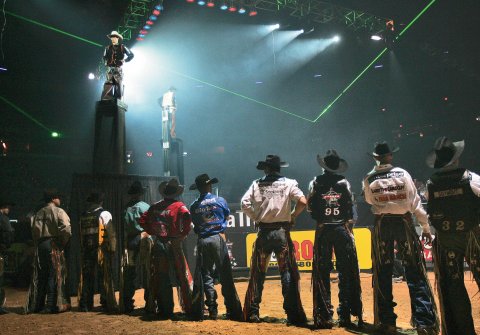 Nobody rides Bushwacker for long, and soon nobody will have the chance at all. Before the 2014 PBR Built Ford Tough Series began, his owner, Julio Moreno, announced this would be Bushwacker's last year on the circuit. This entire year has been about him, not unlike Derek Jeter's celebrated last lap around Major League Baseball. He will retire after the PBR World Finals in Las Vegas at the end of October. After that, Moreno will set Bushwacker up in a cushy bachelor pad on his ranch in Oakdale, California, sharing a pasture with "21 girlfriends."
And then, Bushwacker will be the one doing all the riding.
Moreno leans against the railing of Bushwacker's pen on his 60-acre ranch in Oakdale, about 100 miles east of San Francisco. Before he was a livestock contractor, Moreno was one of the world's top professional calf-ropers. "I once broke up a fight in the stands by lassoing together the two men trading punches," he says. "Another time a streaker ran into the arena, and I lassoed him. They said, 'Julio, get him out of here,' and I said, 'I'm not touching him.'"
Moreno is a beguiling raconteur, but as you listen to his incredible stories—he once walked into a Daly City, California, McDonald's with a longhorn bull after a parade—you may come to feel as if you're standing knee-deep in it. And not just because his ranch is home to more than 100 head of cattle. "Why didn't I sell Bushwacker when he was a calf?" asks Moreno. "I like to throw my calves a flake of hay and see how they react to it. When I first did that with Bushwacker, he tried to kick it up and buck it. I knew he was special."
Moreno is a superstitious soul. He always keeps 13 cents in his right-front jeans pocket, as "13" also happens to be the number branded on Bushwacker's left flank (it's also the number of times J.B. Mauney has mounted Bushwacker, more than anyone else). And a paranoid one, when it comes to his prized bull. "The first year I took Bushwacker to Worlds in Las Vegas [2010]," says Moreno, "I hired a round-the-clock security team to guard him. Three people each working in eight-hour shifts."
Bushwacker looks as if he can take care of himself, you might say. "I was worried about someone slipping something into his feed or water," says Moreno. "Bushwacker's never tested positive for drugs, and he never will."
Bushwacker finished the season as the world champion bull that year, as he did in 2011 and 2013. As he almost certainly will this year.
Although Moreno has touched Bushwacker only once—"he doesn't care for people much"—the pair have grown much closer during the bull's farewell season. Emotionally and geographically. Until last March, Moreno boarded Bushwacker in Stephenville, Texas, on a ranch where the bull's caretaker, Kent Cox, lived. "Kent was a bull whisperer," says Moreno.
Cox was a well-known and well-liked figure on the PBR tour. When Mauney made his historic ride 14 months ago in Tulsa, Cox was the first person to embrace him, adding, "Good job, buddy."
Last February 27, Cox, according to authorities, took his own life by hanging. His body was discovered swinging from a noose just outside Bushwacker's pen, which means that the world's most famous bull also witnessed a suicide. Or worse. Moreno does not believe Cox took his own life. "I have a lot of questions about that," says Moreno, who has consulted with private investigators regarding Cox's death. "For one, when they found him his feet were dragging on the dirt. How would that happen if you hung yourself?"
Two days after Cox's body was discovered, Bushwacker was slated to buck in the marquee event of the Built Ford Tough Series season, the Iron Cowboy Challenge at AT&T Stadium in nearby Arlington, Texas. Some 40,000 people attended, as a $1 million prize was offered if the night's top cowboy could ride Bushwacker. Yes, $1 million for eight seconds. Joao Ricardo Vieira, the top-rated rider in the PBR this year, mounted Bushwacker that night in Arlington. With $1 million at stake, Vieira lasted all of 2.17 seconds. "Bushwacker still came up with a great effort," says Lambert.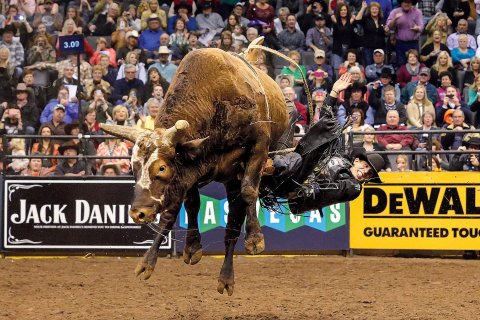 He's a professional.
The visitor's locker room inside Oracle Arena in Oakland is usually the temporary refuge of such notables as the Los Angeles Lakers or the Boston Celtics. Tonight, on the last Saturday of September, it is home to three dozen or so sub-six-footers clad in jeans. A few are applying rosin to their flank straps, that thin rope that circumscribes the bull's torso.
Contrary to popular opinion, the flank strap does not, nor is it intended to, irritate the animal's genitals. "Bulls, like people, aren't very enthusiastic about moving around if their sex organs are in pain," reads a note in the evening's program. Besides, Bushwacker's seed sells for $5,000 per vial (known as a "straw" to livestock breeders), so why jeopardize the family jewels?
Pro bull riders are built like NFL cornerbacks, lean and sinewy and somewhat below average in height. Most every man who mounts Bushwacker is less than one-tenth his mass. "Bull riding, in a nutshell, is you're trying to find a countermove for every move that the bull does," says Murray, a seven-time world champion who retired in 2002, four years before Bushwacker was calved. "And he's doing the same thing to you. But don't get me wrong. It's fuckin' frightening. It's scary to a level you probably have never even been."
Balance is key. Mauney leans over and tightens a pair of laces around his cowboy boots, two packs of Marlboros on the floor and within arm's reach. He says he trains by standing atop a medicine ball.
How long can he stay atop it? "As long as you want me to," says Mauney, 26, who was riding sheep at the age of 3.
Over in another corner, Kody Lostroh, the 2009 world champion, notes that all these bipeds share one locker room, while Bushwacker has his own pen. "I hate to admit it," says Lostroh, "but there's probably more fans here tonight rooting for Bushwacker than for any of us."
Lostroh is probably correct. At a merchandise kiosk on the concourse, Bushwacker T-shirts ($35), action figures ($20) and even koozies are available. Very few riders have their own branded merch.
No one refers to bull riders as cowboys, although a few have names straight out of a Tex Ritter song. There's Stetson Lawrence. Chase Outlaw. There's even—and this must be the most aptly named man in the history of bull riding – Ryan Dirteater.
But there's also Silvano Alves. Fabiano Vieira. Guilherme Marche. The Brazilians. Five of the past seven PBR world champions have come from Brazil. "They've made it tough for Americans to win," says one bull riding old-timer. "They're here to win, and they're here to make some money."
How much money? A rider earns $400 for showing up, but that does not cover expenses. If a rider is bucked off or fails to advance to that evening's championship round, he earns no additional money. It's a lost weekend, financially. "Bull riding is something I'm passionate about," says Lostroh, 29, a 10-year veteran from Longmont, Colorado. "I'm not gonna lie about it, though. There's been times I've driven 15 hours to an event, been bucked off within a few seconds and wondered if it was worth it."
On the other hand, if you're 19-year-old Gage Gay, the tour's top rookie, it's still a dream. As Gay waited to board a plane the morning after making two qualified rides (i.e., eight seconds) at the Iron Cowboy event, he turned to the stranger seated next to him and said, "I don't know you, but I just had to tell someone that I won $30,000 last night."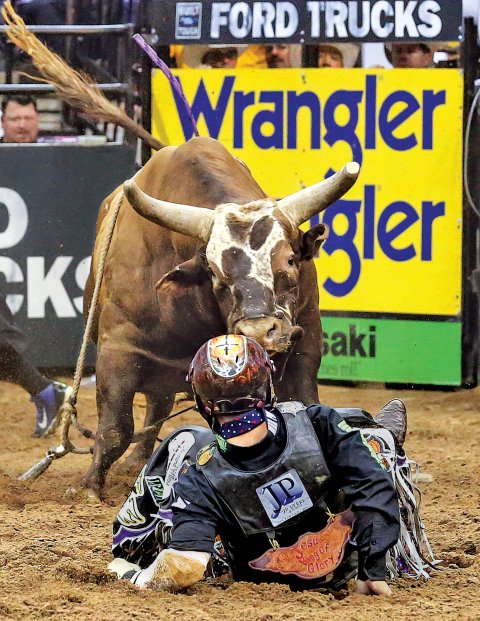 The top 20 or so riders on the tour make in the low six figures, while the majority earn a middle-class wage. And they do earn it. The first rider tonight, Fabiano Vieira, is unable to lift his free hand above his shoulder because he has a torn rotator cuff. Josh Faircloth will be knocked out cold when his head slams into the hump of his bull. Rookie Neil Holmes, the tour's lone African-American rider, loses part of his left pinkie and a portion of his left ear after a courageous but perilous ride aboard a bull named Ranga.
Later, as Holmes lies on a gurney in the triage unit, a fellow rider who has packed his gear for him enters. "I thought you were hurt worse than that," says the rider, "or I wouldn't have packed your bag for you."
"He is hurt worse than that," says an incredulous Tandy Freeman, the PBR's longtime tour physician.
Later, Freeman, whom all the riders call "Doc Tandy," relates the three most common injuries he comes across in bull riding. "Concussions, adductor strains to the hip and shoulder instability, or dislocations," says Freeman, a onetime team physician for the NBA's Dallas Mavericks who is in his 20th year working with PBR. "The most common surgical problem used to be facial fractures, but now a lot of the riders wear helmets with face masks."
Mouth guards, too. Bull riding is a lot like football, except that here the animal skin tosses you.
Through it all, through approximately 50 rides—no bull bucks more than once a night—Bushwacker stands in his pen backstage, waiting for his solo. He is the grand finale. The winner of tonight's event, a rider named Stormy Wing, has earned the opportunity to mount Bushwacker. The prize this evening for a qualified ride: $50,000.
Wing boards Bushwacker, and the gate opens as 5,000 or so fans inside Oracle Arena hold their breaths. And 3.23 seconds later, it is over. Buck-off and die. Wing takes flight off the bull's back, becoming the 32nd different rider of Bushwacker's PBR career to taste defeat. By the time your eyes shift off Wing lying in the dirt, Bushwacker has already disappeared back into the pen area. His work here is done.
"Bushwacker never does the same thing twice," Wing says afterward, a smile of relief on his face. "He does whatever it takes to get inside of your head."
The greatest bull there ever was has one ride left. In Las Vegas. The bucks stop there.