Business Groups Scold Congress Over Stimulus Failure, Say Trump Orders Not Enough
Two leading business groups said President Donald Trump's executive orders deferring payroll tax payments and directing $44 billion to a boost in unemployment benefits failed to compensate for faltering negotiations on a new coronavirus relief package.
The U.S. Chamber of Commerce and the International Franchise Association (IFA) said the order signed on Saturday was "no substitute" for congressional action on the economy, adding that small businesses were being "hung out to dry."
They also called on lawmakers to set aside their "partisan priorities" in negotiations over the outline of the next COVID-19 relief bill, arguing that there was "no excuse" for inaction.
In an emailed statement to Newsweek, the IFA's VP of Government Relations and Public Affairs Matt Haller said: "We appreciate the administration taking steps to ensure unemployed workers will continue to make ends meet but unfortunately, due to congressional inaction, millions of small businesses remain hung out to dry.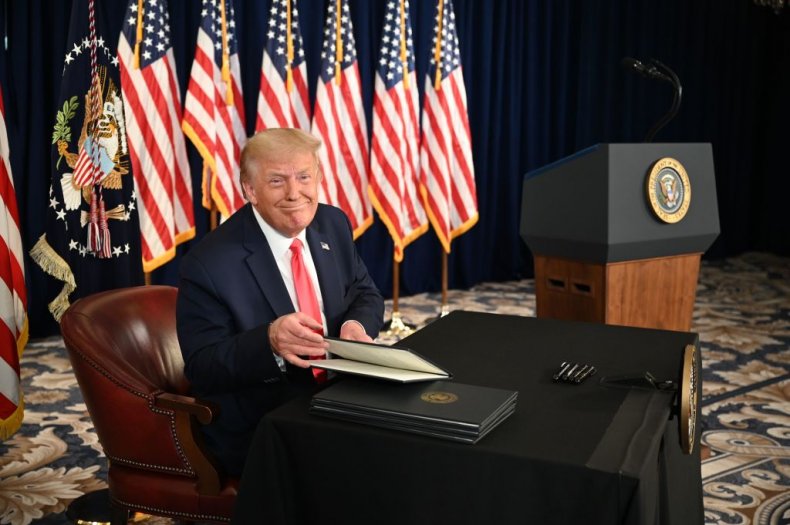 "While there is clearly bipartisan support for a second round of PPP and long term lending programs for hard hit businesses like many franchisees, partisan priorities shouldn't hold up small business relief."
The U.S. Chamber of Commerce took a similar position shortly after Trump signed his executive order on Saturday.
"While well intentioned, today's Executive Orders are no substitute for Congressional action," the Chamber of Commerce's Executive Vice President Neil Bradley said.
"For schools to get the resources to safely reopen, for small businesses to receive aid to stay afloat, to remove the threat of frivolous lawsuits, for families and our economy to get the support this moment requires, Congress must act."
He added that there was "no alternative" to congressional legislation and "no excuse for their inaction" amid the ongoing pandemic.
David French, the National Retail Federation's senior vice president of government relations, said the steps taken by the Trump administration were a "small step in the right direction."
"But taking this route does not provide the additional stimulus funds the American economy so desperately needs," he added. "We need Congress to get back to work and pass a comprehensive package as soon as possible."
Newsweek has contacted the White House for comment. This article will be updated with any response.
Negotiations over the next coronavirus bailout bill came to a halt on Friday last week as Trump administration officials and leading Democrats failed to reach an agreement on the size of the package.
After leaving an hour-long meeting with Treasury Secretary Steve Mnuchin and White House Chief of Staff Mark Meadows, House Speaker Nancy Pelosi (D-Calif.) said: "I said, 'Come back when you're ready to give a higher number.'"
Meadows later accused Pelosi and Senate Minority Leader Chuck Schumer (D-N.Y.) of wanting a "$2.5 trillion blank check" from the COVID-19 relief talks.
President Trump responded to the collapse in talks by signing off his executive orders deferring payroll tax cut payments until next year, and providing $300 of funding toward the weekly $400 unemployment benefit enhancement.
The executive orders did not mandate a second round of highly sought after $1,200 stimulus checks backed by both Democrats and Republicans on Capitol Hill.