In a Thursday letter sent to national and local lawmakers, the U.S. Chamber of Commerce asked for national guidelines to be created for face mask mandates.
Some state and local governments have imposed face mask orders in order to help curb the spread of coronavirus. Wearing a mask has been recommended by the Centers for Disease Control and Prevention in areas where social distancing can be difficult to maintain. Mask wearing requirements can vary from area to area, a situation the letter says has "led to public confusion and lower levels of consumer confidence."
"To be clear, the decision to impose face covering requirements should remain at the state or local level but be informed by clear and consistent guidance based on data," the letter read. "We believe that a national mask standard, implemented locally, offers the surest way to protect public health and promote economic recovery."
The letter called for collaboration between the National Governors Association and the White House Coronavirus Task Force to determine the "appropriate metrics" needed to require face masks be worn in public spaces. Mask policies that do not require enforcement by organizations were also requested, as well as the waiving of liability for businesses and non-profits that withhold services or entry to non-compliant individuals.
Among the business leaders signing off on the letter were U.S. Chamber of Commerce CEO Thomas Donohue, President and CEO of the National Association of Manufacturers Jay Timmons and National Retail Federation President and CEO Joshua Bolten.
President Donald Trump, Vice President Mike Pence, New York Governor Andrew Cuomo and Maryland Governor Lawrence Hogan were the primary recipients of the letter, which was also sent to members of the U.S. Congress.
Newsweek reached out to the offices of Vice President Pence and Governor Cuomo for comment but did not hear back before publication.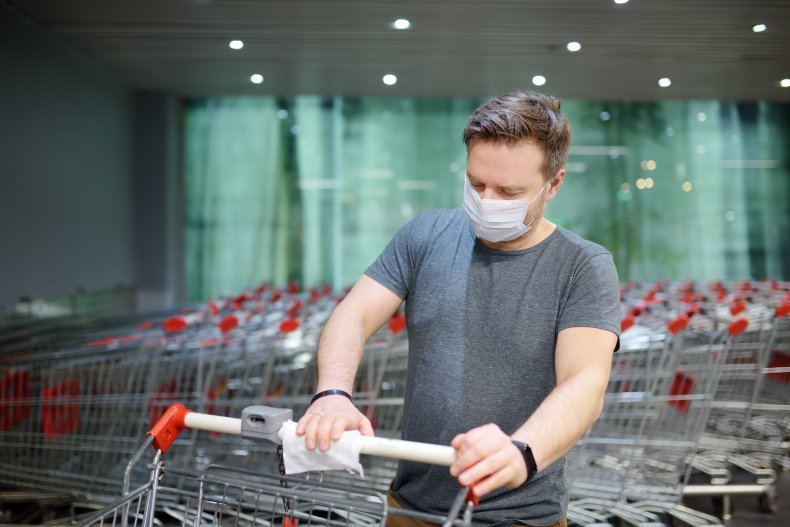 Wearing face masks during the coronavirus pandemic has been a controversial subject. In Kansas, an order is expected to go into effect on Friday which would mandate the wearing of face masks on a statewide level.
"Every Kansan in a public space must wear a mask," Kansas Governor Laura Kelly announced during a Monday briefing. "This doesn't change where you can go or what you can do. It just means that if you're around other people, you must wear a mask."
Kelly's announcement drew criticism from Kansas Senate President Susan Wagle, who alleged that the governor's instructions were creating "total confusion."
"Once again," Wagle wrote in a Monday statement, "a one size fits all order doesn't work for our diverse state. [Kelly is] inconsistent in her direction, one day giving authority to local government, and the next, taking it back, causing total confusion."
California Governor Gavin Newsom ordered state residents to wear face masks in indoor spaces, healthcare facilities, and other areas where social distancing could be difficult to maintain including outdoor areas.
In a June statement, Newsom said people not wearing masks placed "the real progress we have made in fighting the disease" at risk.
Nevada City, California Mayor Reinette Senum disagreed with Newsom's decision. In a June Facebook post, Senum wrote that no law existed to order individuals to wear face masks. "Ask our local Police chief or officers," Senum wrote. "They will not, and cannot, cite ANYBODY for not wearing a mask because the law does not exist."