Business Roundtable Statement Doesn't Mean Corporations Will Dramatically Change Operations: 'Only Time Will Tell'
Over 180 major CEOs said Monday that they were redefining the social purpose of corporations to endorse more social responsibility, prompting a flurry of analyses touting the renewed social mission of large businesses. But the statement, if realized, is just the beginning of a longer process to restructure how corporations operate, experts in business administration, management and social corporate responsibility told Newsweek.
While the announcement from The Business Roundtable (BRT), a lobbying organization that represents some of the country's largest corporations, offers a significant redefinition of how corporations view their social role, it currently exists as an aspirational statement rather than a plan of action.
On its face, the statement signaled a notable shift and explicitly nodded to corporate social responsibility. Its text conveyed presented a re-calibration away from shareholder primacy that has defined the Business Roundtable's mission since 1997. Instead of solely seeking to advance the interests of shareholders, the statement said, corporations should invest in employees, deal ethically with suppliers and embrace sustainable business practices.
But the purpose statement's eventual impact largely depends on how individual businesses actualize their ideals. It didn't offer explicit guidelines for implementing the values promoted. It didn't address the glaring disparity between CEO and employee compensation, which is driven by executives receiving hefty bonuses and stock packages. It didn't note that large businesses have long lobbied Congress for corporate tax cuts, and that 60 big companies didn't pay federal income tax last year.
"Only time will tell if this is just a symbolic statement or a shift in how these businesses conduct themselves," Sara Soderstrom, an assistant professor of organizational studies at the University of Michigan, told Newsweek, noting the cultural shift the BRT release represented.
"It's a statement that I don't think we would have seen even five years ago. I think it reflects a growing recognition by business that employees, consumers and communities are expecting more from them, particularly in addressing environmental and social issues."
Consumers are increasingly interested in corporations demonstrating social values, and, in recent years, businesses have been regularly speaking out and openly staking political opinions in recent years. Companies have challenged the policies espoused by President Donald Trump. AirBnb's co-founders called Trump's family separation policy "heartless, cruel, immoral." Microsoft joined a lawsuit challenging the Trump administration's attempt to end DACA. But even before the Trump administration took office, companies had been positioning themselves as political actors.
However, merely announcing political stances but not forcefully committing to them doesn't necessarily quell criticism or satisfy consumer pressure to be politically active.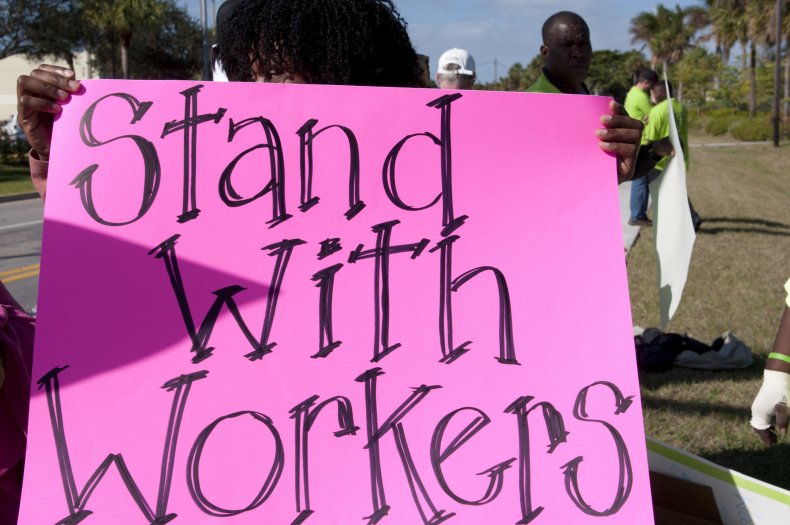 Some of the company leaders that signed the BRT statement have previously signaled greater concern for social causes and subsequently faced critiques that they aren't moving forcefully enough. Blackrock, the world's largest asset manager, has previously warned about the dangers of climate change. But the investment corporation, which manages $6.5 trillion and signed the BRT statement, is heavily invested in fossil fuel companies and has been accused of dragging its feet on efforts to align actions with rhetoric. (Blackrock did not comment for this article.)
"Many companies executives have paid lip service to 'Corporate Social Responsibility' over the last 20 years with limited success, despite the call to action by United Nations through its Millennium Development Goals," Chris Tang, the Edward W. Carter Chair in Business Administration at UCLA, told Newsweek. "Some smarter executives will turn lemons into lemonade by developing innovative business models that can enable their companies to do good [and] do well at the same time."
Large businesses regularly fund social programs and reinvest some profits back into charitable causes. Tang pointed to efforts by Coca-Cola to create jobs in Brazil through recycling programs and initiatives by Starbucks to educate farmers about sustainable practices.
But some of the BRT signatories touting their shift to social commitments have helped create the very social crises they now seek to address. The CEOs from ExxonMobil and Chevron were among those who endorsed the new corporate mission. Both have funded ALEC, a prominent lobbying group that has distorted climate science when speaking to legislators. ExxonMobil, which did not respond to Newsweek, knew about climate change as early as 1981 ago but for decades continued funding efforts to deny its existence, according to Greenpeace. Both companies now have commitments to renewable energy.
Chevron told Newsweek "we are committed to addressing the risks of climate change while continuing to deliver the energy that benefits societies and economies. Chevron is taking action to address climate change and investing in technology and low carbon business opportunities that could reduce greenhouse gas emissions." ExxonMobil did not comment for this article.
Amazon CEO Jeff Bezos, another signatory to the pledge, has faced repeated protests from employees and external criticism over working conditions. Amazon, which told Newsweek in a statement "we encourage anyone to compare our overall pay, benefits, and workplace environment to other retailers and major employers across the country and to come see for themselves what it's like to work at an Amazon fulfillment center by taking a free, public tour," promotes its $15 minimum wage and health-care coverage for full-time employees. But these benefits haven't suppressed criticism about long hours and productivity quotas for workers.
And for other businesses, like military contractors, complicated ethical discussions implicating national defense and foreign policy circle around their profit models.
"There are some people who look at a weapons manufacturer and see its product as death and destruction and others see it as national defense and making possible our lives," Ken Bertsch, Executive Director of the Council of Institutional Investors, told Newsweek when asked what the BRT statement meant for a company like Lockheed Martin.
(A press representative for Lockheed Martin directed Newsweek to the company's sustainability page, which notes ethics in engineering competition and says that "the Science of Citizenship means engineering solutions that enable safe, resilient, modern societies for generations to come.")
Corporations have immense sway to influence political conversation through lobbying and campaign contributions, and this control hasn't culled favor with the public. Sixty-three percent of Americans say they are dissatisfied with the size and influence of major corporations, according to a Gallup poll from 2016.
The extent to which businesses will actually implement the changes remains unclear, but Miguel Padró, the senior program manager of The Aspen Institute's Business and Society Program, told Newsweek that the BRT statement is a positive step toward altering corporations' social commitments.
"I hope that it gives companies more room to do the right thing and be transparent about it and say 'look, this is wrong. This decision is challenging. Yes, if we did it this way, it could generate a lot of financial value. But this is risky stuff for society. That's not what we're doing,'" he said.