Private businesses could face thousands of dollars in fines if they fail to properly comply with the Biden administration's requirement that employees get vaccinated or be tested weekly and wear masks.
Under the Occupational Safety and Health Administration (OSHA) emergency temporary standard issued on Thursday, businesses with at least 100 employees can choose to require their employees all be vaccinated against COVID-19 or remain unvaccinated and undergo weekly testing and wear a mask. The responsibility for enforcing the standard falls on businesses, and Department of Labor officials said they'll be investigating claims and potentially doing programmed checks to ensure compliance.
The failure to comply could find the business on the receiving end of a nearly $14,000 fine for a first-time or non-serious violation. A more serious breach could prompt the issuance of up to a $136,000 fine for a willful violation, according to Department of Labor officials.
President Joe Biden announced the vaccine requirement in September, which was largely interpreted as a mandate that employees at businesses with at least 100 workers get inoculated against COVID-19 or risk losing their jobs. However, in announcing that requirement, Biden also said there would be an option for vaccine-hesitant employees to undergo regular COVID-19 testing.
However, that option may not be available to all 84 million workers covered under the emergency temporary standard. The Department of Labor left the decision to offer a testing option to employees up to individual businesses, so some may choose to require all employees to be vaccinated against COVID-19.
That also means some businesses could operate in full compliance with the mandate without having a single employee vaccinated. If they let unvaccinated employees get tested weekly, businesses will not have to cover the cost of testing, according to the Department of Labor.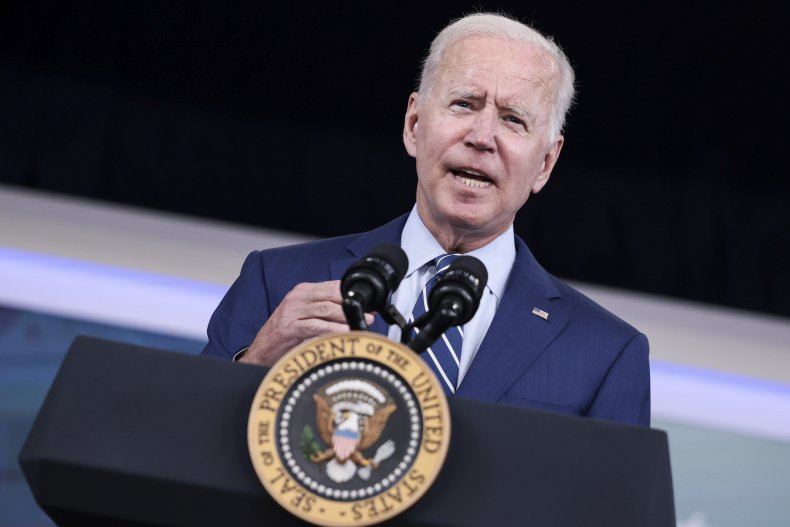 Secretary of Labor Marty Walsh told reporters on Thursday "we have to do what's right for our workforce." Officials estimate the requirement could prevent 250,000 hospitalizations due to COVID-19.
However, the standard won't be fully in place in time for the holiday season, a period when America saw a rise in cases last year.
Businesses aren't required to start enforcing weekly testing until January, according to the emergency temporary standard, although mask-wearing must begin within 30 days. Compliance comes sooner for companies going the vaccine-only route, with enforcement beginning at the start of December. That 30-day window gives employees enough time to get both doses of the mRNA vaccines or a shot of the Johnson & Johnson vaccine.
This isn't the first vaccine or testing mandate to go into place, and history shows enforcement has been difficult.
Nearly 60,000 of California's unvaccinated state workers are supposed to be tested weekly under a statewide requirement. However, The Los Angeles Times reported that only about half of those employees were being tested during the first week of October. Only 411 of the 3,600 unvaccinated workers at the Department of Motor Vehicles were tested, and Cal Fire reported only 75 of the agency's 6,700 employees were tested.
Testing for employees is being offered at no cost to the worker and Eraina Ortega, director of the California Department of Human Resources told the Times that supply test shortages are slowing down the process. California also doesn't have a hard deadline for when employees need to be getting regularly tested, a loophole that OSHA may be able to avoid with the set January 4 compliance date.
The Department of Labor didn't seem concerned about enforcing the Biden administration's vaccine or testing policy. Deputy Assistant Secretary of Labor for OSHA Jim Frederick told reporters the Department of Labor, including OSHA, has a "long history" of enforcing standards and that this is "no different" than any others.