Here's Why Businesses Are Dropping the NRA and Why Politicians Are Reluctant To—It's Not About Values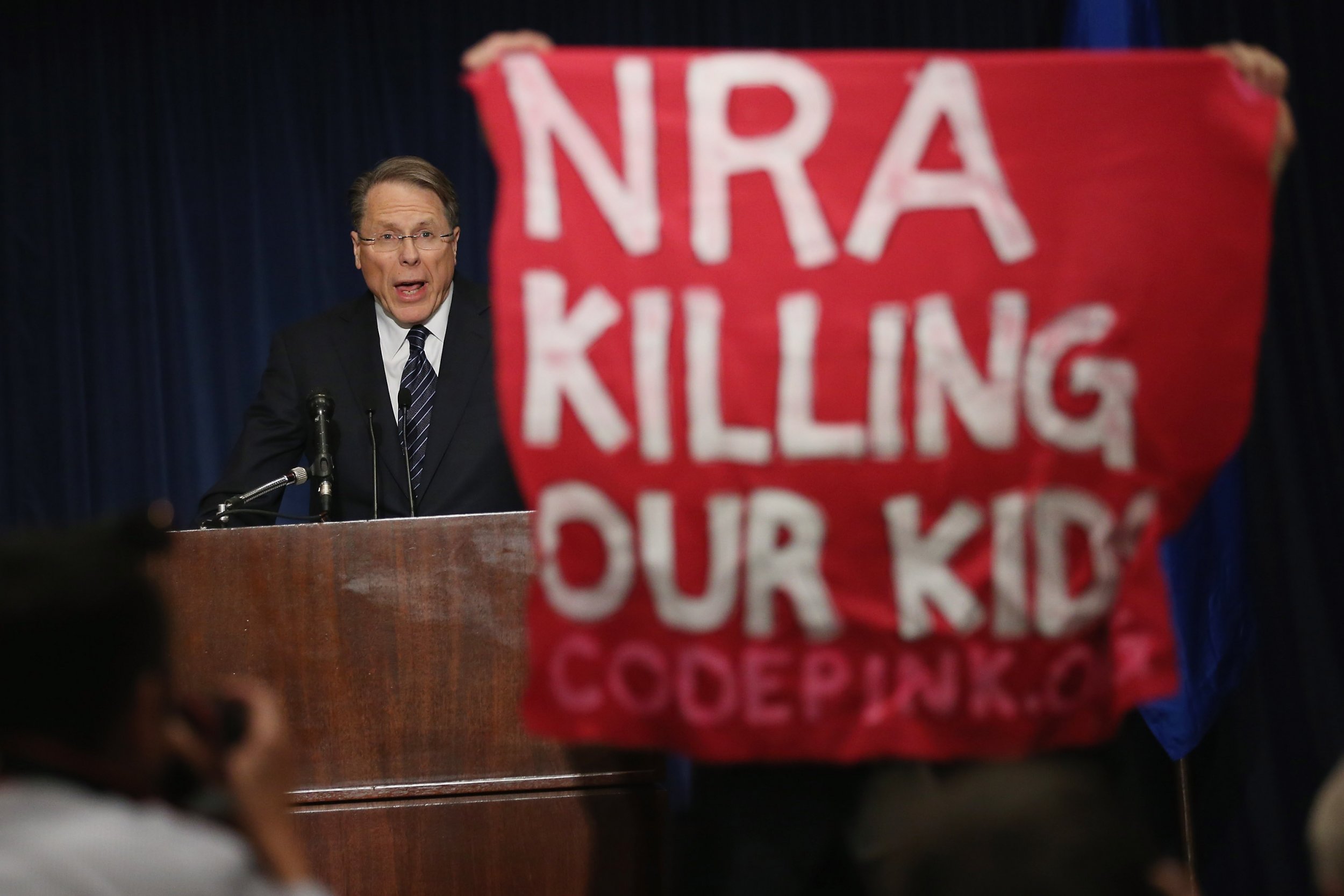 The National Rifle Association's financing and followers might be enough to mute some politicians and hamstring gun control legislation, but its money and membership are peanuts to big businesses who have flouted the group in the days since a 19-year-old slaughtered 17 people at a Parkland, Florida, high school with a legally purchased military-style rifle.
In the past, the NRA has advertised that its members could enjoy discounted deals from companies like Avis Budget Group, Best Western, United Airlines, MetLife and Wyndham Worldwide. But since Thursday, those companies and several others have announced they have ended or will soon end their corporate partnerships with the gun group. The announcements come in the wake of the tragedy at Marjory Stoneman Douglas High School on February 14 and as much of the public has buffeted the NRA and called for stricter gun regulations.
The corporate exodus, however, isn't over these companies' values or their positions on gun regulations, according to William Klepper, a professor at professor at the Columbia Business School—it's simply about prudence.
Related: Here's why the NRA is so powerful and why gun control advocates have reason for hope
"Is it ideological?" Klepper said to Newsweek. "I think it's flat out good business on their behalf."
"We've reached a tipping point with regard to this issue [of gun control] in the general society and companies that are worth their salt—and CEOs specifically—are constantly trying to read the tea leaves," Klepper said. "They're not operating in a vacuum; they've gotten the reaction from the constituents. And, in most cases, their constituents are their customers."
Klepper said businesses are quicker to cross the NRA because their clients far outnumber the NRA's purported membership of 5 million. "It's an impressive number when you throw it out, but now you've got to put in context," he said. For context, TrueCar.com, an online car-buying service that announced its discount deal with the NRA would end on February 28, had nearly 10 million visitors to its website last month, according to SimilarWeb.com, which tracks Internet traffic.
"Really, the principled voice that we're hearing is not from the government, it's from businesses. That's because they respond immediately to the voice of the people," Klepper said, adding, "that's what good businesses do."
Historically, the NRA's membership has been significantly more politically active and easily mobilized. That, as well as its significant lobbying arm, has often been credited with blocking gun reforms and bringing to heel politicians who benefit from NRA money and are reluctant to cross the group's vocal base.
An October 2017 Pew Research Poll found that gun owners were 75 percent more likely to contact elected officials over gun laws than non-owners were. One in five, or 21 percent, of gun owners said they had reached out to lawmakers before, including 9 percent who had in the past year. Just 12 percent of non-gun owners said they had contacted officials about the issue, and only 5 percent said they had done so in the past year.
That trend may be shifting in the wake of the latest tragedy, perpetrated by a 19-year-old whom the FBI and other law enforcement agencies had been alerted to several times but still managed to legally purchase an AR-15. As of Monday, over a dozen companies have announced they have or will end their professional relationship with NRA—possibly cowed by the hashtag #BoycottNRA that has gone viral on social media.
"We've hit a tipping point with this tragedy in Florida," Klepper noted. Now, he said, "the customer's voice is coming through."
In a statement regarding the end of several corporate partnerships, the jilted NRA criticized the companies' decision and promised other companies would fill their places.
"[S]ome corporations have decided to punish NRA membership in a shameful display of political and civic cowardice," the statement read. "In time, these brands will be replaced by others."