Businesses Flee Illinois to Escape Blue-State Stagflation | Opinion
Chicago enjoys well-deserved fame for its restaurants and cuisine. Some of the less-than-healthy eating habits of Chicagoans earned the satire of Saturday Night Live's legendary "Superfans" skit. In those hilarious bits, exaggerated Chicago Bears die-hards down Old Style brews along with Chicago-style hot dogs and beefs.
Perhaps the most famous purveyor of such fare, Portillo's, began in 1963 as a humble hot dog stand in Villa Park, IL. It was founded by Marine veteran Dick Portillo and through hard work and terrific recipes, his business blossomed into a successful chain that now thrives as a publicly traded company on the Nasdaq.
Recently the Illinois-headquartered company announced aggressive expansion plans—only, not close to home. In fact, Bloomberg News reports that this "beloved Chicago restaurant chain is looking outside Illinois for growth as population declines drive business elsewhere."
The CEO of Portillos, Michael Osanloo, got specific on why the company now focuses on states like Arizona, Texas, and Florida: "We're going to places where the population is growing, where the economies are healthy, where there is a great environment for companies."
Mr. Osanloo was too polite to directly criticize Illinois' environment for consumers and businesses, but his indirect slight speaks volumes. Like so many regular citizens of Illinois, companies now "vote with their feet" by choosing to either relocate entirely to red states, or to at least invest forward-looking resources into those states, to the detriment of Illinois.
Stagflation—high inflation and stagnating growth—afflicts all of America, thanks to the exorbitant profligacy of Joe Biden and Nancy Pelosi, plus their radical assault on domestic American energy. But the financial pain is more acute in blue jurisdictions like Illinois.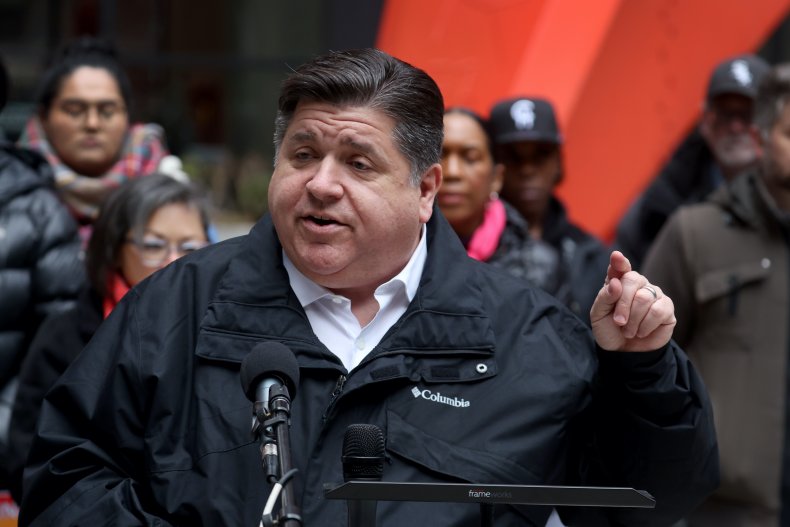 When it comes to the inflationary component of stagflation, Governor JB Pritzker takes the crisis of his political pal Joe Biden to a new level for Illinois residents. Overall inflation in Illinois runs above the stratospheric national average, and especially so for energy. Right now, a gallon of gasoline in Illinois costs $4.16/gallon compared to $3.58/gallon for the average of its five neighboring states.
That additional 58 cents per gallon is real money, and particularly harmful to budget-conscious middle- and lower-income consumers who struggle with crashing real wages. How concerned is JB Pritzker, a trust-fund billionaire, about the brutal financial toll of this "Pritzker premium" on gasoline? Judging by his recent travel schedule, it seems the governor is more fixated on running for president than on the problems of Illinois.
With costs in Illinois soaring, how about the growth side of the equation? Illinois compares horribly to neighboring states on that front, as well. Since Pritzker took office, the three-year overall growth rate for the Illinois economy was an anemic 0.5 percent. In contrast, the five states that border Illinois performed more than seven times better, with an average of 3.86 percent growth, even after all the challenges of 2020 and the coronavirus pandemic. Indiana massively outperformed Illinois, with the Hoosier economy growing 12 times more than Illinois' during Pritzker's reign of high taxes and harsh lockdowns.
This trend is not unique to Illinois, of course. Productive citizens and businesses move en masse away from blue states toward the opportunity of red states. Since just before the lockdowns in February 2020 into May of this year, the Wall Street Journal finds that red states added a net 341,000 new jobs, while blue states lost a combined 1.3 million jobs from pre-pandemic levels.
Record numbers of Americans have moved in this Great Sorting, with 46 million relocating to a new zip code in 2021. The biggest recipients, predictably, were Florida, Texas, and North Carolina. The biggest losers, also predictably, were Illinois, New York, and California.
Just look at moving truck rental rates. A recent spot check of popular one-way rates from Chicago to Orlando for a small truck showed a price of $2,426. The return trip, because of low demand to head back to Illinois, costs $712. Apparently, plenty of Chicago "Superfans" pack up their Ditka #89 jerseys and follow their beloved Portillo's' southward expansion to Florida.
Steve Cortes is a former adviser to President Trump.
The views expressed in this article are the writer's own.