Businesses Across the U.S. Are Ending Police Discounts
Businesses across the U.S. are ending police discounts amid the Black Lives Matter protests against police brutality and racism. From Minnesota to Rhode Island, businesses are suspending or ending police and military discounts, and are facing a mix of backlash and support.
In Minneapolis, the city where the Black Lives Matter protest began following George Floyd's death, a pizza restaurant has decided to end its police discount. Pizza Luce announced that it was suspending its police discount in solidarity with the Black Lives Matter movement.
In a Facebook post, Pizza Luce said: "In the coming weeks, we will take the time to further reevaluate our relationship with the police. We will be looking at existing contracts, regulations, and security stipulations in our operating agreements as well as discussing what our options are.
"Note, we are not refusing service to the police; however, if an officer asks for the discount, we will let them know the discount has been suspended. The discount was a privilege we extended to them, it is not a right."
In the comments, one Facebook user said they were "disappointed" to see the post, and others said they would no longer give Pizza Luce their business. However, another person commented: "I 100 percent support Pizza Luce. I will give them more of my business because apparently people are boycotting them over this."
Similarly, Allie's Donut Shop in Rhode Island ended its police and military discount in response to a Providence firefighter allegedly being racially profiled by the police.
In a statement posted to social media, Allie's Donut Shop said: "We're fed up. Until local police take action to solve problems with racism and injustice, Allie's Donuts will choose to stand with the people of our great state. We will no longer offer military or police discounts. Thank you for your service, and shame on you for your silence."
Although Allie's Donut Shop's decision was criticized by some, supporters formed a long line around the store on Sunday. One customer told WJAR: "I support any business that takes a stand and comes out in support of Black Lives Matter and to focus on ending police brutality."
In Ohio, workers walked out of Northstar Cafe in protest of its 50 percent discount for police officers. Last week, the cafe suspended its police discount but quickly reinstated it following backlash. Northstar Cafe employees then walked out in protest of the police discount being reinstated.
The Northstar employee who led the walkout told the Columbus Dispatch: "Silence is violence. It is time that Northstar takes a proactive stance and takes a complete and unwavering support of black lives matter."
Kevin Malhame, co-owner of Northstar Cafe, said in a statement: "Our early response to the current unrest around the country was made quickly and emotionally. It involved suspending a long-standing discount for police and firefighters. We regret the decision and have continued the discount program."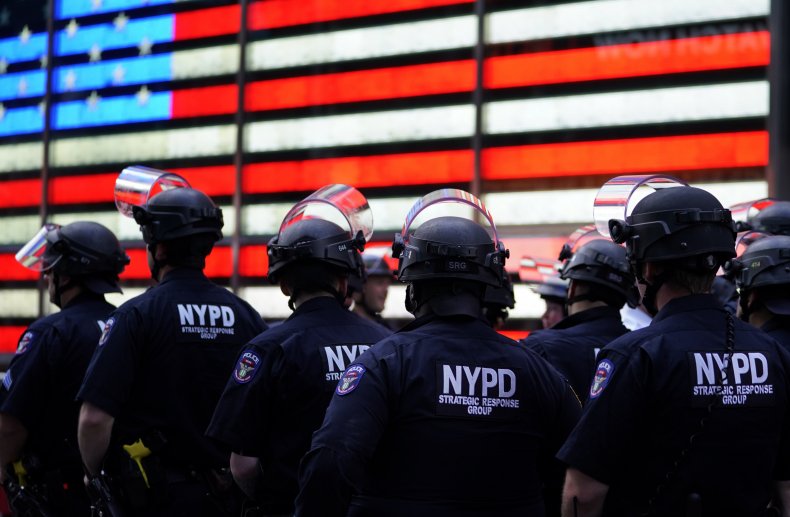 A deli in Alabama is now offering a police discount following the protests.
Ashley Enfinger, the owner of The Salty Sammich in Rehobeth, told WDHN: "They're here all the time protecting our business. I know riding through at night making sure everything is good so we want to do something to give back.
"Those officers can come in any time we're open and get a free coffee, and if they want to come in and eat lunch or breakfast, we're extending a 20 percent discount. We fully support them. They support us, and we appreciate everything they do for the community, and I know they're out there putting their lives on the line every day."