Businessman Who Spent $350K Restoring Ferrari 458 Spider Is 'Physically Sick' After Police Seize, Destroy It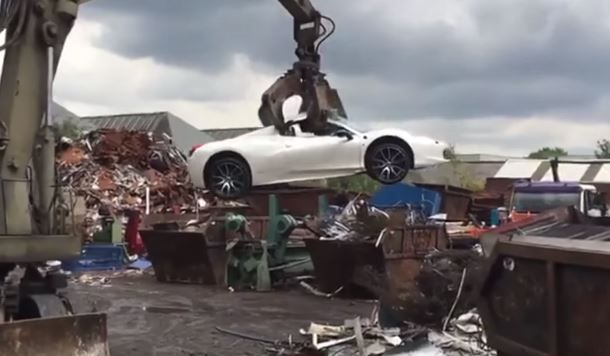 A UK businessman who spent $350,000 to restore a Ferrari has been left "physically sick" after police released video of his car being crushed.
Zahid Khan said he worked on the 458 Spider for six months and claimed the parts were worth more than the car. Khan is so angry about the ordeal that he is suing West Midlands police for uploading the footage.
"When I saw the video, I felt as if someone had punched me in the stomach," Khan said, according to The Times. "They had no right to have my car crushed. My legal team has already sent West Midlands police a letter informing them that we will be taking legal action."
In the video, the car—which Khan referred to as his "pride and joy"—was destroyed by a mechanical claw at a junk yard.
"I can't believe they have destroyed my car," Khan said. "I love supercars and I have owned a number of them and loved this one. I saved to buy this car, and it was sentimental to me and my family. It's very sad, this money could have gone to a good cause."
Unfortunately for Khan, his Ferrari was classified as a category B insurance write-off before he restored it. Any car that falls under category B is expected to be crushed and not appear on public roads again. He also had no insurance for the car, which is compulsory in the UK.
He was pulled over by police on April 5 after they suspected the car was stolen. He appeared in court with papers to prove he was the legal owner but was told the car had already been destroyed.
"That car was my pride and joy," 31-year-old Khan said. "[It took me] six months to rebuild it, I used 114 different parts. I had bought the car from one of the biggest car auction houses and I sourced the parts from Ferrari and had them fitted in a Ferrari-approved garage in Birmingham.
"Ferrari parts are worth more than the car itself. I had a quote to sell the Ferrari in parts for over £250,000 [$353,000]."
West Midlands police told Newsweek that it could not comment while proceedings were active.