Devout Woman Busted For Smuggling Cocaine in High Heels, Blames Internet Lover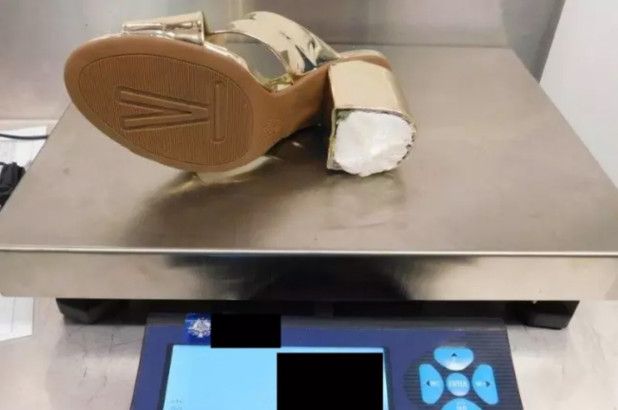 A Missouri woman—who was busted attempting to smuggle two pounds of cocaine into Australia—claims she was tricked into committing the crime by a lover she met on the internet.
Denise Marie Woodrum, 51, was arrested last August at Sydney Airport after customs officers found two pounds of drugs stuffed into the high heels of the shoes she was carrying, Sydney Morning Herald reported.
In January, Woodrum pleaded guilty to importing a commercial quantity of a border-controlled drug. Authorities are still determining whether she knew what she was doing.
Last week, Rebecca Neil, Woodrum's attorney, told District Court Judge Penelope Wass that her client was groomed and duped into transporting the drugs by Hendrik Cornelius, a man she met online.
"She was groomed to provide a financial gain for this person, Hendrik Cornelius, whatever person or persons it was behind this identity," Neil said. "She went on this trip thinking she was bringing artifacts for him."
During the proceedings, Wass rejected Woodrum's defense as "inconsistent and unbelievable. I am less than convinced by her explanation," she said.
Woodrum—an associate of the Adorers of the Blood of Christ, an international order of vowed Catholic women whose U.S. offices are based in Missouri—claimed she met Cornelius online during a tough period in her life. Woodrum said she had just suffered a failed marriage and health issues that inundated her with large bills.
Although Woodrum and Cornelius had never met, they sent each other hundreds of text messages and developed a relationship. Neil claimed that Woodrum was a "vulnerable" women who was preyed on by a stranger.
"Can you promise you will never leave me?" Woodrum said to Cornelius in a text message last July. "You are my Only and First True Family!!! [sic]"
On July 18, 2017, Woodrum embarked on a series of flights from Missouri to Texas, then Trinidad and Tobago, before travelling to Suriname in South America the next day. A week later, on July 25, she sent a suspicious text to a contact called "Stacie," saying the "whole trip is paid for and will get additional payment for work."
Then, on July 30, she told Cornelius that she was "riding in his car to get stuff no signature needed," and texted him a list of hotel and flight expenses before she made the trip to Sydney in August.
After being discovered by Australian border police, Woodrum told authorities that she was given clothes in Paramaribo, Suriname, to gift to people in Sydney. Meanwhile, Cornelius was messaging her: "Are you ok?" "Shuttle?" "Taxi?" and "What are you doing honey?"
Tom Rozanski, Woodrum's father, told Fairfax Media that the charges against his daughter "was a big shock to the whole family."
"It just came out of the blue," he said. "All of a sudden she met someone she talked to… She said she was going to be doing some traveling. Life took a turn. She has never done anything like this before, and this experience has been difficult for me to understand.
"Mostly because none of our family has had anything happen to them that even remotely resembles what Denise has done. I'm just hoping the best for her, that's all I can tell you," Rozanski said.
Woodrum—who has been in custody since arriving in Sydney—is scheduled to be sentenced in early September.
In a statement to Newsweek, Cheryl Wittenauer, communications director for the Adorers of the Blood of Christ, said "the Adorers learned of the alleged criminal activity last August. Nothing in her behavior prior to this episode would have tipped them off that this could happen."
The Australian Border Force is often confronted with unusual drug-related crimes. In February, they busted a man who allegedly imported almost 661 pounds of ephedrine in highlighter pens following a joint investigation with New South Wales Police.
This story has been updated to include comment from the Adorers of the Blood of Christ. A previous version of this story, which stated that Woodrum was a nun, has been corrected.