Customer Reports Nail Salon to Health Department After Employee Butchers a Deer Inside
A customer at Diamond Nails in High Point, North Carolina was traumatized when an employee of the salon brought a dead deer into the business and started butchering it in the middle of her manicure.
Morgan Taylor, a student at High Point University, went to the salon on Thursday night to get her nails done. Midway through, she looked over and saw a skinned animal being cut apart on a blue tarp on the floor. The woman doing the work was dressed in the same uniform as the salon's other employees.
The manager of Diamond Nails spoke to Fox 8 and told them that the deer carcass was brought in at 8:30 p.m., when the salon is typically closed. The woman breaking down the meat was a nail technician employed at the shop.
The manager says that game delivery happens frequently at the nail salon, but the animals are typically delivered in bags. This time, the carcass was too large to be packed up without being broken down, so it had to be butchered on a tarp on the floor.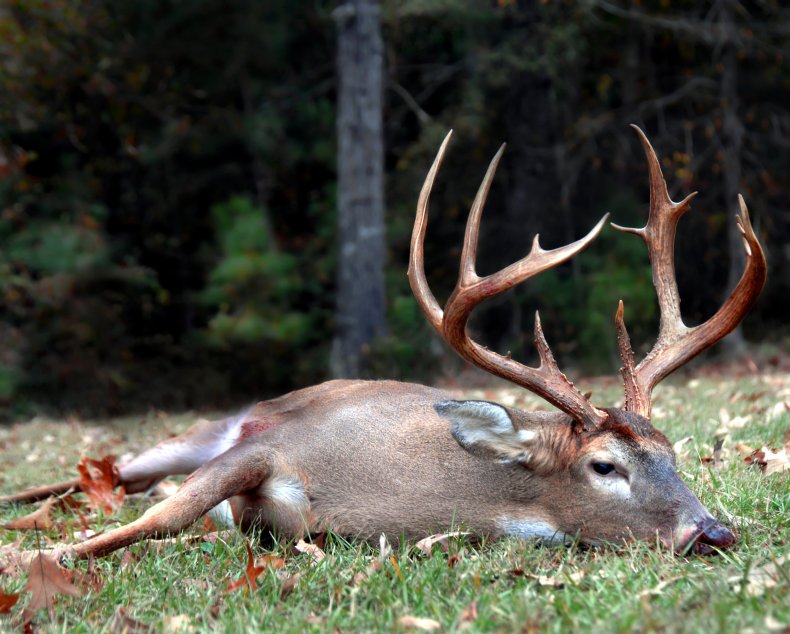 Two customers were reportedly inside when the deer was delivered.
After leaving the salon, Taylor posted a photo on Facebook, where it has been shared more than 4,000 times. She also filed a complaint with the North Carolina Board of Cosmetic Art Examiners. Diamond Nails received a score of 96 in their last annual inspection by the board. Salons can be fined up to $1,000 per violation, and if a failed inspection can cause the business' license to operate to be immediately revoked.
The salon's Facebook page has been deluged with negative reviews following the incident.
"They butcher animals on the floor in this salon like it's a normal thing to do. That is nasty on so many levels. To walk in to get your nails done and you see someone on the floor butchering and cuttin up a animal. This is not sanitary to be somewhere and get your nails done while a dead animal is laying on the floor next to you. That's insane," one reviewer wrote.
Another struck a more humorous note, writing that the nail salon made the "best deer jerky I ever had."
This wasn't the first time an animal became an unwelcome visitor at a salon. In October, a deer jumped through the plate glass window of the Be.You.Tiful Hair Salon in Lake Ronkonkoma, New York. It circled the business in a panic, injuring one customer before exiting through the front door.