Apollo 11 Astronauts, Moon Landing, Immortalized in Giant Butter Sculpture
The American Dairy Association is celebrating the 50th anniversary of the history-making Apollo 11 mission with a life-size sculpture of astronauts Neil Armstrong, Buzz Aldrin and Michael Collins made of more than 2,200 pounds of butter.
The creamy yellow display was submitted to the Ohio State Fair by the American Dairy Association (ADA) Mideast division.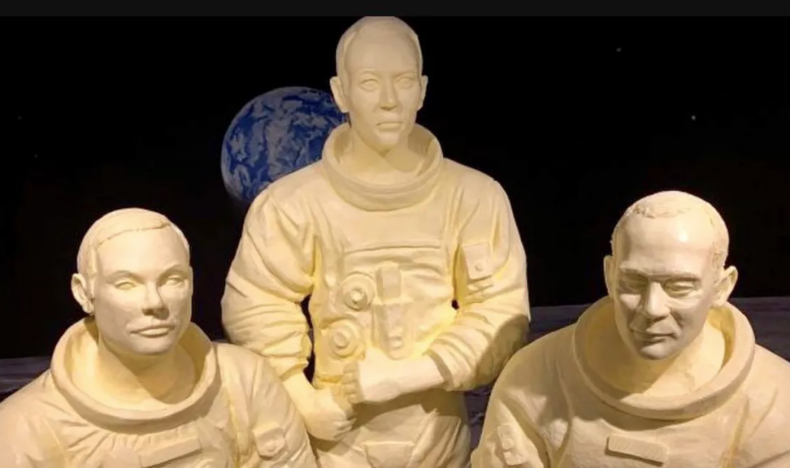 "Those who remember the moon landing often recall exactly where they were and how they felt, and the 50th anniversary is the perfect time to pay tribute to this amazing event and share that excitement with a new generation," Jenny Hubble, ADA senior vice president of communications, said in a statement.
Hubble noted that the sculpture pays special tribute to Armstrong, who is originally from Wapakoneta, Ohio, commenting that, "One of our own took the first-ever steps on the surface of the moon." (After leaving NASA, Armstrong bought a dairy farm in Ohio in 1971.)
It took artisans 500 hours to complete the project, working most of the time in a cooler chilled to 46 degrees to keep the spread from melting. Steel frames were used to support the weight of the butter, which was donated by Ohio dairy farmers.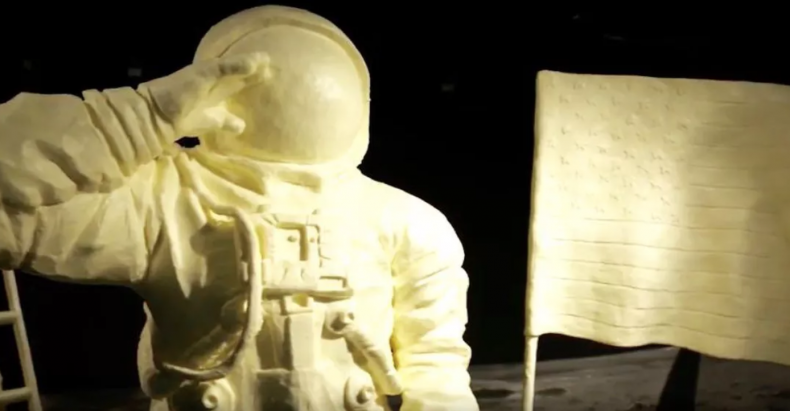 In addition to the three spacemen, a separate sculpture shows Armstrong next to the lunar module, Eagle, and saluting the American flag. Also on view are life-size butter sculptures of a cow and calf, "mainstays of the annual butter display."
On view through August 4, the Apollo 11 display is expected to draw more than 500,000 fairgoers to the fair's Dairy Products Building, where they can learn also about Ohio's role in the dairy industry and sample milk, ice cream and milkshakes.
The annual butter display at the Ohio State Fair in Columbus has represented "popular and positive ideals" for more than five decades, according the ADA. Previous works saluted the Cleveland Browns, Wendy's Dave Thomas, explorers Lewis and Clark and, last year, the 1983 film A Christmas Story.
Butter sculptures have long been a part of state fairs: In 2014, artists at the Iowa State Fair created a bust of Kevin Costner as Ray Kinsella from the film Field of Dreams. In 2007, more than 23 pounds of butter was used to create a bust of then-presidential candidate Barack Obama.
But it's hardly a uniquely American art form: In January 2019, an 11-foot tall butter sculpture shaped like a dog was unveiled in Shenyang, China, to celebrate the Year of the Dog. It took 20 days and more than 300 pounds of butter to bring the canine to life.