Buttigieg Fires Back at Klobuchar, Tells Her to Try Getting Votes as a 'Gay Dude From Mike Pence's Indiana'
Senator Amy Klobuchar went on the offensive against Mayor Pete Buttigieg at Thursday's Democratic debate in Los Angeles, alleging that Buttigieg had not shown enough experience as a winner to effectively lead the country.
"I think winning matters," Klobuchar said. "I think a track record of getting things done matters. And I also think showing our party that we can actually bring people with us, have a wider tent, have a bigger coalition and, yes, longer coattails, that matters."
"I gotta respond to that," Buttigieg said. "Senator [Klobuchar], I know that if you just go by vote totals, maybe what goes on in my city seems small to you. If you want to talk about the capacity to win? Try putting together a coalition to bring you back to office with 80 percent of the vote as a gay dude in Mike Pence's Indiana."
"Mayor, if you had won in Indiana that would be one thing," Klobuchar retorted. "You tried and you lost by 20 points."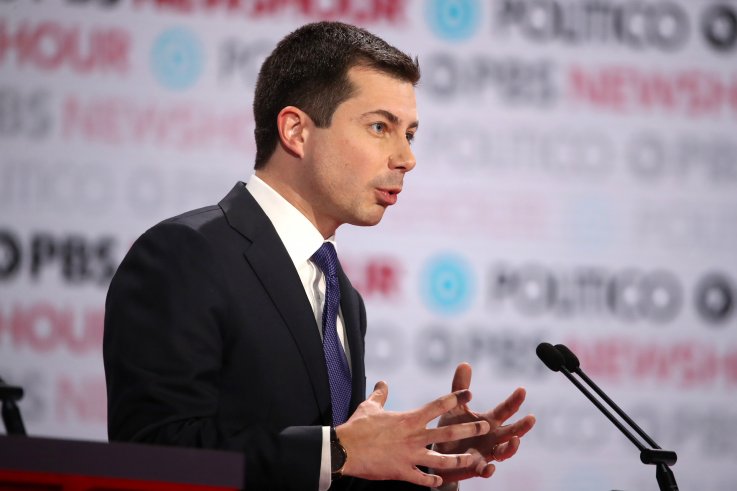 That was the final volley in one contentious round of comments between Buttigieg and Klobuchar. Klobuchar went after Buttigieg's election record in his home state while Buttigieg attacked Klobuchar for allegedly downplaying his service both in local politics and in the military.
"I have not denigrated your experience as a local official," Klobuchar said. "I have been one. I just think you should respect our experience and evaluate someone who can get things done."
"You actually did denigrate my experience, senator," Buttigieg responded, "and it was before the break and I was gonna let it go because we've got bigger fish to fry."
"I don't think we have bigger fish to fry than picking a president of the United States," retorted Klobuchar.
Buttigieg conceded Klobuchar's point as the crowd applauded, but took Klobuchar to task for implying that "our relationship to the First Amendment was a talking point, as if anyone up here has any more or less commitment to the First Amendment."
"Let me tell you about my relationship to the First Amendment," Buttigieg continued. "It is part of the Constitution that I raised my right hand and swore to defend with my life. That is my experience and it may not be the same as yours, but it counts, Senator. It counts."
"I certainly respect your military experience," Klobuchar replied. "That's not what this is about. This is about choosing a president."
Buttigieg Fires Back at Klobuchar, Tells Her to Try Getting Votes as a 'Gay Dude From Mike Pence's Indiana' | Politics