Buttigieg Now Leads the Democratic Field in Iowa and New Hampshire by 10 Points or More in Latest Polls
South Bend mayor and Democratic presidential candidate Pete Buttigieg grabbed a 10-point lead in New Hampshire, according to a Saint Anselm College poll released Tuesday. That number represents a jump of 15 points from a similar poll taken in September. Buttigieg also took the lead in Iowa this past Saturday by 11 percent, according to data from a Des Moines Register/CNN poll.
Results from the New Hampshire poll signify the first time Buttigieg has been the leader in a New Hampshire poll.
"With less than three months before the primary," New Hampshire Institute of Politics Executive Director Neil Levesque said, "the race for New Hampshire's Democratic delegates is still in a great deal of flux."
Buttigieg led the poll with 25 percent. Both Senator Elizabeth Warren and former Vice President tied for second place with 15 percent. Rounding at the top three was Senator Bernie Sanders with 9 percent.
"Buttigieg's bump is driven by the favorable impression he's made on voters," Levesque said.
With 76 percent of New Hampshire voters holding a favorable impression of Buttigieg, he outpaced both Biden and Warren, who came out with 31 percent and 39 percent respectively.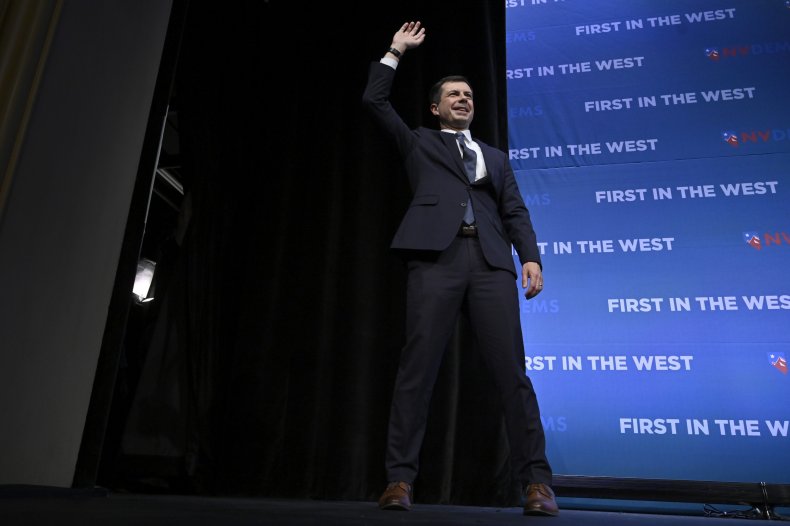 Those polled also put Buttigieg as their collective choice for best presidential candidate with 23 percent, six percentage points over Warren and nine points over Biden.
Levesque said Democratic voters have begun to shift their views. In September, they were hoping to elect someone who best reflected their own political beliefs and priorities. Now it appears they are looking for someone who can beat President Donald Trump.
"If this trend continues," Levesque said, "it may benefit Biden, who is viewed as the strongest nominee to face Trump by 31 percent of voters." Buttigieg and Warren are tied at 11 percent as most likely to defeat Trump, while Sanders garnered 10 percent of the poll results.
Iowa's poll results were similar with Buttigieg gaining 16 percentage points over a September poll with a support rating of 25 percent. Warren came in second place with 16 percent while Biden and Sanders tied for third at 15 percent each.
Warren ranked first in the September poll, but lost six points in November. Biden's rating dropped five points, but Sanders gained momentum with a rise of four points.
However, most believe that Buttigieg is not the candidate to beat Trump in the next election. Only 16 percent of those polled said Buttigieg was "almost certain to beat" the president. Voters surveyed threw their support to Biden with a rating of 25 percent.
While Buttigieg told reporters on Saturday that the Iowa results were "extremely encouraging," he acknowledged that there was a long way to go, according to Politico.