'Failures of the Old Normal' Explain How We Got Trump Presidency, Says Pete Buttigieg
Correction (November 11,2019): This article has been amended to include the correct quotes from Pete Buttigieg. An earlier version of the story, based on an inaccurate quote carried by the L.A. Times, suggested Buttigieg had blamed failures of the Obama era for the Trump presidency. The copy has also been amended to include Evan Halper's statement, as well as Buttigieg's statement on Twitter.
As momentum builds in his campaign, Democrat presidential contender Pete Buttigieg has been packing in the crowds with an election pitch that focuses on modernization.
The 37-year-old Navy veteran and openly gay candidate continued to push his message of fiscal moderation and did not call on voters to wistfully recall the time before President Donald Trump.
"My message is not about going back to where we were," he said. "The failures of the old normal help explain how we got Trump," he told reporters aboard his campaign bus, according to the Los Angeles Times.
The Times' reporter, Evan Halper, had originally suggested Buttigieg had blamed failures of the Obama-era for Trump's presidency after mishearing a quote. He later issued a correction on Twitter.
"I am running on building a future that is going to have a lot of differences... One thing I learned in 2016 is to be very skeptical of any message that relies on the word 'again.' "
Buttigieg's campaign is gathering strength as he attracts large crowds to his town halls, rallies and walking tours and he is surging in Iowa where he is only one point behind the state's Democrat frontrunner, Elizabeth Warren, according to a Quinnipiac poll released last week.
The mayor of South Bend, Indiana, told a crowd of around 1,300 people at a town hall in Manchester on Saturday that his would be a "presidency where you can turn on the news, look at the White House and feel your blood pressure go down a little bit instead of up through the roof."
Jo-Ann Wangh, 69, who attended the town hall, told the LA Times: "He makes me feel inspired again, like Obama. He gets it."
His criticism of the progressive platforms of his rivals lies in the cost of their health and education plans, which he claims would be too unpalatable for swing voters and never get through both houses.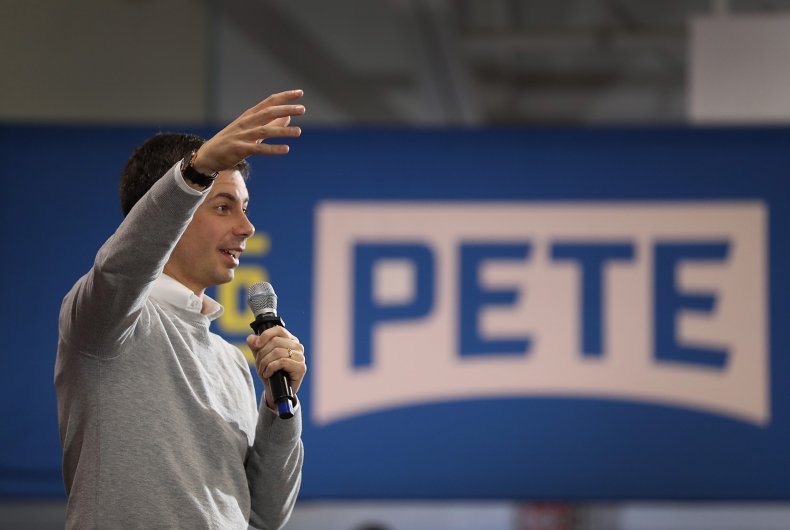 Instead of 'Medicare for all,' he proposes Medicare for those who want it and rather than free college for all, he proposes free college for those who cannot afford it.
"The one thing we have learned about the American experience is, we don't have to do a wholesale transfer of wealth in order to have more equality," he told reporters on his campaign bus, the LA Times reported.
Politico reported that Buttigieg's exposure and growing popularity in Iowa was due to an effective digital advertising campaign and his national digital spending numbers surpassing Biden almost five-to-one. He has also doubled his staff and opened 20 offices across Iowa.
The publication noted that at the party's 'Liberty & Justice dinner' last month in Iowa, Biden "was overshadowed and outshined" by Buttigieg. During the event, he said: "I didn't just come here to end the era of Donald Trump. I'm here to launch the era that must come next."
In an interview with Showtime this month, he said the Democrat race is "getting to be a two-way" between him and the Massachusetts senator, Elizabeth Warren.
"A world where we're getting somewhere is that world, where it's coming down to the two of us" he said.