Buttigieg Praises Sanders for Bipartisan Success In Congress In Resurfaced 2017 Interview: 'Conviction Politics Can Actually Make You More Convincing'
Although Pete Buttigieg and Bernie Sanders have traded barbs in the Democratic presidential race, the former South Bend, Indiana, mayor previously voiced significant praise for the Vermont senator in a 2017 interview.
In a resurfaced clip from a March 2017 interview on The Axe Files podcast with host David Axelrod, Buttigieg discussed the emergence of Sanders as a strong contender for the Democratic nomination in 2016. Axelrod asked Buttigieg about a high school essay he'd written on Sanders, in which Buttigieg had spoken highly of Sanders.
"I like to say I'm like a hipster. I like to say I knew about him [Sanders] before he was cool," Buttigieg joked in the interview. "Not a lot of people were talking about Bernie Sanders [back then]."
He continued: "I just thought it was really interesting. You know, this guy who, you know, called himself a socialist and survived and wore his ideas on his sleeve. But also [he] seemed to be capable of working with Republicans, actually even more than some Democrats were."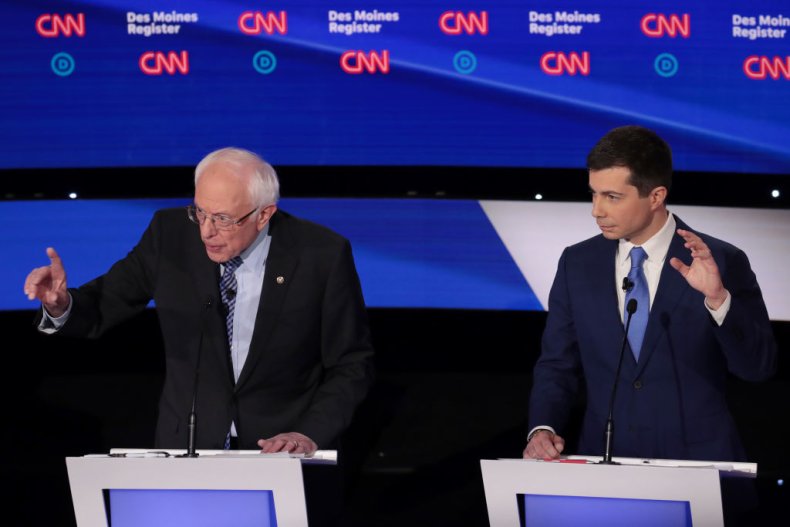 He went on: "That was what I really thought was interesting, was that early lesson that often conviction politics can actually make you more convincing, not less, with independents and folks on the other side of the aisle, because at least they know you're motivated by values even if your values are different."
Buttigieg also said he was surprised to see Sanders emerge as a strong contender in the 2016 presidential primary. "I never could have imagined that he would be a senator, let alone a presidential [candidate]."
The former mayor wrote the essay praising Sanders as a student in 2000. "In a climate where even liberalism is considered radical, and Socialism is immediately and perhaps willfully confused with Communism, a politician dares to call himself a socialist? He does indeed," he wrote. Sanders was serving in the House of Representatives at the time.
As the two candidates have emerged as front-runners for the Democratic nomination, Buttigieg has positioned himself as a younger and more moderate alternative to Sanders, an elderly progressive who describes himself as a democratic socialist. Sanders has repeatedly attacked Buttigieg for accepting campaign contributions from wealthy donors, including more than 40 billionaires.
But Buttigieg has responded to the criticism by noting that he is the least wealthy contender for the Democratic nomination. Sanders became a millionaire from his best-selling book in 2016, while Buttigieg's tax records show he and his husband earned just over $150,000 combined in 2018.
"Bernie's pretty rich, and I would happily accept a contribution from him," Buttigieg quipped in an interview with CNN on Sunday.
Although the results of Iowa caucuses, which took place last Monday, have still not been finalized because of irregularities and inconsistencies, Sanders and Buttigieg appear to be essentially tied in the state. While Buttigieg received two extra "state delegate equivalents," putting him about 0.1 percent ahead of Sanders, the senator received 2,600 more votes than the former mayor in the popular vote. Both candidates have declared victory.
Now, all eyes are on Tuesday's New Hampshire primary to see if one of the two candidates will emerge as an early front-runner. All the most recent polls have shown Sanders in the lead, with Buttigieg in second place. An aggregate of New Hampshire polls by Real Clear Politics shows Sanders with an average of 26.7 percent support, followed by Buttigieg at 20.9 percent.