Buttigieg Slams Idea School Shootings Result of Doorway Designs: 'Insanity'
Transportation Secretary Pete Buttigieg criticized the idea that pervasive school shootings in the United States could be blamed on the designs of buildings or doorways on Sunday.
Buttigieg made the comments on ABC's This Week less than two weeks after 19 children and two teachers were killed in a mass shooting at Robb Elementary School in Uvalde, Texas. Following the attack, several prominent Republicans denied that the country's gun laws are to blame, and instead argued that schools have too many entrances and exits.
"The idea that us, being the only developed country where this happens routinely, especially in terms of the mass shootings, is somehow a result of the design of the doorways on our school buildings is the definition of insanity, if not the definition of denial," Buttigieg said.
At an NRA conference last week, former President Donald Trump responded to the shooting by suggesting that American schools should have a "single point of entry," as a way to ramp up security. Others, including Texas Senator Ted Cruz, added that schools should have just one way in, with armed police officers located at the door.
"Schools should have a single point of entry. Fire exits should only open out. At that single point of entry, we should have multiple armed police officers. Or if need be, military veterans trained to provide security and keep our children safe," Cruz said during the convention.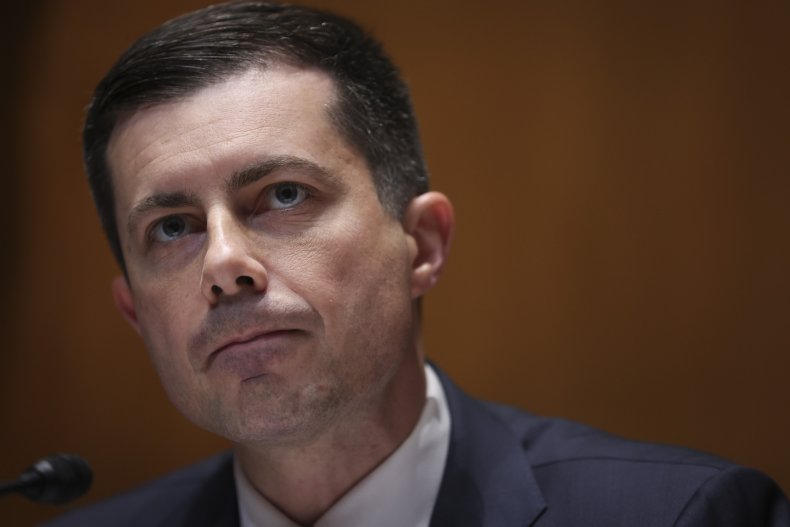 Those suggestions drew sharp criticisms from Democrats, who have urged Republican lawmakers to instead focus on frequent gun violence as a matter of law and policy. Education professionals have also noted that having a "single-door" school policy is unfeasible and would be impossible to achieve in schools that have hundreds of students, or which use multiple buildings, according to The Texas Tribune.
Other Republican lawmakers have suggested that more teachers and staff members should become armed to prevent school shootings. However, experts have noted that arming teachers, who likely do not have the necessary training to engage an active shooter, would be a risky and dangerous move.
The gunman in the Uvalde shooting, 18-year-old Salvador Ramos, was also able to enter the school and carry out his attack despite being initially engaged by armed officers. There were nearly two dozen officers on-site during the shooting, but Ramos was still able to fire more than 100 rounds, and attack children and teachers for well over an hour.
The police response has since sparked widespread condemnation, and has led to arguments that even ramping up security does not guarantee a shooter will be stopped.
Buttigieg on Sunday urged local leaders to take steps to engage in solutions about gun violence, but noted that federal action is ultimately needed to address mass shootings.
"As every mayor is doing around the country, you take the steps that you can to reduce community violence, to invest in partnerships, to make sure that you're taking the steps that you can locally, but you're also looking at Washington to say will anything be different this time?" he said. "Will we actually acknowledge the reasons why we are the only country, the only developed country, where this happens on a routine basis?"