Buttigieg's Campaign Denies Direct Involvement With Reported Email Suggesting Donations Could Garner Influence
Democratic candidate Pete Buttigieg's campaign has denied any direct involvement with a reported email sent by a fundraising bundler that suggested donors could gain influence over the candidate by contributing.
Axios first reported on Sunday that an anonymous potential donor to Buttigieg – the mayor of South Bend, Indiana – had sent the news site the email from a fundraiser for the campaign. In a statement to Newsweek, Sean Savett, the Buttigieg campaign's rapid response communications director, emphasized that the email was "not from our campaign."
"We are proud to have more than 700,000 Americans who have already donated to our campaign and the only promise any donor will ever get from Pete is that he will use their donations to defeat Donald Trump. The stakes in this election are clear and stark – we have one shot to defeat Donald Trump," Savett said.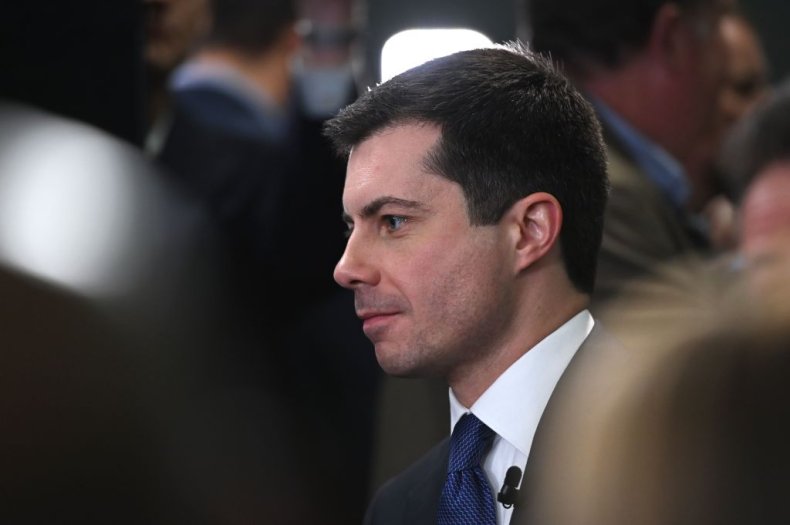 "That's why whether you can give $3 or $300, whether you are a Democrat, Independent or Republican, if you are ready to defeat Donald Trump, we welcome you to our campaign," he added.
According to a spokesperson for Buttigieg's campaign, the campaign also did not authorize the language of the email, meaning the idea of possibly gaining influence by making a contribution to Buttigieg would be attributable only to the sender –reportedly a top bundler for the campaign – not the candidate.
Axios reported that the email was sent by H.K. Park, who is vice president at the Washington, D.C.-based global business consulting company The Cohen Group. Newsweek has reached out to Park for comment, but as of the time of publication, the request was not returned. According to Buttigieg's website, Park is a top fundraiser for the campaign and has raised at least $25,000 for the candidate.
The unidentified prospective donor who received the email was reportedly bothered by the email's suggestion that a contribution could gain them influence with Buttigieg, according to Axios.
Although Buttigieg has repeatedly highlighted that he is the only top tier presidential candidate that is not a millionaire or billionaire, he has drawn significant criticism from more progressive Democratic candidates Senator Bernie Sanders of Vermont and Elizabeth Warren of Massachusetts for his willingness to hold high-dollar fundraisers with wealthy contributors. Last week, his fundraiser in a California wine cave got substantial attention, with multiple Democratic competitors calling out Buttigieg from the debate stage on Thursday evening.
"Billionaires in wine caves should not pick the next president of the United States," Warren said. The senator later asserted, "I do not sell access to my time."
But as Buttigieg pointed out, Warren previously held such fundraisers while running for Senate, and has transferred funds from her previous campaign to her presidential campaign. During her 2020 presidential bid, the senator has sworn off holding such events.
Sanders took aim at Buttigieg during the debate, as well as Democratic frontrunner Joe Biden, for their willingness to accept campaign contributions from billionaires. He noted that Biden had received donations from 44 billionaires, while Buttigieg was "trailing" with only 39 billionaire donors. The senator stated that he'd received zero contributions from billionaires. He later told The Guardian that Buttigieg's fundraisers with wealthy donors were "exactly the problem with American politics."
Responding to the report of the leaked fundraising email, prominent Black Lives Matter activist and Sanders supporter Shaun King tweeted: "This is a mess. Goes far beyond wine caves."
At the debate, Buttigieg defended his acceptance of contributions from billionaire donors by arguing that the most important thing in the election is to defeat President Donald Trump. He noted that the president and his supporters have already amassed more than $300 million for the re-election campaign. The mayor said "we shouldn't try" to defeat Trump "with one hand tied behind our back."
"We need everybody's help in this fight," he said.
The Democratic presidential candidate is currently polling in fourth place nationally, with his numbers slipping in recent weeks, according to an aggregate of national polls compiled by Real Clear Politics. Biden leads the pack, followed by Sanders and then Warren.
Meanwhile, Buttigieg has surged in the early primary states of Iowa and New Hampshire. In Iowa, the Real Clear Politics average shows the mayor has a slight lead over Sanders, with 22 percent compared to 20 percent support. In New Hampshire, Sanders has a slimmer lead over Buttigieg, 19 percent to 17.7 percent. Biden and Warren are polling in third and fourth, respectively, in both states.