Astronaut Buzz Aldrin Fought With Delta Employee Over Missed Flight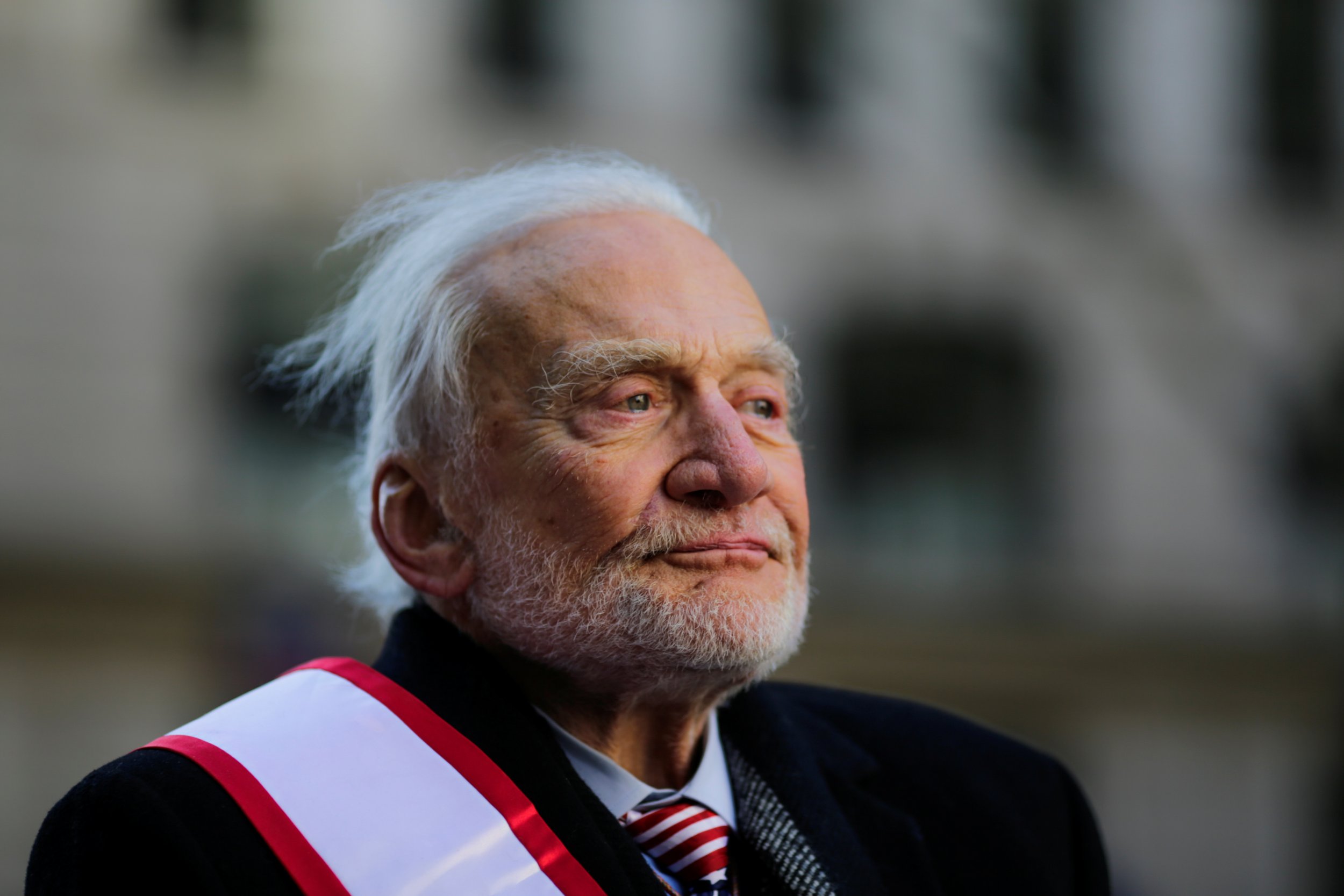 Buzz Aldrin, the famous NASA astronaut, got into a tiff with an airport employee on Tuesday, demanding to get on a flight that he missed after arriving late to check-in.
A video recorded at the Los Angeles International Airport by TMZ showed Aldrin yelling at a Delta Air Lines employee who was behind a counter, demanding to board a flight he had missed. It is unclear whether the airline was responsible for the incident, as he claimed in the video.
"Are you operating an airline here or not?" he asked.
A Delta spokesperson confirmed that Aldrin missed his own flight because he arrived too late, and wrote in an email that the company rebooked his flight.
Meanwhile, a spokesman for Aldrin told Newsweek it was "unfortunate TMZ decided to film him in this moment especially since he asked them not to post the video and to not try to make him or Delta look bad."
The spokesman continued, "He would like to say that he appreciates all the airline personnel...Delta went out of their way to apologize to Dr. Aldrin and he appreciates that they are committed to making his flying experiences a pleasant one."
On Tuesday, a Delta employee asked Aldrin a question (which is inaudible on the tape), and he responded, "No! I want to go through TSA and get on this airplane."
"Ok, no problem, we're going to do all of that," the employee then responded. "It's just that this flight, from what I can tell, is not running late," she added.
"It's her fault," Aldrin alleged by pointing to another employee at the desk.
"I am not going to discuss whose fault it is at this point," she responded.
Aldrin then said, "I'm telling you, you guys are going to be in a little bit of trouble because we've been sitting here now 20 minutes waiting for somebody to come and fix a two-minute problem...We don't want the next flight."
When the airport employee informed Aldrin that she definitely couldn't put him on the flight he originally booked, he stood up out of his wheelchair, approached the desk and said, "I want to get your name."
She responded, "Absolutely."
The Delta employee did not appear riled by the conversation and continued to offer him a place on a later flight.
"This is the most lousy operation I've ever heard of," Aldrin exclaimed at one point.
In a later video, a TMZ reporter attempted to ask him questions about the exchange, asking, "Would you say that it was easier to go to the moon than it is to fly with Delta?"
Aldrin, walking away, said, "Look, my son worked for Delta, and I know the people quite well. I don't want to say things like that," adding that he was getting onto a later flight.
Aldrin achieved international fame when he became the second man to step foot on the moon in 1969.