Today, legendary American astronaut Buzz Aldrin turns 90.
Aldrin was one of the Apollo 11 crew that made history in 1969 for being the first humans to land on the moon.
Aldrin, alongside fellow crew member Neil Armstrong, touched down on the lunar surface at 8:17 p.m. on July 20 of that year, inside the Lunar Module "Eagle." Around six hours later, Armstrong became the first human to set foot on the lunar surface, and he was joined by Aldrin shortly after.
During the landing, Michael Collins was piloting the Command Module "Columbia" alone in orbit above the moon. Once Aldrin and Armstrong had completed their time on the surface, they re-docked with the Command Module in order to make their way back home to Earth.
Several scientific institutions such as the European Space Agency, the Max Planck Society and the Mars Society wished Aldrin a happy birthday on Monday.
"On behalf of myself and the Mars Society, I would like to take the occasion of Buzz Aldrin's 90th birthday (January 20th) to thank him, not only for his heroic role in piloting the first human landing on the Moon, but for all the work he has done since to make sure that occasion was not only the epic achievement of its time, but indeed, 'a giant leap for all mankind.' Happy birthday Buzz!" said Robert Zubrin, president of the Mars Society.
"We look forward to honoring your hundredth with the first 'small steps' of humans on Mars," Zubrin said.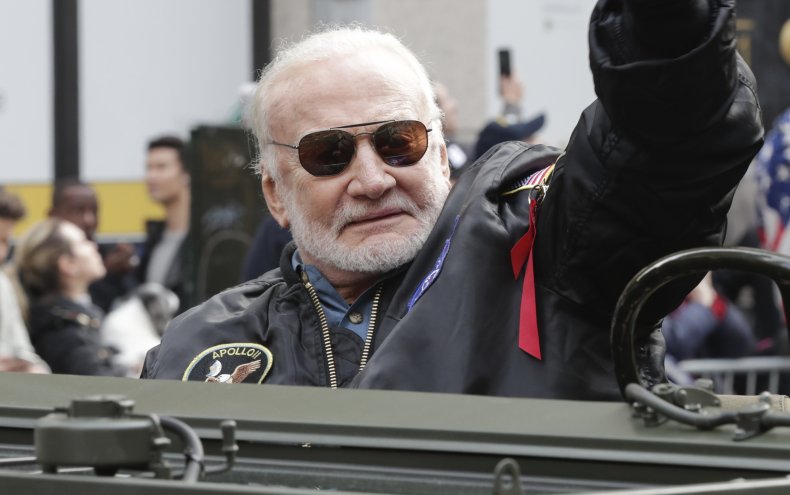 Meanwhile, the Max Planck Society—based in Germany—decided to include one of Aldrin's best known quotes in their birthday message, which was taken from his book No Dream Is Too High: Life Lessons From a Man Who Walked on the Moon. "Your mind is like a parachute: If it isn't open, it doesn't work. So keep an open mind," Aldrin wrote in the book.
Among the many motivational passages in the book, Aldrin also wrote: "One truth I have discovered for sure: When you believe that all things are possible and you are willing to work hard to accomplish your goals, you can achieve the next 'impossible' dream. No dream is too high!"
Aldrin tweeted on his birthday: "Today is a special day. When asked for my birth date, I chuckle and say 1-20-30. Now, after circling the sun for 90 years, today is 1-2020. I came into this world in NJ on 1-20-30, and my mother was Marion Moon Aldrin and my father Edwin Aldrin. Here's to 1-2025!"
Aldrin was born on January 20, 1930, in Montclair, New Jersey. He graduated from the U.S. Military Academy at West Point in 1951, becoming an air force pilot. He would go on to fly 66 combat missions during the Korean War before being selected as an astronaut in 1963.
In November 1966, Aldrin took part in NASA's Gemini 12 mission, where he completed three spacewalks with a total duration of five-and-a-half hours. This mission demonstrated that astronauts could function effectively in the vacuum of space, and helped lay the groundwork for the 1969 moon landing.