Buzz Aldrin Talks Coronavirus Quarantine As NASA Sends Almost Entire Workforce Home Over COVID-19
Buzz Aldrin has offered his advice to Americans facing the prospect of quarantine—or those who are already self-isolating—as NASA tells almost all of its 17,000 employees to work from home amid the COVID-19 pandemic.
The second man to walk on the lunar surface had to go into quarantine for 21 days—alongside his Apollo 11 crew mates Neil Armstrong and Michael Collins—after coming back from the moon in 1969.
This was to prevent the astronauts from spreading any potential pathogens that they may have picked up during their moon mission—a possibility that was considered remote, at the time, although NASA took the necessary precautions anyway.
After landing in the Pacific Ocean aboard the Apollo 11 Command Module " Columbia" on July 24, recovery crews gave the astronauts biological isolation garments which were worn until they were placed in the Mobile Quarantine Facility (MQF)—essentially, a converted trailer—on the USS Hornet aircraft carrier.
The MQF was then airlifted by a military plane to Houston where the crew spent their 21 days of quarantine inside a facility known was the Lunar Receiving Laboratory, in accordance with NASA's Extra-Terrestrial Exposure measures.
But how did Aldrin and manage to cope with these three weeks of being isolated from the outside world?
"Well, Mike Collins and I used to exercise and jog a little bit around the hallway," he told Ars Technica.
The astronaut also said he used the time to complete mission reports and other pieces of paperwork, like a government travel voucher which gave him $33.31 to spend as a result of his historic mission.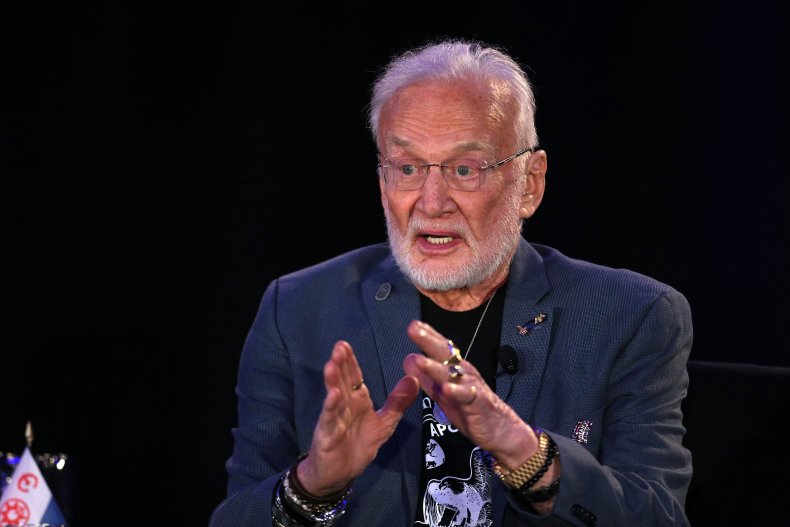 Aldrin is currently self-isolating amid the COVID-19 outbreak. At 90 years old, he is among those most at risk of serious complications if infected with the novel coronavirus. So how is he currently dealing with the outbreak?
"Lying on my ass and locking the door," he told Ars Technica.
While the quarantine process for astronauts coming back from the moon continued for two more Apollo missions following Apollo 11, scientists soon realized that our natural satellite was most likely devoid of life, and NASA removed the requirement.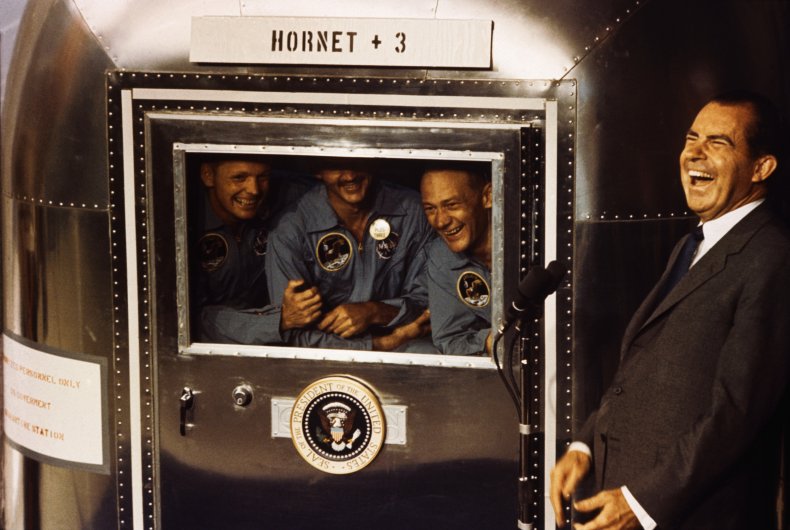 On Tuesday, NASA Administrator Jim Bridenstine announced that the space agency was elevating all of its centers to "Stage III" of its pandemic "Response Framework" amid the COVID-19 outbreak. In effect, this requires nearly all employees and contractors to work from home until further notice. Staff that are essential to ongoing missions will continue to be allowed access to their worksites, however.
"Although a limited amount of employees have tested positive for COVID-19, it is imperative that we take this pre-emptive step to thwart further spreading of the virus among the workforce and our communities," Bridenstine said in a statement.
"Agency leadership continues to monitor developments regarding coronavirus (COVID-19) around the nation. We are closely following the advice of health professionals and the White House Coronavirus Task Force to keep our workforce safe. Implementing best practices early and quickly will increase likelihoods for better outcomes," he said. "I strongly encourage you and your families to follow all local, state and federal guidelines to stay healthy and to help slow the spread of the virus.
World Health Organization advice for avoiding spread of coronavirus disease (COVID-19)
Hygiene advice
Clean hands frequently with soap and water, or alcohol-based hand rub.
Wash hands after coughing or sneezing; when caring for the sick; before; during and after food preparation; before eating; after using the toilet; when hands are visibly dirty; and after handling animals or waste.
Maintain at least 1 meter (3 feet) distance from anyone who is coughing or sneezing.
Avoid touching your hands, nose and mouth. Do not spit in public.
Cover your mouth and nose with a tissue or bent elbow when coughing or sneezing. Discard the tissue immediately and clean your hands.
Medical advice
If you feel unwell (fever, cough, difficulty breathing) seek medical care early and call local health authorities in advance.
Stay up to date on COVID-19 developments issued by health authorities and follow their guidance.
Mask usage
Healthy individuals only need to wear a mask if taking care of a sick person.
Wear a mask if you are coughing or sneezing.
Masks are effective when used in combination with frequent hand cleaning.
Do not touch the mask while wearing it. Clean hands if you touch the mask.
Learn how to properly put on, remove and dispose of masks. Clean hands after disposing of mask.
Do not reuse single-use masks.