Did Buzz Aldrin Really See UFO in Space, Pass Lie Detector Test?
Over the weekend, the internet exploded with reports that legendary astronaut Buzz Aldrin and others have convinced experts that they encountered aliens by passing lie detector tests.
The story was irresistible to true believers and skeptics alike, and coverage topped the Google News and Google Trends science corners.
So did Buzz Aldrin really see a UFO?
The story was originally published as an "exclusive" by British tabloid the Daily Star.
"Aldrin has always maintained he spotted a UFO on the way to the moon," the article said. It quoted the astronaut as saying, "There was something out there that was close enough to be observed, sort of L-shaped."
This quote likely comes from a mid-2000s TV documentary called First on the Moon: The Untold Story, which claimed that Aldrin saw a UFO during the Apollo 11 mission to the moon.
At best, this is technically true. However, Aldrin and others have debunked any speculation that he actually witnessed evidence of aliens numerous times. For example, Aldrin addressed the sighting in a Reddit Ask Me Anything (AMA) session in 2014.
The astronaut explained to readers that he did spot a weird, moving light during the Apollo 11 journey but said he was "absolutely convinced" it was just sunlight reflecting from a rocket panel that had separated from the lander.
Related: Astronaut Buzz Aldrin fought with Delta employee over missed flight
Technically, he wrote, the source of this light could be classed as "unidentified," but it certainly wasn't caused by aliens. In fact, Aldrin couldn't be clearer on this, writing, "It was not an alien."
If that wasn't enough, Aldrin explained what really happened a number of times on Fox News and such programs as Larry King Live in the mid-2000s. Furthermore, NASA scientist David Morrison said the UFO claims were overblown, and Phil Plait (aka the Bad Astronomer) gave the show a thorough debunking in two 2006 blog posts.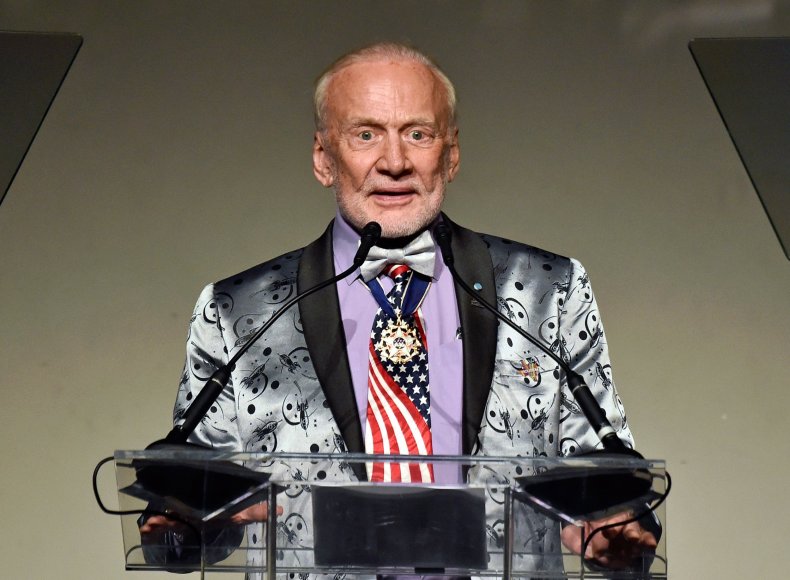 Did Aldrin pass a lie detector test?
This brings us to the crux of the Daily Star article: that Aldrin's UFO-spotting claims were tested by lie detector at the Institute of BioAcoustic Biology in Albany, Ohio.
Using technology that "could soon replace those used by the FBI and police," experts tested Aldrin's voice to see if he had been lying, the article says. They also tested the voices of astronauts Al Worden, Edgar Mitchell and Gordon Cooper.
Although bioacoustics is a serious field of research, it's usually concerned with the production and reception of sounds in animals. According to ScienceAlert, however, this institute's work smacks of pseudoscience.
Its website makes some pretty bold claims, stating that voices can offer "a holographic representation of health and wellness."
"You may be able to lie to your friends and deceive yourself with your words but the vocal frequencies do not lie," the website claims. It promises that its services can evaluate an "entire matrix of information, from your DNA to your partner preferences."
Even if the skeptics are wrong and the institute offers a legitimate, accurate lie detection service, its work on Aldrin's voice seems redundant.
It is not clear which recording of Aldrin was used, but if it was his quotes about a mysterious sighting on the Apollo 11 mission, and even if the lie detector test was 100 percent accurate, that tells us nothing more than what Aldrin has already explained, time and time again. Yes, he saw a weird light in space, but no, it wasn't evidence of aliens.
Newsweek has reached out to Aldrin's representatives for clarification on this story but has not yet heard back. His team was pretty clear in their response on Pedestrian, however, saying, "This is bogus and we don't know where it came from."
Newsweek also reached out to Sharry Edwards of the Institute of BioAcoustic Biology, but she did not immediately respond.
But don't dismay, alien hunters. Aldrin does think there is a very good chance that life exists somewhere else in the universe, maybe even in the Milky Way. He explained in the Reddit AMA that extraterrestrial life may simply be "hundreds of light-years away."