How New Buzz Lightyear Movie Will Explore the Backstory of 'Toy Story's' Space Ranger
The Toy Story origin story no one knew they needed, Lightyear is crash landing into theaters in 2022.
The first teaser trailer for the Buzz Lightyear-focused movie has dropped online, and there's plenty of information given to suggest what the story will be. Tim Allen has been replaced as the voice of Buzz Lightyear as Chris Evans takes over the lead role in Lightyear.
Disney said Lightyear is "the definitive origin story of Buzz Lightyear—the hero who inspired the toy—introducing the legendary Space Ranger who would win generations of fans."
What Happens in the 'Lightyear' Trailer?
The teaser trailer doesn't feature much talking but plenty of information is given away by the images shown.
We're introduced to the Space Ranger Buzz Lightyear straight away as we see his dog tags. They also suggest his blood type is O positive. He's wearing his familiar purple head protector but a much toned-down space suit opposed to the white and green suit we're used to from Toy Story.
In a large operation, we see Buzz blast off into space before perhaps engaging lightspeed and venturing even further towards the stars. His spacecraft heads towards the sun and seems to orbit around the surface.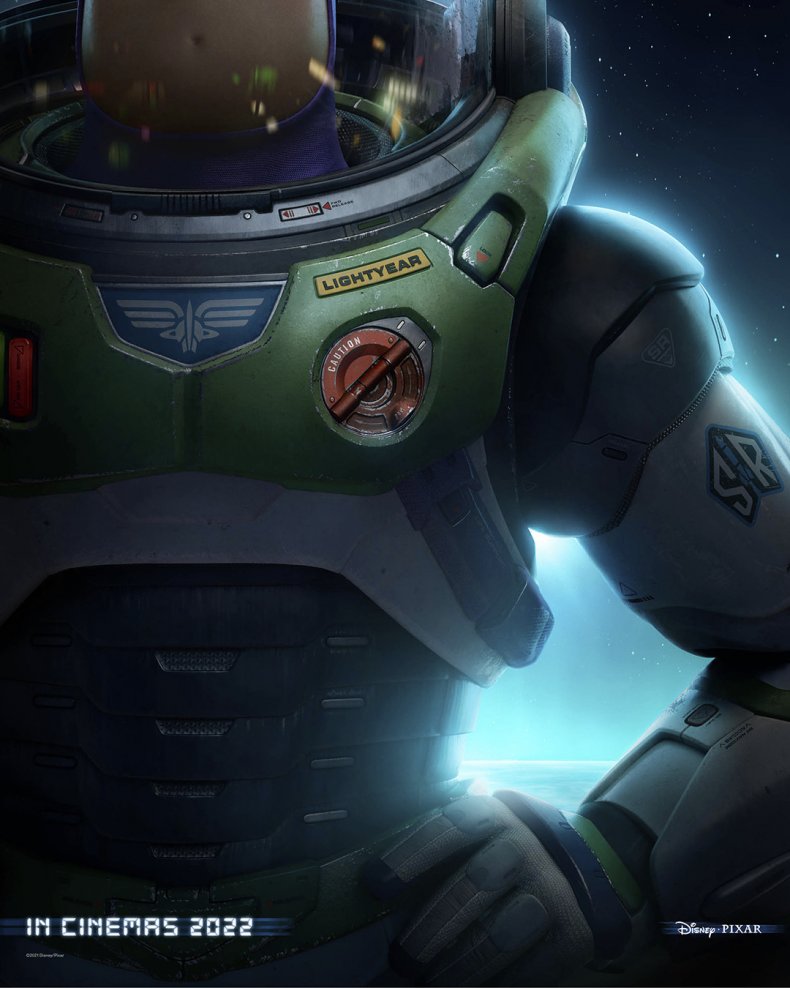 Back on Earth, we see Buzz staring out of his window looking up to the sky. He's also wearing a shirt which reads "Property of Star Command"—the organization we've heard about many times before in Toy Story.
We get a look at some new characters too—some human, some not. A mechanical cat, a robot that looks similar to Wall-E, and a green tentacled monster all interact with our hero throughout the duration of the short trailer.
As the teaser builds to a climax, while David Bowie's "Starman" plays in the background, Buzz's famous green and white space suit emerges. He's not the only one wearing it though as a female astronaut appears to be wearing the exact same uniform.
We then hear the only words of dialogue spoken in the trailer. She extends a hand and holds out her finger saying "to infinity" as Buzz reciprocates, touches fingers with and and says "and..."
The trailer then ends with a dark screen that reveals the release date will be summer 2022.
What Is Missing From the 'Lightyear' Trailer?
Toy Story characters such as Woody, Rex, Slinky and Ham will all be presumably absent from the Lightyear movie but there are clues relating to Buzz's origin story mentioned in Toy Story that could feature.
The origin story of how Emperor Zurg became Buzz Lightyear's nemesis may be explained. There's a moment in the trailer where it looks like someone will emerge through some smoky mechanical doors which would be a classic entrance for a villain.
We can probably expect to hear a number of Buzz Lightyear's catchphrases too. "To Infinity and Beyond" is just the start as the toys feature pre-recorded phrases like "Buzz Lightyear to the rescue" and ""This is a secret mission in uncharted space."
The Team Behind 'Lightyear'
Captain America actor Evans will provide the voice for Buzz Lightyear in the upcoming movie. Once the trailer was revealed, he said: "The phrase 'a dream come true' gets thrown around a lot, but I've never meant it more in my life.
"Anyone who knows me knows that my love for animated films runs deep. I can't believe that I get to be a part of the Pixar family and work with these truly brilliant artists who tell stories unlike anyone else. Watching them work is nothing short of magic. I pinch myself every day."
Veteran Pixar animator Angus MacLane (Finding Dory) will direct Lightyear while Galyn Susman (Toy Story) produces.
Lightyear is slated to be released on June 17, 2022.