BuzzFeed Employees Sue Media Outlet for $8.7M Over Initial Public Offering
More than 70 BuzzFeed employees have sued the company, alleging they were not permitted to sell their stock shares for a higher price after the Initial Public Offering (IPO).
BuzzFeed went public in December of last year. Just days afterward, the company's stock fell drastically and employees allege they were not able to sell their shares until the price had dropped nearly 60 percent— to less than $5 per share. Some workers claim they still aren't able to trade their shares at all.
The two claims, filed with the American Arbitration Association, represent a total of 77 employees who collectively had more than 900,000 shares of BuzzFeed stock when the company went public, The New York Times reported Tuesday. They seek $8.7 million in damages.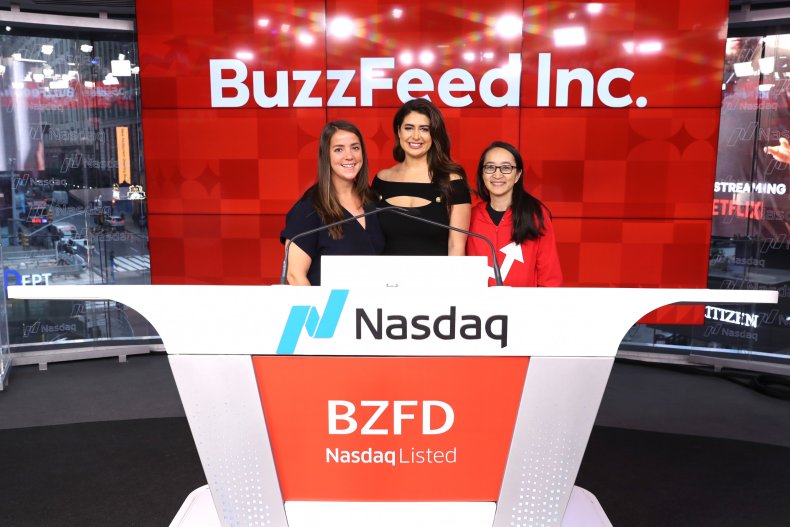 "BuzzFeed prioritized communication with former and current employees last year to provide them with the information they needed to manage their equity," a BuzzFeed rep said in a statement to the Times, adding, "It's regrettable that the stock price declined, but there is no merit to the claims and we intend to rebut them vigorously."
BuzzFeed was founded in 2006 by Jonah Peretti, who is named in the complaint. According to the claims, journalists, web developers and editors joined BuzzFeed when it was a startup. Employees say they accepted low wages in exchange for stock options and Peretti promoted the goal of taking the company public.
BuzzFeed announced in June 2013 that it would merge with a SPAC (special purpose acquisition company) called 890 Fifth Avenue Partners to make the company public. The deal was worth about $1.4 billion and is currently worth approximately one-third of that.
During the merger, about 94 percent of the money raised by the SPAC, over $250 million, was pulled out by investors—leaving the company with $16 million. As a result of the withdrawal from investors, employees say BuzzFeed had the responsibility of reevaluating plans to go public.
After the IPO, workers say they were given unclear instructions on how to trade their stock. Employees were eligible to sell as soon as they filed the necessary paperwork before the debut, but were not given enough time to complete the application until after the company was available on the stock market, also after value decreased, employees allege.
"As a result, claimants—some of whom are unable to trade their shares as of the date of this filing—lost the opportunity to sell their hard-earned shares for good value and have been left with stock trading at a mere fraction of its I.P.O. price," one of the complaints reads.
Newsweek reached out to BuzzFeed but did not receive a response in time for publication.