'Bye Felicia': Michelle Obama Tells Jimmy Fallon What Was Running Through Her Head after Trump Inauguration
Michelle Obama has spoken of the relief felt on the day she left the White House. On The Tonight Show with Jimmy Fallon, the former first lady was promoting her book Becoming, in which she described her emotions when it came time to make way for President Donald Trump.
Fallon held up an image of Michelle Obama and her husband, former president Barack Obama, standing on the steps of Special Air Mission 28000—what would have previosuly been signed Air Force One—after Trump's inauguration.
Read more: Michelle Obama and Donald Trump handshake turns awkward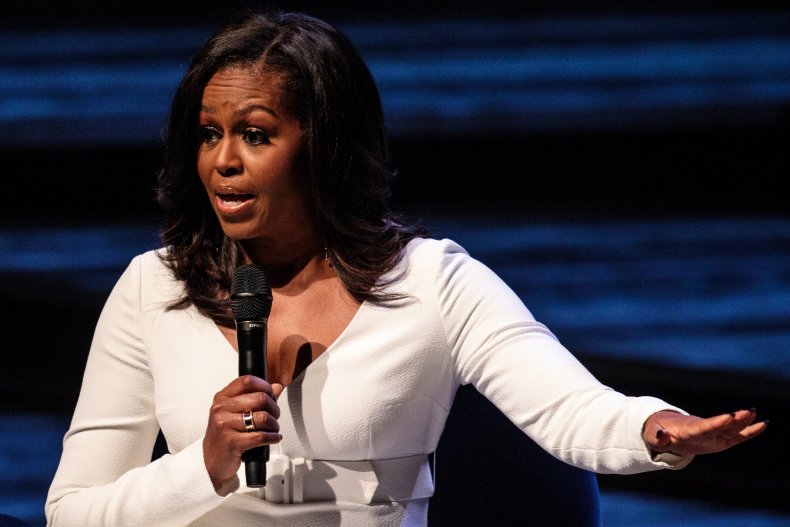 The Obamas were being flown to California for their first vacation after exiting the White House. Fallon asked Obama how she felt that day.
"Bye Felicia," she quipped, using the dismissive term considered an abrupt way to say farewell to someone, which was coined by rapper Ice Cube in the film Friday.
"A lot was going on that day, that was a day. Right before that, my daughters' friends decided they needed a sleepover for the last day, I was like 'are you guys kidding me, we're leaving, you've gotta take all your stuff.'"
She also opened up about her marriage, admitting that she and Barack needed professional help.
"Marriage is hard, even for us. We have a great relationship but the thing about marriage counseling is that I was one of those wives that thought 'I'm taking you to marriage counseling so you can be fixed, Barack Obama,' because I was like, 'I'm perfect.'
"Marriage counseling was a turning point for me understanding that it wasn't up to my husband to make me happy, that I had to learn how to fill myself up and put myself higher on my priority list."
She said she wrote about it in her memoir to inform young people not to get discouraged if their relationships hit rocky points. "I want young people to know that marriage is work, even the best marriages… I don't want young people to quit the minute they have a hardship. If you are married for 50 years and 10 of them are horrible, you're doing really good."
Sales of the book, published four weeks ago, have now topped 3 million, according to Crown Publishing, making it one of the best-selling political memoirs of all time, and one of the fastest-selling nonfiction books in history, USA Today reported.
Obama will also extend her book tour and undertake 21 events in 2019, including six in Europe. She has been selling out stadiums and has appeared at arenas such as New York City's Barclays Center and Chicago's United Center.