#ByeByeBernie Trends After Sanders Campaign Defeated in Key Super Tuesday 2 Races
The hashtag #ByeByeBernie was trending on social media on after Joe Biden beat Bernie Sanders in the Michigan primary and three other Democratic nominating contests on Tuesday.
At the time of writing, the hashtag had reached the top of U.S. Twitter trending charts with more than 24,000 posts using the phrase.
Another hashtag aimed at former vice president Biden's perceived electability—#LoseWithBiden—was also trending on Wednesday morning and featured in more than 53,000 tweets.
Both hashtags began trending after Biden was declared winner in four of the six Democratic primaries held on Tuesday, including the state offering the day's largest delegate haul: Michigan.
The ex-vice president won Michigan with 52.9 percent of the vote four years after Sen. Sanders (I-Vt.) recorded a surprise victory over Hillary Clinton in the state during the 2016 party primaries.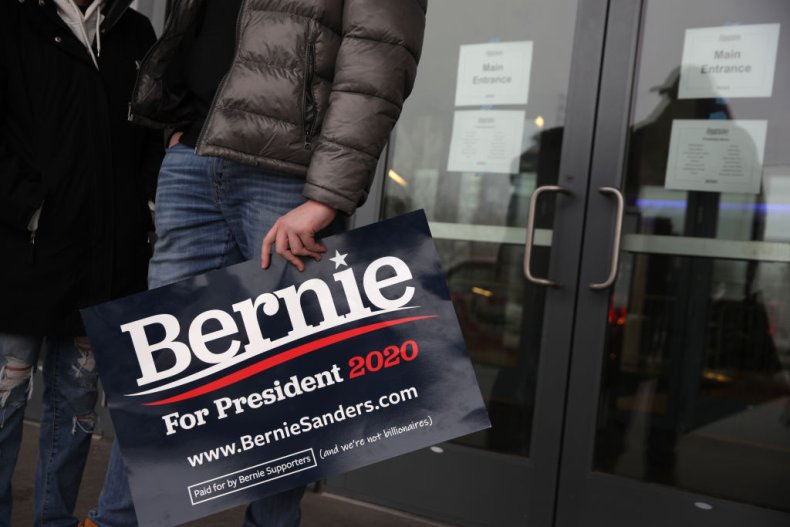 A total of 125 delegates were on offer in the Great Lakes State, or a little more than a third of the combined 352 delegates up for grabs across the March 10 races.
Sen. Sanders had a slim 0.2 percentage point lead in Washington state, the primary offering the second most delegates yesterday, with 67 percent of votes reported as of 4:09 a.m. ET on Wednesday.
He also boasted of a larger 6.1 point lead over Biden in North Dakota, a state offering just 14 of the 1,991 pledged delegates needed to win the Democratic party nomination.
In the remaining three state contests, where at least 99 percent of votes had been reported on Wednesday morning, Biden had won big.
The former vice president took the Missouri primary with a little more than 60 percent of vote, and beat his progressive rival by 66 percentage points in the deep-red state of Mississippi.
Biden also won Idaho by a smaller 6-point gap that still put him in position to claim most of the state's 20 delegates.
The ex-VP's overall delegate lead over the Vermont senator stood at 160 at the time of writing, with 242 of 352 delegates from the Tuesday races awarded to the candidates.
Sen. Sanders flew back to his home in Burlington, Vermont as the disappointing results came through and some in the media and elsewhere argued that the defeats were a major blow to his campaign's chances of winning the Democratic nomination.
Using the hashtag #ByeByeBernie, Twitter user indiecitizn wrote, "Ppl tweeting #ByeByeBernie are awful. Imagine feeling proud of blunting progress & telling young folks we have no future; that we're stuck w/ our student loans; can't have healthcare; can't have a habitable planet to live on. What an honorable cause - let's see how that works out."
"We can all whine about how mean Biden supporters are on #ByeByeBernie, but none of them would talk shit if Bernie leveraged his movement against the establishment for once," the YouTuber Anthony Fantano also wrote in a tweet.
The progressive activist and podcaster Ryan Knight posted, "Bernie has spent his entire career fighting for the working people of this country and we're not going to beat Trump if you keep spitting in our faces."
Boston College historian David Sessions also wrote in a tweet, "The iron law of the internet remains that only Bernie supporters can make hashtags trend—including, it brings me no pleasure to report, #ByeByeBernie."
Newsweek has contacted the Sanders 2020 campaign for comment and will update this story with any response.