Byron Donalds Spars With CNN Host After She Says His Ideas are 'Incongruous' With Black Caucus
Congressman Byron Donalds sparred with a CNN reporter Thursday after she suggested his ideas are "incongruous" with those of the Congressional Black Caucus (CBC).
Donalds, a Republican from Florida, told New Day host Brianna Keilar that he hasn't "really heard much" from the caucus after expressing interest in joining its membership months ago.
There are currently no Republican members of Congress in the Congressional Black Caucus.
"I have a perspective being a 42-year-old Black man who's come up in America after a lot of the battles through the civil rights movement that I think would actually be helpful and a helpful perspective to the CBC," Donalds said. "Whether they want to take advantage of that is really up to them."
Keilar then asked Donalds if his questioning of the 2020 election results and his defense of former President Donald Trump are "incongruent with the mission of the CBC."
"First of all, whatever the president said in the past has nothing to do with this discussion at all," Donalds said.
Keilar then cut in to reiterate Donalds' support of Trump.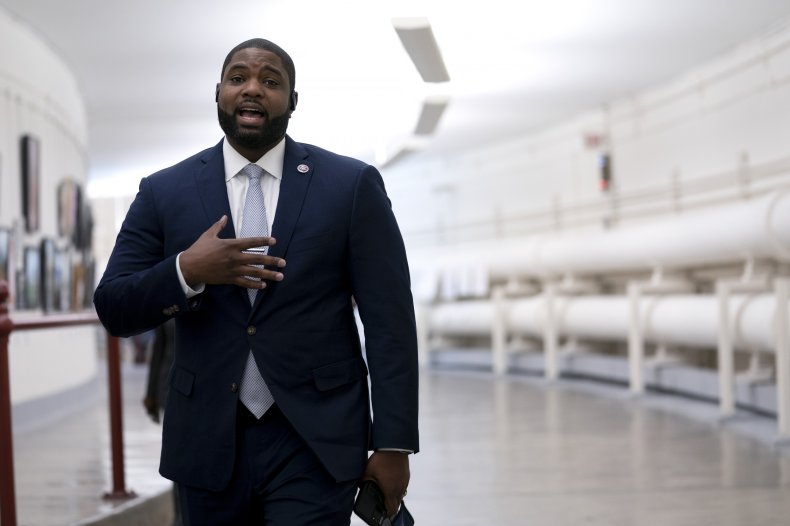 "Please don't cut me off," the congressman responded. "I have not cut you off in this interview. Please do not do that to me. Thank you. As a Black man in America, I'm allowed to have my own thoughts on who I choose to support and who I choose not to support. I think that it's important whether you're talking about the Congressional Black Caucus or the Florida State Legislative Black Caucus or The National Caucus of State Black Legislators—organizations I have been a part of in the past."
He added, "My support of President Trump has been consistent, but at the same time, I've had the ability to advocate for issues, ideas, proposals and funding that have helped the Black community in my state."
BuzzFeed News was the first to report Wednesday that the CBC was blocking Donalds' membership, citing an unnamed source familiar with the caucus's plans.
Newsweek reached out to the CBC for comment on Donalds' remarks and the BuzzFeed report but didn't receive a response before publication.
On Thursday morning, the caucus wrote on Twitter that it "remains committed to fighting for issues that support Black communities, including the police accountability bill, protecting voting rights, and a jobs bill that helps our communities."
Donalds told CNN on Thursday that it was "off-putting" to learn from a news article that the CBC may be blocking his entry.
"If my positions and my support of President Trump is a problem for them, let them state that on the record," the congressman said.