As professional golfer Rory McIlroy was waiting to tee off at his first hole of the day at the abrdn Scottish Open on Friday, a man casually walked up to him and stole a club from his golf bag.
McIlroy and his playing partners Jon Rahm and Justin Thomas looked stunned as the man walks a few paces away and looked like he was about to take a practice swing before security escorted him away.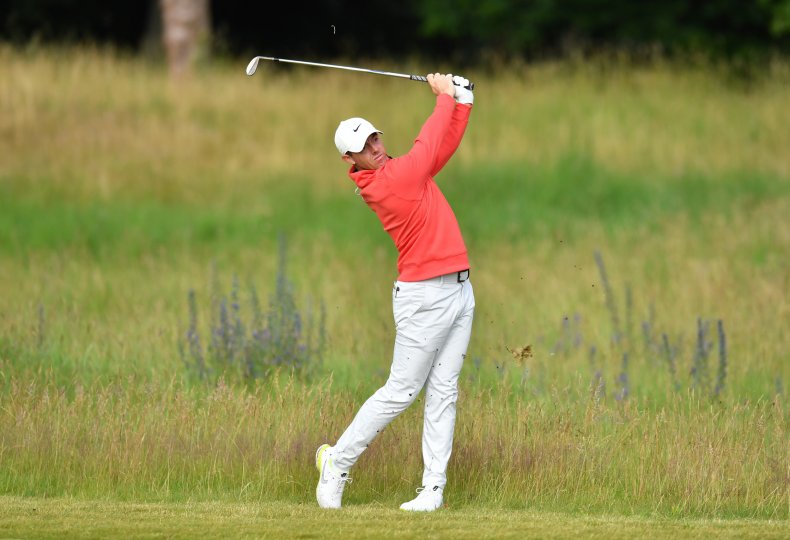 McIlroy was on the 10th tee box for the beginning of the second round of the tournament at the Renaissance Club in North Berwick, Scotland. As he chatted with Rahm and Thomas, a stranger approached the group. After fumbling his first attempt at grabbing a club, the man successfully took one from the bag and then walks off as nonchalantly as he first appeared.
Video caught the whole bizarre incident. The clip ends by showing the man setting up to take a practice swing with the club nearby. Twitter was soon flooded by shares of the video and humorous posts about the theft.
Though distracting, the moment ended without any violence or serious harm. The fan handed the club back to McIlroy's caddie, Harry Diamond, before security took him out of the club without any further incident.
"At approximately 8 a.m. on Friday morning, a spectator entered the 10th tee area," the European Tour said in a statement. "He was quickly escorted from the tee by security personnel and the matter is in the hands of Police Scotland."
A spokesperson for Police Scotland told Sky Sports: "Officers were alerted to a man causing a disturbance within the grounds of the Renaissance Club in East Lothian, around 8 a.m. on Friday, July 9."
"The 35-year-old man has been taken to the Royal Infirmary of Edinburgh and enquiries are ongoing," the police spokesperson's statement added.
McIlroy, a winner of four major championships who hails from Northern Ireland, has not yet commented on the theft. He finished the first round 1-under 70 along with Collin Morikawa.
This week's Scottish Open is the first golf tournament in Scotland to allow spectators to attend in person since the country's easing of COVID-19 restrictions.
The golf club thief incident is not the first time someone has caused a disruption since the return of live spectators to golf tournaments. Less than three weeks ago, a fan went streaking down the course before Bryson DeChambeau's shot on the 13th hole of the U.S. Open.
The streaker was also apprehended by security, but not before his wild stunt was captured on video.
Updated July 9, 2021, 11:58 AM: This story was updated to include the full name of the event, the abrdn Scottish Open.