A federal investigation has been opened into how LGBTQ students are disciplined at Brigham Young University (BYU) in Utah with regards to the private religious school's "Honor Code." The university has said its religious exemptions to Title IX cover the complaints being investigated, according to The Associated Press.
The investigation that was opened late in 2021 and first reported by The Salt Lake Tribune concerns complaints of alleged Title IX violations over the school's continued enforcement of a ban against same-sex dating after specific mentions of LGBTQ relationships were removed from the school's honor code.
Early in 2020, the college operated by the Church of Jesus Christ of Latter-day Saints, commonly known as the Mormon church, announced it was removing a section of the honor code that prohibited expressions of "homosexual behavior," the AP reported.
However, weeks later the school sent a letter to students that said removing the section from the honor code didn't change the moral philosophy of the church or its opposition to same-sex marriage, and therefore things like holding hands and kissing members of the same sex were still banned on campus.
Punishments for violating school policies like alcohol consumption or piercings, prohibited by the school's honor code or the outlined LGBTQ behavior could result in suspensions or expulsion, the AP reported.
The reversal led to protests from hundreds of students who said the announcement and quick backtracking from the university felt like the school was trying to trick people into coming out, according to the AP.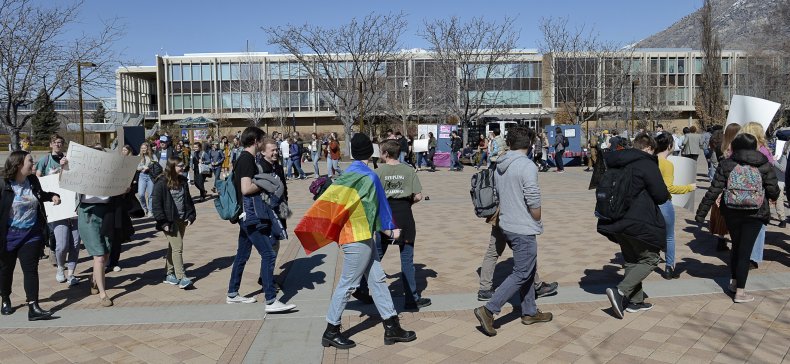 The investigation from the Education Department's Office of Civil Rights was opened in October, spokespersons from the department and BYU confirmed to The Tribune.
"BYU is exempt from application of Title IX rules that conflict with the religious tenets of The Church of Jesus Christ of Latter-day Saints," BYU spokesperson Carri Jenkins said in a statement to The Tribune.
Michael Austin, a BYU graduate and vice president of the University of Evansville told the newspaper that federal involvement in school discipline like the current investigation is rare and is likely an indication that the government believes systemic problems could be in place at BYU regarding punishments of LGBTQ students.
The Tribune reported that the investigation is likely to determine if the outlined behaviors can be punished by a religious private school if it is not education-related, and no longer specified in the school's honor code.
The paper also reported that BYU president Kevin Worthen wrote a letter to the investigators in November insisting the punishments are valid, and a response from the department said the school does have some Title IX exemptions as a religious institution, but the investigation into the complaint was still necessary.