BYU's No. 14 Ranking Causes Upheaval Among College Football Gurus, And For Good Reason
Brigham Young University decided a few years ago to go independent as a college football team, meaning they could play anyone, anywhere at anytime. It meant tough road games against great programs or home games against lesser-known up-and-comers.
The COVID-19 pandemic changed a lot of things about college football. Some colleges decided to postpone their seasons until further notice, and independents like BYU, Notre Dame, Army, Navy, Liberty and others scrambled to find teams to play.
Notre Dame found a temporary home in the Atlantic Coast Conference (ACC) for a single season, and they have a full schedule of Power 5 teams. BYU, on the other hand, stayed independent, and had to schedule some lesser-known teams like UT-San Antonio and North Alabama. This was because teams from major conferences were forced to cancel all, or most, non-conference games.
BYU is 9-0 for the season and Notre Dame is 8-0. Notre Dame's biggest win of the season was a 47-40 win at home against Clemson in double overtime. Clemson was without their top player—quarterback Trevor Lawrence. BYU's biggest win was on the road at Boise State, 51-17.
BYU quarterback Zach Wilson is mentioned among Heisman Trophy favorites this season. Notre Dame quarterback Ian Book is mentioned among Heisman contenders.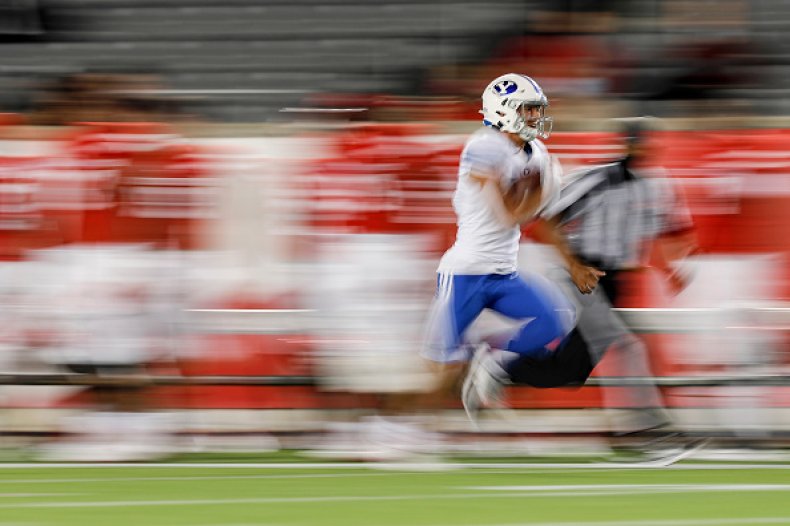 In the initial College Football Playoff (CFP) rankings Tuesday night, Notre Dame was listed at No. 2 by the CFP committee. BYU was ranked No. 14. There are eight teams ahead of BYU that have a loss so far. Three of those teams have two losses.
That means there are five undefeated teams ahead of BYU:
No. 1 Alabama (7-0)
No. 2 Notre Dame (8-0)
No. 4 Ohio State (4-0)
No. 7 Cincinnati (8-0)
No. 8 Northwestern (5-0)
Here are the full rankings from the first CFP standings.
Gary Barta, who is Iowa's athletics director and chair of this season's CFP committee, was asked immediately about BYU's ranking as compared to Cincinnati's.
"When you look at the schedule, look at the teams, as I mentioned earlier tonight,
right now BYU's best win is over Boise State, and in that game I think they got down to their third string quarterback," Barta said. "BYU has played three teams against .500 or better opponents, but when you move over to Cincinnati, they're 4-0 against .500 teams and had quality wins as recently as this past weekend against Central Florida but also earlier against SMU. And Cincinnati is in the top 20 both in scoring offense and scoring defense. Those are some of the differences as we took a look at it."
Cincinnati trailed against UCF, took a lead and then had to stave off the Knights in a weird-ending, 36-33 win for the Bearcats.
The rankings obviously had media personalities in the college football world talking. Here are some of the remarks from media, athletes and fans.
Brett McMurphy said BYU likely won't be able to climb high enough into the rankings to get a New Year's Six bid.
"BYU biggest loser in inaugural @CFBPlayoff rankings," McMurphy tweeted. "At No. 14, doubtful BYU could climb high enough to earn New Year's 6 at-large bid."
The College Football Playoff matches the No. 1 ranked team vs. No. 4, and No. 2 vs. No. 3 in semifinal games that rotate annually among six bowl games—the Cotton Bowl, Fiesta Bowl, Peach Bowl, Orange Bowl, Sugar Bowl and the Rose Bowl Game. The rankings also help determine which teams go to certain bowl games.
ESPN college football analyst David Pollack said, "My gosh, BYU (at) No. 14? That is absolutely nuts to me, just watching how dominant they are, not just analytically, but physically, when you turn on the tape."
BYU's only remaining scheduled game this season is Dec. 12 at home against San Diego State University. That is, unless another team wants to step out of their comfort zone (conference) and play the Cougars.