A recently approved California budget measure that allows the construction of animal crossings on freeways around the state, reflects the growing interest nationwide in protecting vulnerable wildlife populations— even despite the project's hefty price tag.
The new budget, according to CalMatters, will fund the Liberty Canyon Wildlife Crossing, an overpass that will traverse the ten-lane 101 Freeway in the Santa Monica Mountains, near the city of Agoura Hills. The project will be afforded $7 million, while another $54.5 million will be allocated to building wildlife passages across the state.
Advocates for these animal crossing points, which will come in the forms of bridges, tunnels, overpasses and underpasses, say that they serve a dual purpose. The passages will reduce the number of animals that are killed by vehicle collisions. Approximately "7,000 vehicle crashes a year on California highways involve large wildlife," according to CalMatters—a number they say is likely underreported.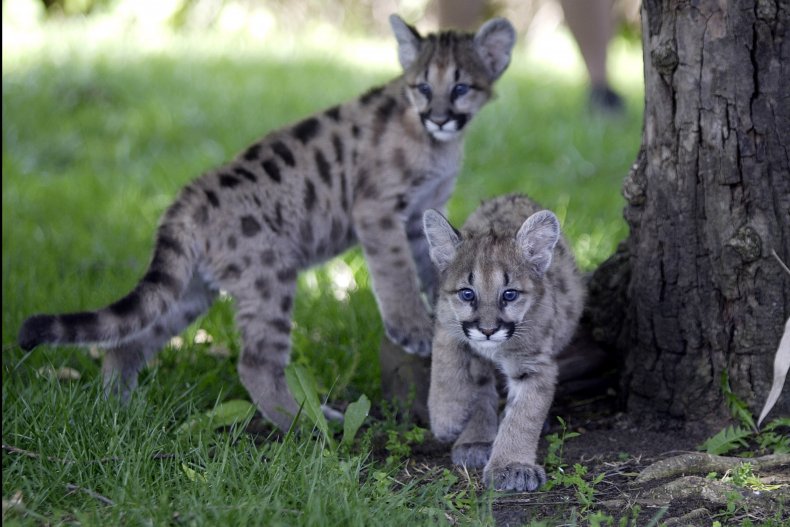 Perhaps even more importantly, the crossings will reunite habitats that have been divided for years by massive freeways.
Scientists believe that the Liberty Canyon overpass will be especially beneficial to vulnerable mountain lion populations in the region, The Los Angeles Times reports. Giving the animals a safe crossing point will be essential in "restoring gene flow among small, isolated populations of cougars." Currently, the creatures in this area face dire circumstances, with "recent studies [predicting] extinction probabilities of 16 percent to 28 percent over the next 50 years for these lions."
Without mountain lions, the rest of the habitat's ecology will also suffer. UCLA evolutionary biologist Brad Shaffer told the outlet that "Large top carnivores like mountain lions have beneficial cascading consequences on everything in the food chain—from mule deer to ground squirrels, lizards and insects."
The publication also noted that when the Liberty Canyon project is completed, it will be "be the largest of its kind in the world," spanning 200 feet in length with a 165-foot width.
California is hardly the first state to approve these types of animal crossings. In Wyoming, for example, an $11 million project in 2012 has proven that these constructions offer a viable solution to wildlife concerns. At the Tappers Point, Wyoming site—previously home to dozens of animal-vehicle collisions each year—the state added "two wildlife overpasses, six underpasses, and some 12 miles of fencing that funnels the animals to these safe crossings traversing above or beneath the highway," Pew reported in 2019. Over the next three years, "tens of thousands of animals used the structures, and wildlife-vehicle collisions fell by 80 percent."
Similar crossings have found success in several more states, including Colorado, Utah, Washington, Nevada, and Florida. And while California's Liberty Canyon Wildlife Crossing is still a ways away from actualization, supporters are optimistic about its potential impact. As Dan Whisenhunt, chief executive officer at the California Deer Association, explained to CalMatters: "This is one time that politics is listening to common sense...because nobody loses in this."