Watch: Car Slams into Utah Trooper, Launching Him Through the Air
Utah Highway Patrol Sergeant Cade Brenchley responded to "multiple slide-offs" in Sardine Canyon last weekend, but when he exited his vehicle to check on one stranded driver, another car slammed into him and launched him off the road. The Sunday incident was caught on a dashcam video that was released Tuesday by the Utah Department of Public Safety.
Benchley exited his vehicle and was approaching a stranded driver that slid off the shoulder of the Cache County, Utah highway when another vehicle struck him at full speed. The officer was launched forward into the disabled car and then clear off the road.
Brenchley is recovering from four broken ribs, a broken shoulder blade and some minor scrapes after a speeding vehicle lost control on the "slick and slushy" snow-covered roads Sunday, WSAZ-TV reported.
The 13-year veteran of the Utah Highway Patrol told reporters at the Logan Regional Medical Center Tuesday that he is "extremely grateful to be alive" and "truly grateful to be sitting here talking to you." Sitting next to his four children and his wife, Lindsay, Brenchley said he didn't realize how hard the impact was until he watched the dashcam video.
"When I watched the video, I had no idea that it was that hard," Brenchley told ABC News. "And yea, I flew." He added that when he briefly lost consciousness and woke up in the snow with the wind knocked out of him and struggling to take a deep breath.
"Even knowing he's okay, I don't like watching him fly through the air like that,"Lindsay told ABC News. "It's intense."
Brenchley said the female driver of the vehicle that struck him was "in hysterics" as she approached him lying on the ground. Brenchley added that "she's not to be vilified" and that the incident should serve as a safety lesson for drivers going too fast on slick and snowy roads.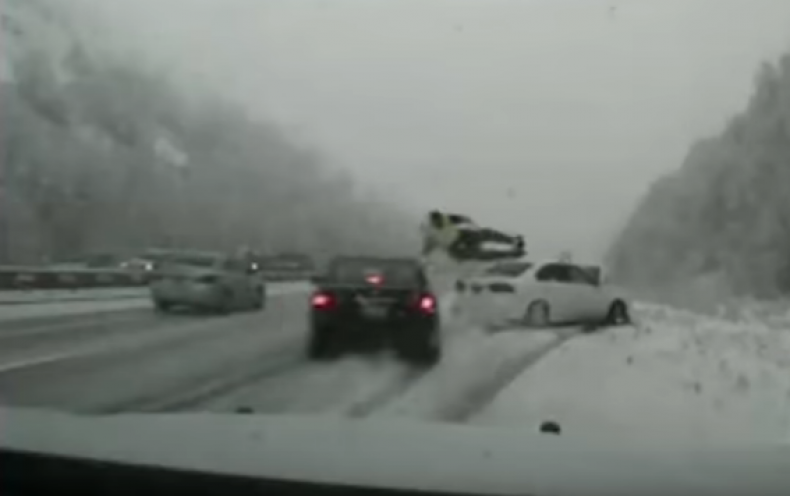 "She did make a mistake, and I think she's learned from it," said Brenchley, adding that the driver and some of the stranded car passengers brought him flowers in the hospital. "I hold no ill will toward her. And if anybody should be upset, it should be me or my family, but we're not."
The Utah Department of Public Safety said 11 troopers have been already been hit on Utah roads this year, labeling the number "unacceptable." Utah DPS officials said 10 troopers were struck throughout all of 2017.
Watch: Car Slams into Utah Trooper, Launching Him Through the Air | U.S.