Cadillac Sets a Date For Reveal of 2023 Escalade V-Series
The Cadillac Escalade was one of the few vehicles in the company stable that never received the high-performance V-Series treatment.That's changing.
Cadillac, a division of General Motors, said in a press release this week that it would debut the 2023 Cadillac Escalade-V on May 11th, making public pricing, availability and specs, Cadillac says the V-Series is "the ultimate expression of Cadillac design, performance and technology and the purest expression of the passion that exists at the core of the Cadillac brand."
That's been exemplified by the use of the C5-generation Chevrolet Corvette Z06 engine in the first V, the CTS-V sedan. The XLR-V and STS-V followed before the next generation arrived.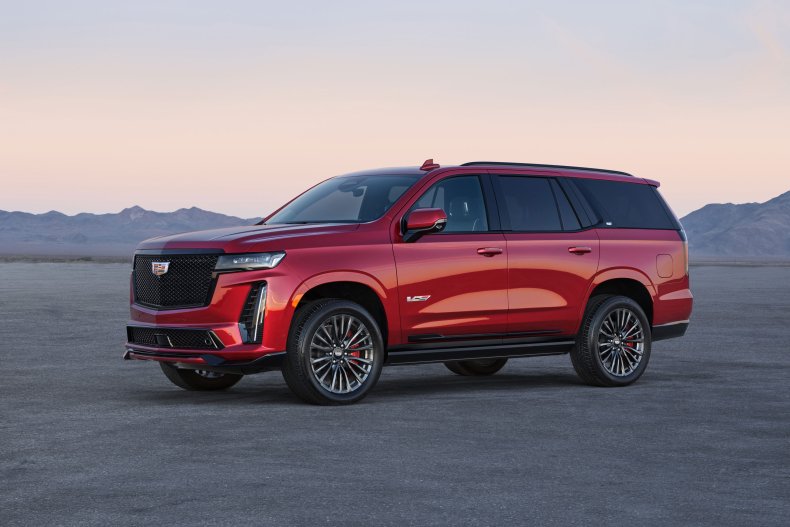 For its current lineup, the V performance option is available on the CT4-V, CT4-V Blackwing, CT5-V and CT5-V Blackwing sedans. The Blackwing versions get the most power.
So far, the height of that performance has been the 6.2-liter supercharged V8-powered 2022 Cadillac CT5-V Blackwing, putting out 668 horsepower and 659 pound-feet of torque with a standard six-speed manual transmission.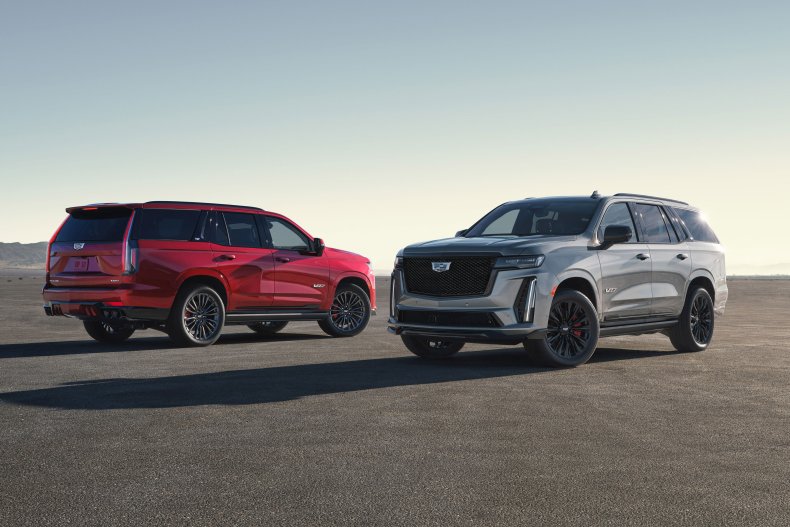 In images released earlier this year by Cadillac, the V-Series version of the luxury SUV features a darkened but traditional grille on top and extra vents below for added cooling blackened grille with a separate grille underneath. Two horizontal vents flank the grilles and run parallel to the foglights.
At the rear, the four exhaust pipes replace the two on the standard model.
The standard three-row 2022 Cadillac Escalade, on sale now, starts at $76,295. Buyers can choose between the 6.2-liter V8 engine making 420 horsepower and 460 pound-feet (lb-ft) of torque, or a 3.0-liter turbo-diesel inline-six delivering 277 horsepower and 460 lb-ft of torque. A 10-speed automatic transmission and four wheel drive are standard. The Escalade V will be more powerful than both.
The Escalade, and its longer Escalade ESV cousin, have never been underpowered, especially with the V8. The CT5-V Blackwing's 668-horsepower engine makes the most sense here in the super sport SUV, as the CT4-V Blackwing's engine only delivers 472 horsepower, not much more than what the Escalade has currently.
The Cadillac Escalade competes with the other full-size SUVs across the automotive landscape. The Lincoln Navigator has two sizes, starts at $76,710 and makes 440 horsepower. The most powerful Mercedes-AMG GLS 63 (602 horsepower) has a base price of $132,100 and the most powerful BMW X7 M50i brings 532 horsepower and costs $99,800. Those top performing models will be the ones cross shopped with the Escalade V.