Caeleb Dressel's quest for six Olympic gold medals at Tokyo 2020 remains alive after the Floridian smashed the Games record to win the 100m freestyle on Thursday morning.
Dressel led from start to finish, stopping the clock at 47.02 seconds to beat Australia's Kyle Chalmers, the defending champion from Rio 2016, by just 0.06 seconds. The Russian Olympic Committee's Kliment Kolesnikov finished third in 47.44 seconds.
It was the first individual Olympic gold for Dressel following two relay golds in Rio and one in Tokyo.
"It means a lot. I knew that weight was on my shoulders—I'd won relay medals but never individual, so it was really special," Dressel, who turns 25 next month, told reporters after the race.
"It is different. I didn't want to admit it but now that I did it, I can. It's a lot different—you can't rely on anyone else. It's just you and the water, there's no one there to bail you out. It's tough."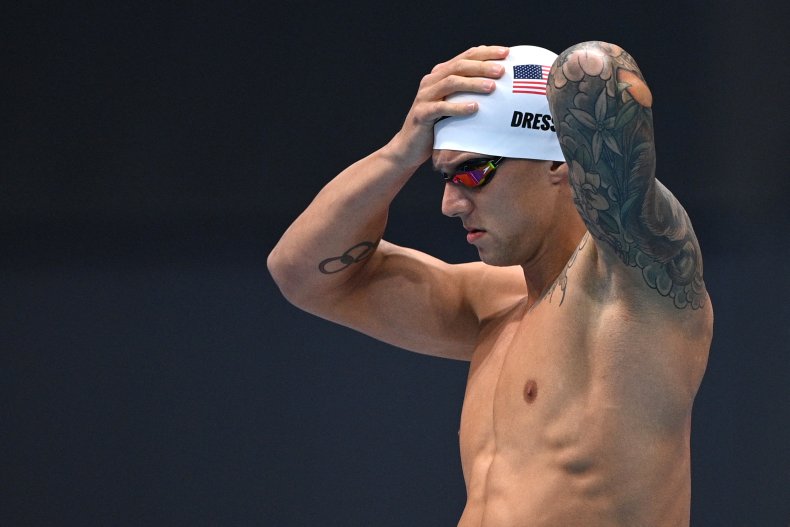 When Is Caeleb Dressel Swimming Next?
The Floridian will be back in the pool at the Tokyo Aquatics Centre at 10:35 a.m. local time on Friday, July 30 (9:35 p.m. ET, 6:35 p.m. PT on Thursday), for the semifinal of the men's 100m butterfly.
Just under nine hours later, Dressel will be on the starting block again for the final heat of the 50m freestyle.
How Many Gold Medals Can Caeleb Dressel Win in Tokyo?
Dressel has already grabbed two gold medals in Tokyo— the 4x100m freestyle relay and the 100m freestyle—but he could add four more to his tally. Aside from the 100m butterfly, an event in which he holds the world record, and the 50m freestyle, Dressel could win the 4x100m mixed medley relay final and the 4x100m men's medley relay final.
The final of the mixed medley, which is making its Olympic debut in Tokyo, is scheduled for 11:43 a.m. local time on Saturday, July 31 (10:43 p.m. ET, 7:43 p.m. PT on Friday). The men's medley relay will bring the Tokyo swimming program to a close at 11:36 a.m. local time on Sunday, August 1 (10:36 p.m. ET, 7:36 p.m. PT on Saturday).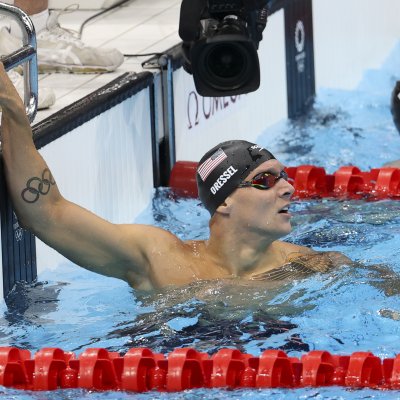 Team USA is the world and Olympic record holder in the men's medley relay and—with the exception of the 1980 Games in Moscow, which was boycotted by the U.S. Olympic Committee following the Soviet invasion of Afghanistan—has won gold at every Olympics since the 4x100m medley relay was introduced at Rome 1960.
Dressel, however, was not included in the team for the 4x200m freestyle relay final on Wednesday, when the U.S. failed to win a medal for the first time since 1908—again excluding the 1980 boycott. The decision was slammed by Olympic great Michael Phelps, who is in Japan as an analyst for NBC.
How Does Caeleb Dressel Compare to Michael Phelps?
Phelps is, unsurprisingly, the benchmark Dressel is most often measured against. "The Baltimore Bullet" is the most successful Olympian in history, with a staggering 28 medals. Twenty-three of those medals were gold and 13 of the golds came in individual events in Athens, Beijing, London and Rio.
Although it would take a monumental effort for Dressel—or any other swimmer—to get close to Phelps' tally, the Floridian could leave Tokyo with six gold medals.
That would take Dressel's Olympic tally to eight, following the two relay golds he won with Phelps in Rio: the 4x100m freestyle and the 4x100m medley.
Phelps also won 33 medals at the world championships across his career: 26 golds, six silvers and just a solitary bronze. Dressel's track record at the world championships is formidable too. It currently stands at 13 medals, with 11 golds and two silvers.
Dressel has repeatedly sought to play down comparisons to Phelps, however.
"I don't think it's fair to Michael," he told NBC after winning the 100m freestyle on Thursday morning.
"He's a better swimmer than me. I'm completely fine with saying that. That's not my goal in the sport, to beat Michael. I'm a very different athlete than Michael. He was at a whole other level."
Uncommon Knowledge
Newsweek is committed to challenging conventional wisdom and finding connections in the search for common ground.
Newsweek is committed to challenging conventional wisdom and finding connections in the search for common ground.
About the writer
Dan Cancian is currently a reporter for Newsweek based in London, England. Prior to joining Newsweek in January 2018, he was a news and business reporter at International Business Times UK. Dan has also written for The Guardian and The Observer.