Caeleb Dressel has offered fans a glimpse of the emotional and mental toll Olympic competition can take on athletes striving for greatness.
The 24-year-old American swimmer broke down in tears as he admitted to NBC's Michele Tafoya it had been a "really tough year" heading into the Tokyo games.
He was speaking just minutes after securing the fourth gold medal of his career to date and his second at these Olympics.
Dressel finished just ahead of his Australian rival Kyle Chalmers in the men's 100-meter freestyle to claim a first individual gold, setting a new Olympic record in the process.
Chalmers finished just 0.06 seconds behind Dressel, with Russia's Kliment Kolesnikov in third.
Following the win, Tafoya asked how he was feeling after such a momentous victory.
A visibly emotional Dressel struggled to find the words.
"I don't know if it's really set in yet," he said, fighting back tears. "Right now, I'm just kind of hurting. But it's... it was a really tough year. It's really hard. So to have the results show up, it really came together, so I'm happy."
The American was similarly emotional moments later, when he was shown how his wife and close family reacted to his record-breaking victory.
Dressel's admission that it had been "really hard" over the past 12 months came during a week in which the psychological stresses of Olympic sport have been drawn into sharp focus.
On Tuesday, four-time Olympic gold medal-winning gymnast Simone Biles withdrew from the individual all-round final in Tokyo, in order to focus on her mental health.
Biles also pulled out of the team gymnastics final, telling reporters: "We have to protect our minds and our bodies and not just go out and do what the world wants us to do."
The decision drew widespread praise from her fellow athletes, including swimming great Michael Phelps who admitted the Olympics could be "overwhelming."
"We're human beings, nobody is perfect. It's OK to not be OK. It's OK to go through ups and downs and emotional roller coasters," he said.
"I felt like I was carrying, as Simone [Biles] said, the weight of the world on my shoulders. It's a tough situation."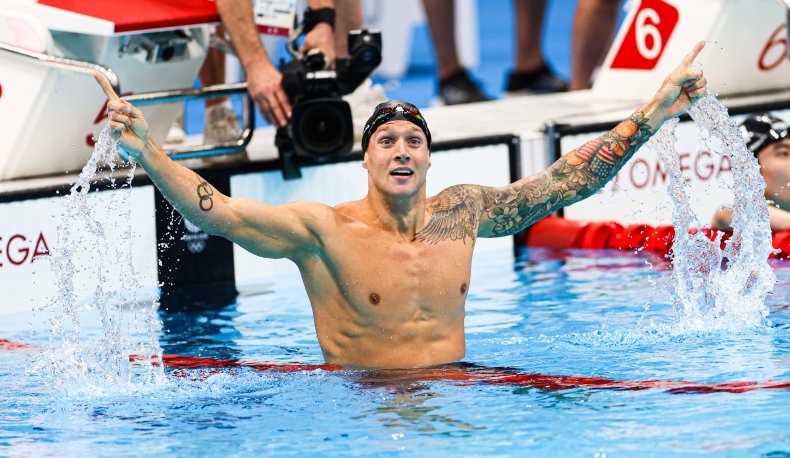 Dressel will be hoping to edge a little closer to Phelps' record haul of 13 gold medals at these Olympic games.
He is due to compete in the 50m and 100m butterfly events as well as the medley and mixed medley relays.
Newsweek has reached out to Dressel for further comment.