Caesars Entertainment Cancels QAnon-Linked 'For God and Country' Event
Las Vegas entertainment venue Caesars Entertainment has canceled a QAnon-affiliated event that was slated to take place in October of 2021.
On Tuesday, Caesars Entertainment announced its decision change regarding the "For God & Country Patriot Double Down" event which was organized by The Patriot Voice. The Patriot Voice is closely connected to the QAnon Movement.
Even though a homepage message on The Patriot Voice's website states that attendees can expect to see "your favorite Patriots and Digital Soldiers, enjoy top-notch entertainment, and experience pure patriotism," once you reach the event registration page, it states that the online ticketing system is temporarily offline.
Caesars Entertainment confirmed that it is not hosting the event at any of its adjacent properties in an email to the Las Vegas Review-Journal.
"We can confirm that the Patriot Double Down will no longer be held at Caesars Entertainment properties," Caesars spokeswoman Kate Whiteley said in an email Tuesday.
Whiteley also told The Associated Press that the events the company holds aren't representative of Caesars Entertainment.
"Events taking place in our facilities are not indicative of the company's views, nor are they an endorsement of any group or organization," Whiteley said. "We require all of our guests to comply with local laws and mandates, including the current indoor mask mandate."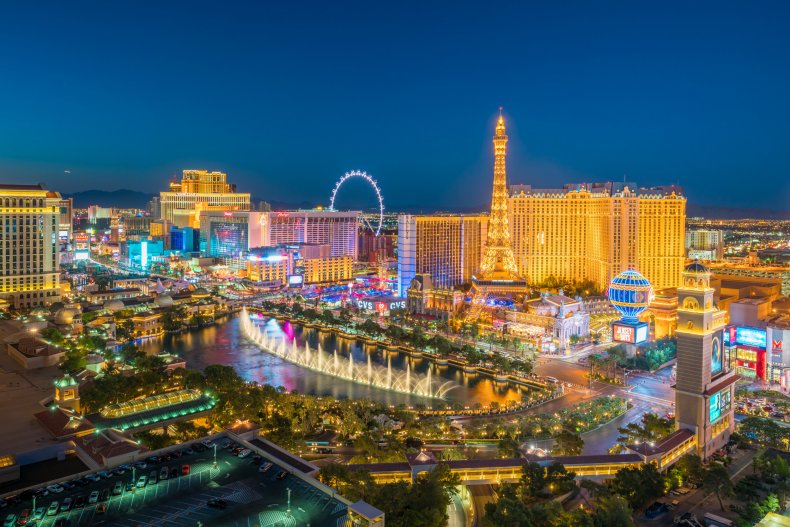 QAnon is a conspiracy theory surrounding alleging that many politicians and celebrities belong to a cabal of satanic pedophiles. QAnon believes that the truth will come to the light during a future event called the "Great Awakening." Believers saw former President Donald Trump as the figure who would defeat the cabal. The QAnon movement is also against mask mandates and vaccines to protect the spread of COVID-19.
Supporters of the QAnon movement have been seen at rallies for Trump during the 2020 election. A few believers of QAnon are currently on trial for their role in the insurrection of the Capitol on January 6.
Recently, a QAnon supporter from Wisconsin pleaded guilty to attacking two uniformed U.S. Army servicemen in March of 2021.
On August 18, Ian Alan Olson, 31, of Nashotah, Wisconsin was arraigned in federal court in Milwaukee for his crimes. Olson will be sentenced on November 18, 2021, before United States District Judge Brett H. Ludwig. He faces up to two years in prison due to him attacking two U.S. Army servicemen with a paintball gun that resembled a rifle.
Olson also made "unsolicited comments" to the National Guard during a trip to Washington D.C. in March of 2021.
Newsweek has reached out to The Patriot Voice for further comments.