Adam Schefter, one of ESPN's most highly-recognized NFL analysts, may be headed a different way once his contract expires next year.
Schefter, 54, has been a National Football League (NFL) insider for ESPN since 2009 and has covered numerous large games throughout his career with the network.
However, a recent report from Front Office Sports states that Schefter may not end up signing a new contract, but instead be lured in by Ceasars Sportsbook.
Based in Las Vegas, Nevada, Ceasars Sportsbook is an online sports betting platform that allows users across the United States to place live wagers on a variety of sporting events, including NFL games.
The app is free to download and is operated by Ceasars Entertainment, the massive luxury conglomerate that owns numerous iconic Las Vegas properties, such as the Flamingo, Planet Hollywood, and the eponymous Ceasars Palace.
Caesars Sportsbook has rapidly grown into one of the largest sports gambling platforms on the internet, and the company has already hired a number of high-profile sporting analysts from multiple outlets, including ESPN.
The betting app's recent acquisitions include NFL analyst Kenny Mayne and studio host Trey Wingo. Additionally, the report stated that gambling companies could also try and grab basketball analyst and NBA insider Adrian Wojnarowski.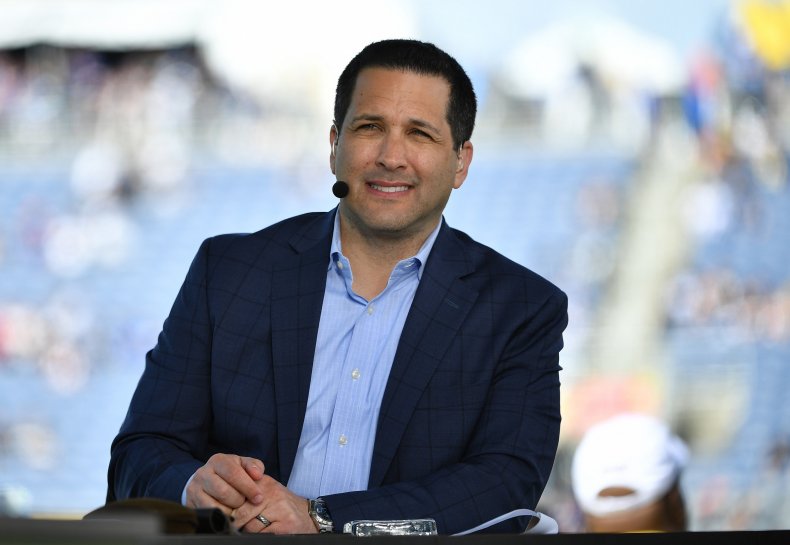 When it comes to Schefter, sources reportedly told Front Office Sports that he could "draw lucrative offers" from Caesars given that the platform wants to keep its momentum and become increasingly competitive among other sports gambling apps.
The report also said that Schefter could receive additional job offers from DraftKings and FanDuel, two alternative online betting sites that hold a significant share of the sports gambling market.
However, Schefter has been caught up in a recent controversy after the Los Angeles Times revealed that he sent an initial draft of a 2011 article to NFL executive Bruce Allen, asking if there was "anything that should be added, changed, tweaked," and referred to Allen as "Mr. Editor."
Wednesday afternoon, Schefter released a statement stating that the email was sent in an effort to verify the facts of the article before publishing.
ESPN released an additional statement defending Schefter, saying "we believe that nothing is more important to Adam and ESPN than providing fans the most accurate, fair and complete story."
Despite the controversy, Schefter will likely garner considerable pull from either Caesars Sportsbook or another sports gambling outlet.
Even the NFL itself has gotten in on the action. While the league was previously against online betting, the NFL signed deals this season with seven separate sports gambling entities, including Caesars, DraftKings, and Fanduel.
Front Office Sports estimated that these seven operators could spend over $1 billion in advertisements throughout the season.
Newsweek has reached out to Caesars Entertainment for comment.
Uncommon Knowledge
Newsweek is committed to challenging conventional wisdom and finding connections in the search for common ground.
Newsweek is committed to challenging conventional wisdom and finding connections in the search for common ground.